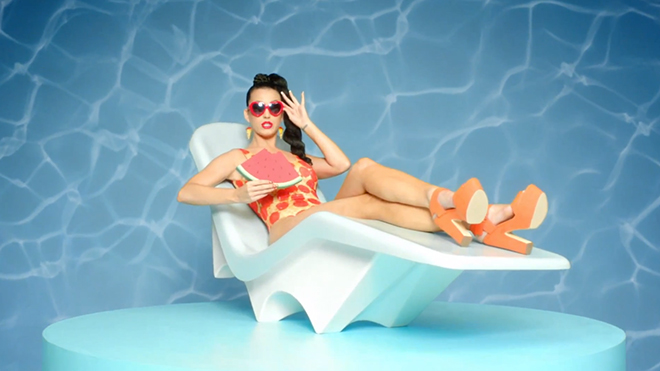 It's no big deal. This is no big deal!
Katy Perry has released the video for her latest single "This Is How We Do," and it's a colorgasmic spectacle filled with watermelons, twerking ice cream cones, colorful hairstyles, a fake Mariah Carey and the word "Japanese-y." (The f*ck is Japanese-y? Is it contagious?)
There's also this one questionable part where the Queen of Cultural APPRECIATION, wearing cornrows and fake baby hairs, receives a video call from a girl named "Jessica Thot." (LOL?)
Michael K of Dlisted probably has the best description of this video:
If Pee-wee Herman and a Pink Panther ice cream bar jacked off and jizzed on a Mondrian calendar from the Dollar Tree and then baked it in an Easy Bake oven before pulling it out and covering it with Brooke Candy's watermelon Jolly Ranchers-infused saliva, flat Strawberry Kiwi Shasta, used-up scratch 'n sniff stickers and barf from a rejected Target commercial, the end product would look just like this video.
"This Is How We Do" follows "Birthday" as the fifth single from Katy Perry's platinum-selling album Prism.
Watch the video up top!
Be the first to receive breaking news alerts and more stories like this by subscribing to our mailing list.