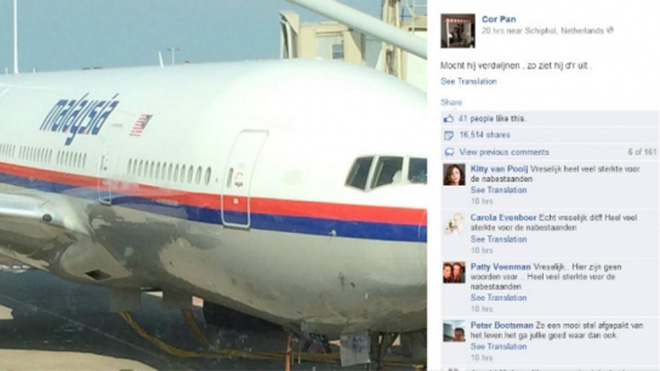 In the wake of the crashing of Malaysia Airlines Flight MH17 in Ukraine Thursday (Jul 17), a Facebook post by a Dutch passenger named Cor Pan has gone viral because of its eerie content.
"If it should disappear, this is what it looks like," Pan, on his way to a beach vacation in Malaysia, wrote (according to translation) before taking off Thursday morning jokingly referring to the Malaysia Airlines flight (MH370) that mysteriously disappeared over the Indian Ocean back in March.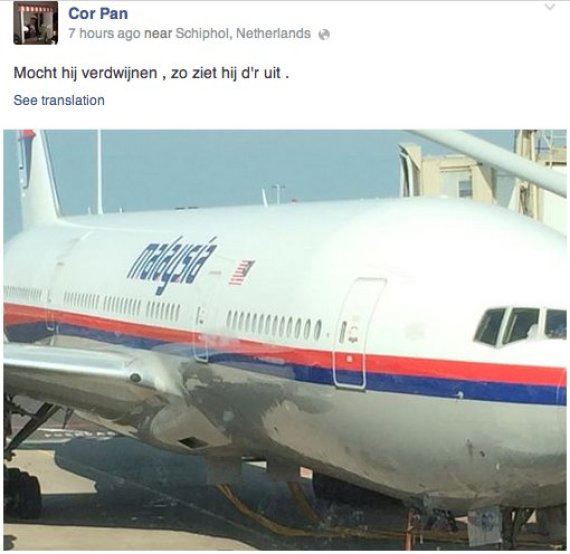 Via AFP:
Although there has been no confirmation that Cor, from Volendam, nine miles (15 kilometres) north of Amsterdam, was on board, his photo of the aircraft on the tarmac is tagged "near Schipol airport" and appears to have been taken from the gate as passengers waited to board.

The comments by his friends on Facebook, however, seem to indicate that he was on board the flight. Late on Thursday his picture had been shared more than 10,000 times on the social media site. "This can't be true!" said Alicia de Boer.

Petra Bleeker posted a picture of Cor and his girlfriend Neeltje Tol on which she superimposed a white rose, signifying death. It was unclear whether Tol was also on the flight.

"Such a beautiful couple who have been taken from life. I wish you the best wherever you are," said Peter Bootsman.

Cor had earlier post pictures of idyllic tropical beaches on his Facebook page, saying: "A few more days to wait yet…"
One of Cor's friends posted this photo of him and his girlfriend Neeltje: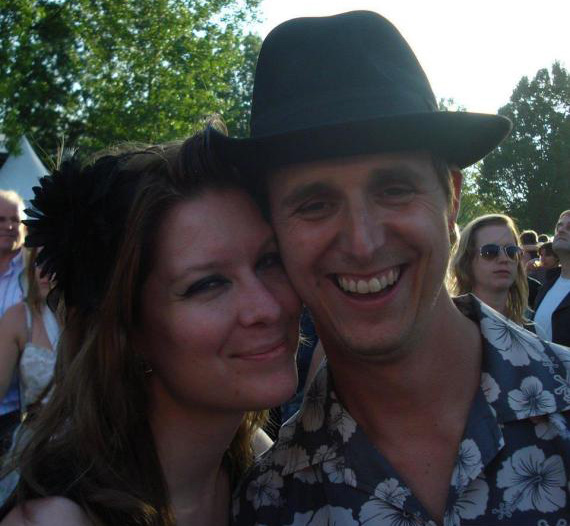 All 295 people aboard the flight to Kuala Lumpur, Malaysia from the Netherlands died after the Boeing 777 disintegrated and plunged to the earth in Ukraine not too far away from the Russian border.
It is believed by U.S. officials that a surface-to-air missile is thought to be the cause of the crash of Malaysia Airlines Flight MH17 that killed as many "23 Americans," according to Ukrainian officials.
President Barack Obama, however, has said that the U.S. is still confirming this, though one American on board the flight has been identified as Quinn Lucas Schansman.
Sunday, U.S. Secretary of State John Kerry said that he believes that Russia was responsible for the attack.
"This is the moment of truth for Russia," Kerry said on CNN. "Russia is supporting these separatists. Russia is arming these separatists. Russia is training these separatists, and Russia has not yet done the things necessary in order to try to bring them under control."
Be the first to receive breaking news alerts and more stories like this by subscribing to our mailing list.