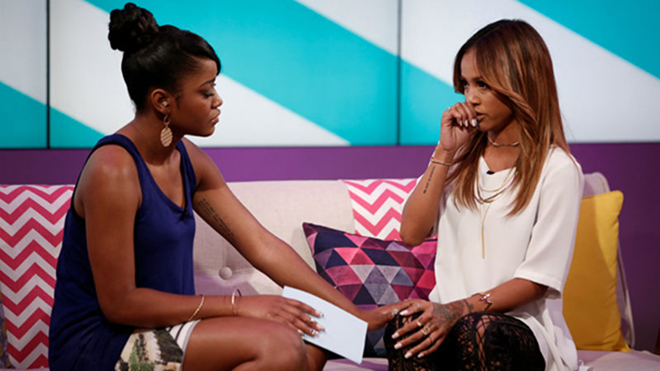 Karrueche Tran is a pretty good example of what a ride-or-die chick should be. To put it simply, when Chris Brown said "these hoes ain't loyal," he definitely wasn't talking about her.
Karrueche didn't hold a thing back while talking with Keke Palmer on her new BET talk show "Just Keke" about her relationship with the R&B/Pop superstar.
In an interview that will air this Wednesday (Jul 16), the fashion designer teared up about not only how hard it is dealing with the drama that comes from dating a celebrity of Chris Brown's caliber, but also dealing with his superstar ex girlfriend's crazy fans on Twitter.
We all know about the love triangle between Chris Brown, Rihanna and Karrueche … but what we never hear about is how Karrueche feels, and now she is finally speaking out about it.
Asked by Keke how she manages to move forward and keep going despite everything else, Karrueche said, "Just keeping a level head and positivity. I've never dated a celebrity before so it was very new to me. Paparazzi and all that. And then, even the situation with Rihanna, you know the reason why people tuned into this so much was because it's relatable."
She continued, "I have girlfriends, I have family who's gone through the same situation. It's the case of the ex. We all go through it, do you know what I'm saying? But, however … in this case my boyfriend is a celebrity who's ex-girlfriend is an even bigger [celebrity]. Do you know what I'm saying? So, not only am I fighting a battle with her, I'm fighting a battle with her 14 million fans or however else. So, imagine how that feels for me when I gotta get on Twitter and I see a whole bunch of stuff…"
Keke then asked Karrueche what was hardest part about dating a high profile celebrity, and that's when the tears started flowing.
"Um, jeez. I guess I would say the heartbreak because it was a real situation," she said crying. "Yeah, it was a real life situation."
Watch the 2-minute preview clip above!
Be the first to receive breaking news alerts and more stories like this by subscribing to our mailing list.