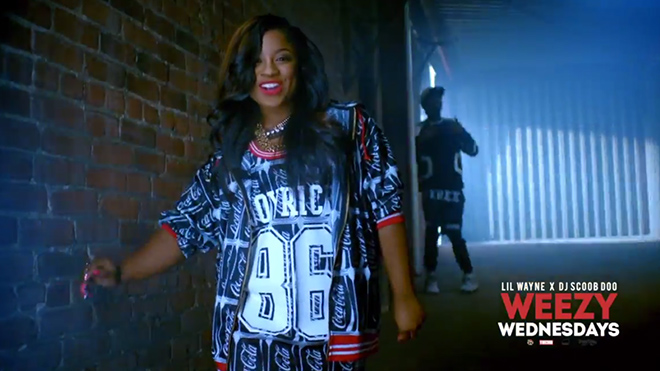 It looks like Reginae Carter is following in the footsteps of her father Lil Wayne.
The 15-year-old singer, a former member of the OMG Girlz has decided to give a solo career a shot and is currently working on her debut album Becoming Reginae.
In this week's episode of "Weezy Wednesdays," Wayne introduces his daughter as a Young Money artist and premieres her new video for her debut single "Mind Goin' Crazy."
"This week is all about my daughter… shout out to all the Reginators out there," Weezy said. "…I know y'all saw her do her thing at the [BET] awards, and she rep'd us, ya dig? I want y'all to know that she's officially stamped as a Young Money artist… yes, Reginae Carter is a Young Money artist. And not only am I telling you that, I'm actually about to give you the first look at her first video, 'Mind Goin' Crazy.'"
Reginae is the 15-year-old daughter of Lil Wayne and Antonia "Toya" Wright, and not only is she working onher debut album and book, but she also recently teamed up with Birdman's daughter Bria Williams to launch a new clothing line called YMCMP (Young Money Cash Money Princesses).
In a 2013 interview, Young Money President Mack Maine described Reginae as a "super megastar" and said we can "expect greatness" from her in the future.
Watch Reginae's "Mind Goin' Crazy" above!
Be the first to receive breaking news alerts and more stories like this by subscribing to our mailing list.