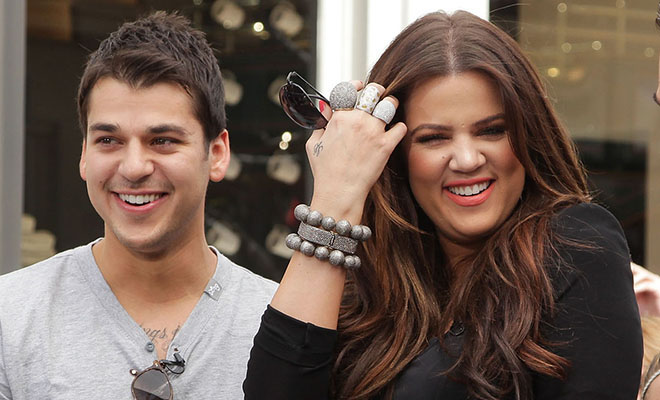 Following reports of Rob Kardashian no longer speaking to his older sisters Kim and Khloe (after bailing on Kim and Kanye's wedding back in May), comes new reports that Khloe is actually very worried about her younger brother's drug use and hard partying.
Last week, TMZ reported that Rob's family wants him to get help for his "very bad drug problem."
Our sources say the family is well aware of what has been going on with Rob, depicted by these photos during a drug-fueled party a few days ago.

You can see Rob holding a double cup … the container of choice for Sizzurp. The cup on the table actually has the words, "Codeine Boys" emblazoned on it. He's also seen smoking weed.

We're told the Kardashians have been calling rehab facilities, but Rob refuses to go. They feel desperate because they don't know what to do and hope pictures like these may change Rob's mind.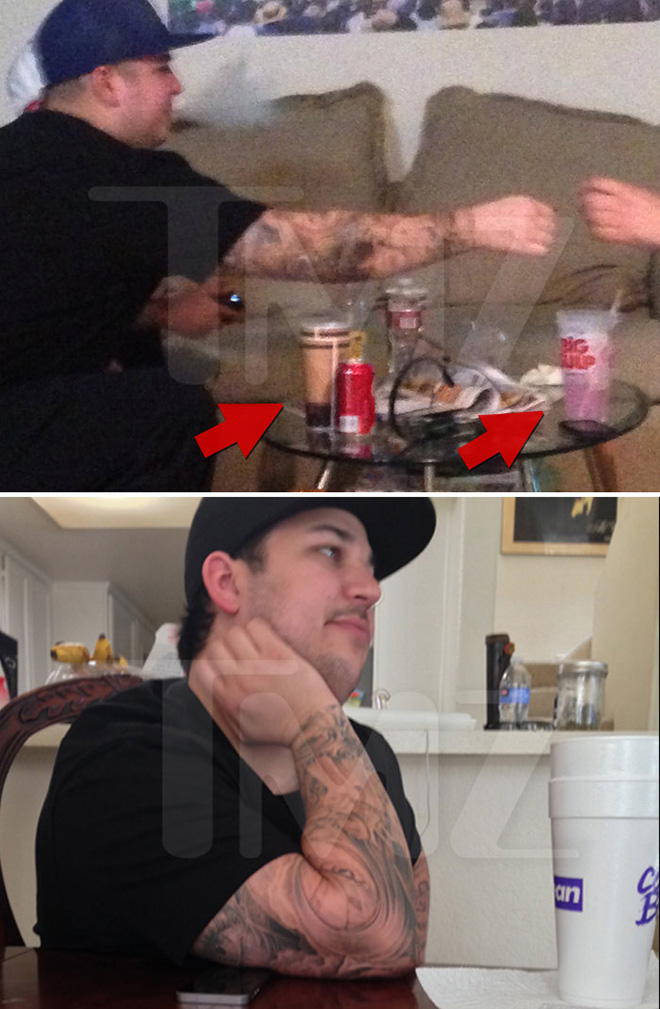 So wait. Kris Jenner (who else?) actually sent these somewhat damaging photos of Ro
b to TMZ for them to publish for the whole world to see … to teach him a LESSON? Well, OK then…
Now, Hollywood Life is reporting that Khloe was "rocked to her core" over the news of Rob's wild partying.
"Khloe can't think right now; she's just in disbelief right now that her little brother is going through these issues. She realized he's been troubled for a long time now but was in the dark that it's reached this level," our insider reveals. "She can't deal. She feels low because she's been through this before with her ex and it's all too familiar and another earthquake that's rocked her core."

Khloe has been trying to get in touch with her brother, and to find out what's on his mind and what she can do to make him better, but she hasn't been able to do either.

"She would drop her entire life for him," our source continues, and Rob "knows that. And that's what killing her the most. He has everything, every resource of Khloe's and the family's at his disposal but choosing not to use them. It's a slap in the face."
Meanwhile, Khloe Kardashian had a "Dirty 30" birthday party on a yacht last week, and Rob was reportedly nowhere to be found.
However, amid the reports of Rob ceasing communication with his sisters, oddly enough, Rob sent her several loving tweets on her birthday last Friday (Jun 27).
Woot woot @khloekardashian LOVE YOU pic.twitter.com/dT6daIwnNr

— ROBERT KARDASHIAN (@robkardashian) June 28, 2014
Happy birthday @khloekardashian ???????????????? pic.twitter.com/2iQwCMQQAX

— ROBERT KARDASHIAN (@robkardashian) June 28, 2014
Happy birthday to one of my best friends ever ! I loveeeeee you! @khloekardashian pic.twitter.com/UQkTb7XLXt

— ROBERT KARDASHIAN (@robkardashian) June 27, 2014
Khloe and Rob have always been close (he lived with her and Lamar for a while), so the reports about her being worried about him and these tweets he sent to her on her birthday shouldn't be too much of a surprise to anyone … but it's still good to see/hear about Khloe reaching out to him and vice versa.
Be the first to receive breaking news alerts and more stories like this by subscribing to our mailing list.