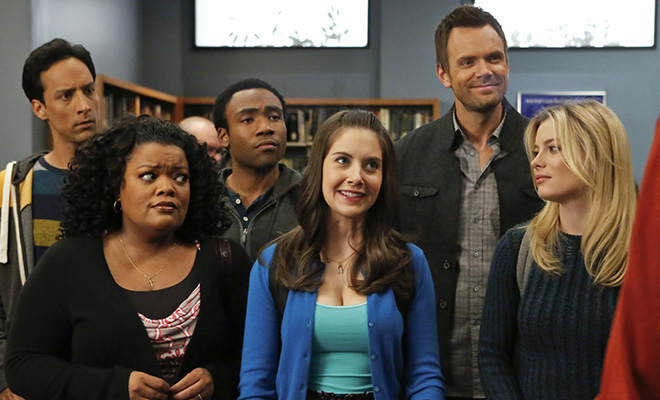 Last spring, Internet giant Yahoo made it very clear that they wanted to jump into original programming, much like Netflix, Hulu and Amazon, and now that they have struck a deal with Sony Pictures Television to develop a brand new season of the cult hit TV show "Community," it looks like they're well on their way to making their "Yahoo Screen" service a true competitor.
From Mediaite:
After a deal with Hulu fell through last week, Yahoo has officially come to Community's rescue Monday, announcing it will produce and stream a sixth season of the show that NBC canceled this spring. 13 new episodes will be available for streaming on Yahoo Screen starting this fall.

In a press release, series creator Dan Harmon poked fun at the show's one-time competition, saying, "I am very pleased that Community will be returning for its predestined sixth season on Yahoo. I look forward to bringing our beloved NBC sitcom to a larger audience by moving it online. I vow to dominate our new competition. Rest easy, Big Bang Theory. Look out, Bang Bus!"

"'The reports of our cancelation have been greatly exaggerated.' —Mark Twain (The other version of this quote has been wrong for years)," star Joel McHale added in a statement of his own. "#SixSeasonsAndaMovie is real. Thank you Sony. Thank you Yahoo. Thank you Dan Harmon. And thank you to the greatest f%$#ing fans in the history of the human race. It's the internet. We can swear now."

Finally, Kathy Savitt, CMO of Yahoo added, "Yahoo is all about connecting the best creators to the audiences who love their work. Community has an incredibly passionate and loyal fan base who have fought hard to keep this amazing show alive. We couldn't be more excited to work with Dan, Joel, and the entire cast, as well as Sony, to deliver a great season 6."

The casts' contracts expired today, June 30, making it the last chance for show to get its highly-anticipated online renewal.
It is reported that the upcoming sixth season of "Community" will be its last, but fans need not fret because a movie is rumored to soon follow.
Back in the spring, show runner Dan Harmon said:
"I mean, if they do a sixth season, I have to participate. And having done that, if the movie has to be made out of clay and duct tape in my basement, then that's how the movie will be made, because there has to be closure. The title of the book about the show is not 'Community, An Interesting Journey into a Show No One Ever Watched.' The title of the book is obviously going to be, 'Six Seasons and a Movie.' So it's already over. Sometimes our hands are just tied up in fate."

Are you looking forward to another season of Community and a possible movie?
Be the first to receive breaking news alerts and more stories like this by subscribing to our mailing list.