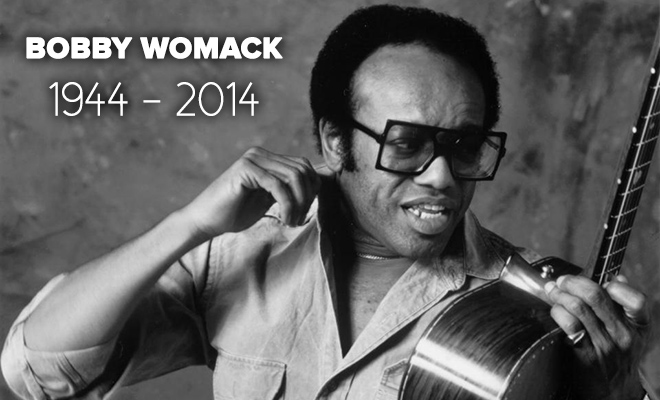 The colorful and highly influential R&B singer-songwriter Bobby Womack died Friday (Jun 27) at the age of 70 years old.
Womack was diagnosed with Alzheimer's disease two years ago and had been dealing with a number of various health issues, including colon cancer. He had performed just two short weeks ago at the Bonnaroo Music & Arts Festival in Manchester, Tennessee and seemed to be in good health and spirits.
The R&B legend's publicist Sonya Kolowrat confirmed Friday that he died but didn't prove any other details regarding his death.
Womack was born in Cleveland, Ohio and was raised in a musical and religious home with his four brothers, with whom he performed gospel music with as the Womack Brothers after their father took notice of Bobby's guitar-playing talent.
The Womack Brothers were discovered by Sam Cooke in 1956 and they signed to Cooke's SAR records four years later when Bobby was 16. They changed their name to The Valentinos and had their first hit "Lookin' for a Love" in 1962.
In 1964, the group's next hit "It's All Over Now" would prove to be a major turning point for Bobby Womack, who at the urging of Sam Cooke, reluctantly let a then little-known British band called The Rolling Stones record the song, which resulted in the first No. 1 hit in the U.S. for the Rolling Stones, but it also meant that The Valentinos' version would eventually fade out.
Cooke was shot in killed in December of that year, and Bobby used the success of "It's All Over Now" as a path for him to branch out into his own solo act as a singer-songwriter.
"I know we outsang them on the song," Womack told USA TODAY years later. "But when I saw the check, I was happy. I said, 'Let me shut my mouth.' It still takes care of me today. That's when I said, 'I'm going to be a songwriter.'"
Womack went on to pen songs for several high-profile artists, including George Benson ("Breezin") and Janice Joplin ("Trust Me").
In 1967, Womack released his first solo single "Trust Me," and in 1972, his song "Across 110th Street" became one of his biggest solo hits … ut perhaps Womack is best known for his 1981 single "If You Think You're Lonely Now," which would go on to become an R&B classic.
Bobby Womack was formally inducted into the Rock and Roll Hall of Fame in 2009.
Be the first to receive breaking news alerts and more stories like this by subscribing to our mailing list.