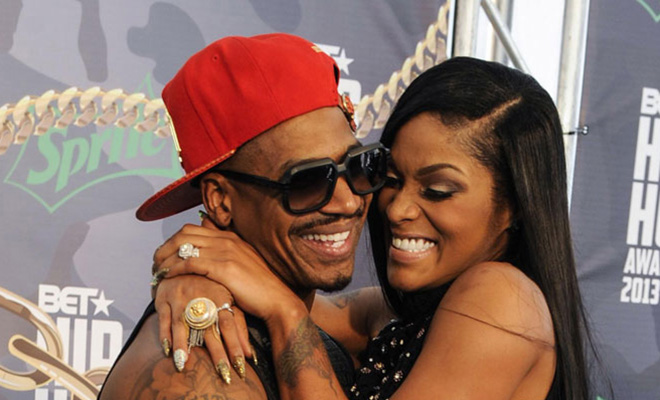 It took her three seasons, but Joseline Hernandez is FINALLY someone's wife. Or is she?
Last summer, Benzino's Hip Hop Hop Weekly magazine "broke the story FIRST!!!" about Stevie J and Joseline's "marriage," which we all raised our eyebrows to, and this week's episode of "Love & Hip Hop Atlanta" basically confirmed our skepticism.
In LHHATL's Season 3 opener, we're introduced to "Mr. & Mrs. Jordan," who proudly show off their massive home, which Stevie J's daughter Ava calls a castle.
But before you go congratulating the "newlyweds" on their "new home," let's fast forward to Episode 4, when Stevie J's former assistant and Joseline's former booking agent Dawn exposes them for their lies.
When Dawn meets up with Stevie J's baby mama MiMi Faust to chat, she tells her that she no longer works for Stevie and Joseline, and she uses that as an opportunity to expose the couple for their fakeness.
"Everything is fake," Dawn says. Not only is their marriage fake, but the ring Joseline wears is from an ex boyfriend.
MiMi says she knew Stevie and Joseline were lying all along because they could never produce a marriage certificate. Dawn said they knew that issue would come up, which is why Stevie got Benzino to announce their so-called "marriage" on the cover of Hip Hop Weekly.
MiMi also mentions a text Stevie J sent her the day the story broke: "The day that the whole thing went on Twitter, he texted me maybe an hour before he did it and said, 'I need to talk to you about the next stunt I'm about to pull.'"
MiMi would know a thing or two about stunts, but we're not talking about her right now, so moving on…
Stevie later calls up Dawn for a face-to-face meeting to let her know that she's officially been fired, but Dawn says that she can't be fired because she has a "folder full of documents" to prove that Stevie and "his wife are nothing but a bunch of broke ass frauds."
Among a number things, this is what Dawn exposes about Stevie J and Joseline:
1. The apartment Joseline was living in was in Dawn's name. "I signed for the place yo bitch was living at," she tells Stevie. "Joseline couldn't even get her own place because she was evicted and had bad credit. I signed my name on the dotted line," she adds in her confessional.
2. Stevie J's cars are rentals, and he and Joseline don't own their home either. She even pulls out a sheet of paper with the actual homeowners' information to prove it. "I know who owns my home," Stevie responds.
3. Once again, Stevie and Joseline's marriage is as fake as a $3 bill, and she pulls out enlarged screenshots of text messages she printed out from Joseline, who told her that she knows that the article in Hip Hop Weekly is fake.
4. The last time Stevie J had a hit was when Ronald Reagan was in office. That's actually not true (he actually did have a few hits in the mid-2000's during the Bush Administration), but it was funny when Dawn told him that. "We're waiting. The world is waiting, for another motherf**king hit," she said.
And on that note, Dawn not-so politely tells Stevie that he can't fire her because she's the one who deposits the money into their accounts, which allows her to "get mine off the motherf**king top," as she points out while "making it rain" with bank receipts and deposit slips.
"See I know everything. I know where the money is, and where it's not," Dawn tells viewers.
Be the first to receive breaking news alerts and more stories like this by subscribing to our mailing list.