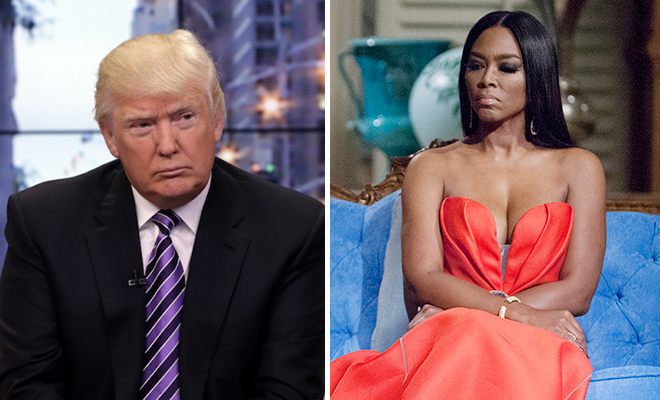 Donald Trump says Kenya Moore from the "Real Housewives of Atlanta" is pure evil!
The fiery 43-year-old reality TV star appears on the upcoming season of NBC's "Celebrity Apprentice," and she just got fired this week, the Daily Mail reports.
But before she heard the infamous "You're Fired!" phrase from the Trumpster, the man with the bad hair piece blasted Kenya as "the most evil woman" he's "ever met" in his entire life.
OUCH!
Sources also revealed that Kenya had a huge falling out with actress Vivica Fox after she reportedly tweeted a message from Vivica's phone complaining about menopause.
Kenya bickered with other contestants too, like "Cosby Show" actress Keshia Knight Pulliam and Beverly Hills Housewife Brandi Glanville.
From MailOnline:
Star Magazine has already called Kenya "The Most Hated Apprentice," citing a show insider who claimed "Kenya is rude and a holy terror to the crew. She demands special treatment and extra days off and refuses to use the show's stylists. Instead, she brings in a huge entourage, and they've completely taken over the set."

The insider also claimed she has become close with another reality star, Kate Gosselin, adding: "Given that they're both overbearing divas, it's kind of a shock that they're so close. But, they're tight and refuse to befriend anyone else."

And we're told that Mr Trump was left furious by the Detroit-born former beauty queen's behavior on the show during filming over the past few months.

A source said: "Kenya was fired and it was really one of the most brutal firings ever seen on The Apprentice. She stole Vivica Fox's cell phone and posted a message on Twitter complaining about the menopause pretending it was from Viv.

"And that's not forgetting her rows with Brandi and Keisha. Mr Trump had truly had enough of her by the time it was time to fire her. He told he 'You're the most evil woman I've ever met in my life."

MailOnline has found a tweet seemingly posted on Vivica's Twitter account, that reads: 'This menopause id (sic) killing me I cant think straight, Im acting a damn fool half the time 50 just isn't sexy.'

The tweet can no longer been seen on the Kill Bill's Twitter account.

According to sources, once Vivica, 49, realised that Kenya had done, she deleted the message, she erupted in fury, with one saying: "It was World War III on that set. Vivica cursed her out so bad that the entire set was speechless, even Kenya."

And it led to Mr Trump's tongue-lashing before he uttered his trademark phrase "You're Fired."

The source said that Kenya was humiliated by Mr Trump's humiliating putdown, adding: "If she was hoping to change her image or get the benefit of the doubt before taping this show, she can forget that."
That damn Kenya just leaves a loooong trail of mess everywhere she goes doesn't she?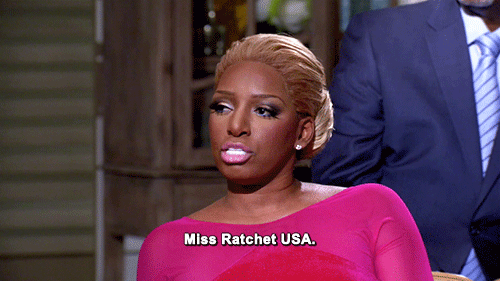 Be the first to receive breaking news alerts and more stories like this by subscribing to our mailing list.