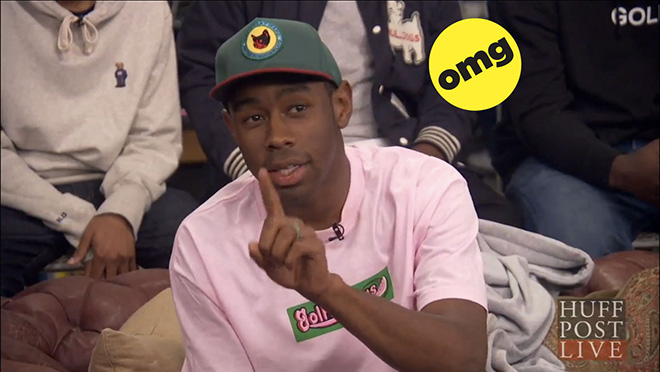 As part of their promo run for the third season of "Loiter Squad," Tyler, the Creator and his Odd Future Wolf Gang Kill Them All crew were invited to BuzzFeed's office in New York City's Flatiron district on Wednesday (May 14), and while there, they reportedly wreaked havoc, terrorizing any and everyone (and everything) in their path.
OFWGKTA were likely there hoping to have some fun, but the Hip Hop collective quickly found out the site's writers/editors didn't find their brand of humor funny at all.
Some of the BuzzFeed staff even tweeted about their annoyance during Odd Future's visit.
"Tyler the creator just embarrassed every black person in buzzfeed edit smdh," the site's deputy editor-in-chief Shani O. Hilton wrote in a now deleted tweet.
Tyler the Creator is about to literally destroy our office I'm too scared to move

— Matt Bellassai (@MattBellassai) May 14, 2014
Let the record reflect that five minutes ago, Tyler The Creator walked past my desk and shouted "Y'all got niggas here."

— Saeed Jones (@theferocity) May 14, 2014
I just asked @fucktyler where Frank Ocean is. "I don't know. I'm not his fucking boyfriend."

— Tanya Chen (@Tanya_Chen) May 14, 2014
Tyler the Creator just walked into the office, started screaming, and then shot someone with a Nerf gun. Casual Wednesday.

— Spencer Althouse (@SpencerAlthouse) May 14, 2014
In case you were wondering, being called a nigger by Tyler, The Creator feels pretty much the same as a white dude saying it.

— Ashley Ford (@iSmashFizzle) May 14, 2014
"Guys, c'mon…" – @TommyWesely to Odd Future

— Sami Main (@samimain) May 14, 2014
me to @SteveKandell: WHAT IS GOING ON Steve: literally all of odd future just ran in here yelling at all of us and taking our snacks

— Doree Shafrir (@doreeshafrir) May 14, 2014
Good fucking question. RT @aaronmedwards: My question always goes back to: Who lets all these people into @BuzzFeed's offices

— Saeed Jones (@theferocity) May 14, 2014
What exactly did BuzzFeed expect from a group called with "Kill Them All" in their name?
Gawker probably said it best: "Inviting Tyler and his friends to Buzzfeed is like inviting the skaters who smoke behind the van during lunch to a drama club meeting."
Tyler later took to Twitter and responded to BuzzFeed's reaction to his visit:
BUZZFEED WAS GREAT, MINUS THE CRYBABIES WHO DIDNT LIKE WHEN PEOPLE CAME AND MADE THEIR OFFICE COLORFUL. BUZZFEED I LOVE U THO

— Tyler, The Creator (@fucktyler) May 14, 2014
AND TRUST IM SMARTER AND MORE AWARE THAN ALL OF THEM IN THAT OFFICE

— Tyler, The Creator (@fucktyler) May 14, 2014
Tyler and his cohorts also paid a visit to The Huffington Post's NYC offices, and bashed BuzzFeed in an interview with HuffPost Live. He called site "boring" and said he and his Odd Future buddies were just there to "bring in so much yellow freaking filling to their gray, boring [lives]."
From HuffPo:
The Odd Future guys called Buzzfeed "boring" and Tyler, the Creator said of the Buzzfeed office that "half the people there didn't like me."

"I guess some of the people who work in the office [were like], 'I'm above this, oh my god, we're working, we have strong opinions,'" Tyler said. "We just came in there trying to bring in so much yellow freaking filling to their gray, boring [lives]."

Tyler said the negative reaction "bummed [him] out" because the group had a good time at Buzzfeed. As Gawker documented Wednesday, many staff members tweeted displeasure with the Odd Future visit, and one editor talked about one member shooting a Nerf gun.

Regarding the Nerf gun, Tyler added that it doesn't make sense to have toys in an office if you don't expect them to be played with.

"One, I didn't touch the Nerf gun. Two, that was Jasper [Dolphin]. Three, it didn't hit anyone. And four, dude, you have a Nerf gun in the office," Tyler said. "How do you have a Nerf gun in there if you don't want anybody messing with it?"
The guy does have a point there. But the bigger question should be: "How do you invite Tyler, the Creator and Odd Future into your office and not expect them to act the fool?"
Be the first to receive breaking news alerts and more stories like this by subscribing to our mailing list.