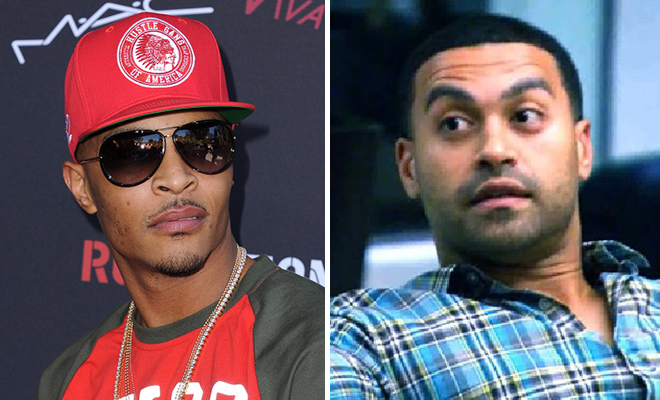 "Real Housewives of Atlanta" reality star Apollo Nida apparently has a problem taking responsibility for his actions.
When news broke that he had pleaded guilty to fraud and was facing up to 30 years in prison, Apollo seemed to blame his wife Phaedra Parks for putting him in a position to steal money to keep their "lifestyle" up.
This is what the AJC said he shared in court:
He said she was making far more money than him and he felt pressure to keep up. (He cited a $600,000 contract for her but didn't say how long that was supposed to last.) Without easy legitimate ways to make quick money, he opted for this illegal scheme instead. But he claimed to her he was running a legitimate debt recovery firm and kept her firmly in the dark.

He said he even had a nervous breakdown at one point over the pressures to "sustain a lifestyle" befitting of a reality show star. And once he started the scheme, he found it difficult to stop. "I got sucked in and engulfed and lost sight of things," he said.
Apollo also got himself in hot water with rapper T.I. and NFL star Michael Vick for insinuating that they "snitched" to get out of their own respective legal issues.
It all started when TMZ posted an article describing a deal Apollo made with the feds, essentially making him a "snitch."
Nida copped a plea Tuesday to wire and bank fraud, and TMZ has learned under the terms of the deal he agreed to act in an "undercover investigative capacity" for the feds.

Here's what we don't understand … the plea deal is now available to the public, so what idiot is going to spill his guts to Nida now?

It gets even weirder. Nida has agreed to allow the feds to record conversations he may have with other criminal suspects. Again, it's like screaming through a bullhorn, "Don't talk to that dude!"
Someone called Nida out on Twitter for snitching, and he fired back by downplaying TMZ's story, explaining that he wasn't an "informant" and his case was just standard procedure, while name-dropping Tip and Mike.
"If 1 knows about the federal system it's standard language in a plea agreement 1 must be put on notice if that applies to them," Nida said via Twitter. "Michael Vick's, TI's plea. It's the same language different charge."
Michael Vick hasn't responded, but T.I. sure did, and he made it VERY clear to Apollo that he needs to keep his name out of his mouth.
The rapper and his friend Killer Mike (also a rapper) actually CONFRONTED the reality TV star in a parking lot in Atlanta and forced him to apologize on the spot and admit that their cases were not similar AT ALL.
T.I.'s right … we've seen the documents and his plea agreement with the Feds does NOT include a so-called snitching clause.

Nida has since deleted the tweet — and after what happens in this video … safe to say he won't be saying, tweeting, or even thinking anything about T.I. again.
Apollo also tried to cover his tracks on Twitter by saying that his tweet was "taken out of context."
@Tip For the record I never said TI nor Mick Vick cooperated for the FED's in there plea agreement. This was all taken out of context

— APOLLO NIDA RHOA (@apollonida03) May 9, 2014
@Tip I respect both Them guys and looked up to them every since they started her career no Homo

— APOLLO NIDA RHOA (@apollonida03) May 9, 2014
T.I. recently sat down for an interview with "The Big Tigger Show" on Atlanta's V-103 radio station and he touched base on his brief encounter with Apollo regarding those snitching comments.
"I don't have no slandering. If you're going to tell the truth on me that's fine," T.I. said. "Anybody got something to say about me, make sure it's the truth. If it ain't the truth, just be ready to see me."
The rapper went on to tell Tigger that all court documents are public record, so those who are curious can actually read up on his plea agreements and find the truth for themselves.
"The wonderful thing about the federal government and the United States is that all agreements, plea agreements are public record so you can pull Clifford Joseph Harris," he said. "It's all out there, man, so you can pull my agreement up."
Watch the full 7-minute interview here (the part about Apollo comes in at around the 3:35 mark):
Be the first to receive breaking news alerts and more stories like this by subscribing to our mailing list.