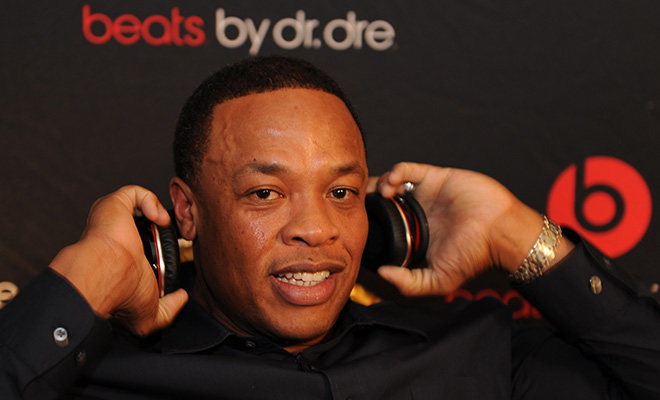 Forbes is raining all on Dr. Dre's parade, telling the rapper that calling himself the "first billionaire in Hip Hop" is a bit of a stretch … because even after the Apple buys Beats Electronics for a reported $3.2 Billion, the rap mogul's net worth still won't be at the billion dollar mark.
It was reported last week that Apple was preparing to acquire Beats for over $3 Billion, and while the deal is being worked out, speculation has turned to what the good doctor's net worth will be after the deal.
In an announcement video with his friend Tyrese, Dr. Dre implied that the deal would make him rap's first billionaire, but according to Forbes (who is privy to EVERY celeb/public figure's finances), that's not true.
Forbes says they've done the math, and after state and federal taxes, Dr. Dre's net worth will be about $800 million, which is close … but he'll need $200 million more to join the 'Billionaire Boys Club.'
Dre has a 25% stake in the company, so the most he would make from the sale is about $800 million. After the state and Uncle Sam take their respective cuts, he'll be left with $480 million, and with his other assets calculated in, that's how Forbes came up with the $800 million figure.
A sale for $3.2 billion would nearly double the value of Dre's holdings, though capital gains taxes could take a bite out of his big payday, likely leaving him with a net worth in the neighborhood of $800 million. It's not quite enough to land on the Forbes 400, but it would easily make him hip-hop's richest man, topping current champion Diddy by $100 million.
Even after the sale, Dre, as well as the primary owner of the company (current Interscope co-founder Jimmy Iovine) will still reportedly have a role with Beats under Apple.
Billionaire or not though, an $800 million net worth definitely makes Dr. Dre the RICHEST MAN IN HIP-HOP!
Plus, we're sure even Forbes doesn't know where ALL of Dr. Dre's money is…
Be the first to receive breaking news alerts and more stories like this by subscribing to our mailing list.