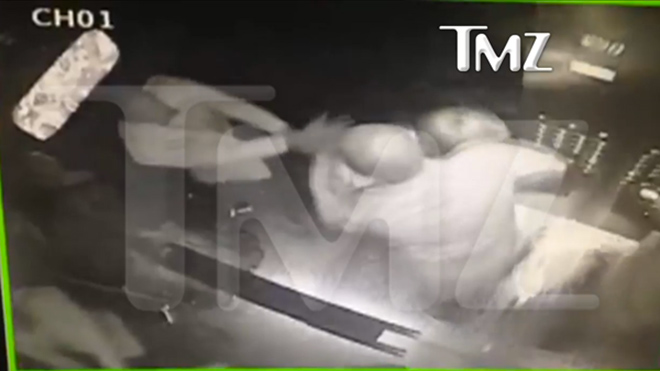 YIKES!!!!
Memo to the world: Beyoncé's little sister Solange is NOT the one to be f**ked with, y'all.
TMZ has obtained exclusive and shocking video footage of Solange Knowles GOING HAM on her brother-in-law Jay Z in a hotel elevator in New York City.
Solo, Bey and Jay were attending an after-party for the Met Gala last week at the Standard Hotel, and as the three of them were walking into the elevator … Solange just LOST IT!
The video footage shows Solo wildly and violently attacking and swinging at Jay, for whatever reason, before Julius (Bey & Jay's longtime bodyguard) pulls Solange back.
At one point in the video, Solange can be seen throwing a kick, and Jay grabs her foot, but he never attempts to strike and/or swing at her.
Beyoncé is seen in the corner on standby doing absolutely nothing, (as she should, because "lil sis" seemed like she was holding her own anyway!)
TMZ points out that it is "unclear" what triggered the fight, and then there's this:
And this is interesting. When you look closely, you see the bodyguard hit the emergency stop switch on the 12th floor — mid fight — presumably to keep the fight private.

All three walked out of the building together — Solange looks pissed — but while Bey and Solange get in one car … security walks Jay to a different one.
Hmmm…. something in the milk ain't clean about this, you guys, but clearly Jay Z has 99 problems and Solange IS one!
But don't be on the look-out for an explanation from this private family. It took YEARS for Beyoncé and Jay Z to even acknowledge that they were even a couple … so if you think they're going to explained what happened in that elevator, you'll be waiting forever.
Be the first to receive breaking news alerts and more stories like this by subscribing to our mailing list.