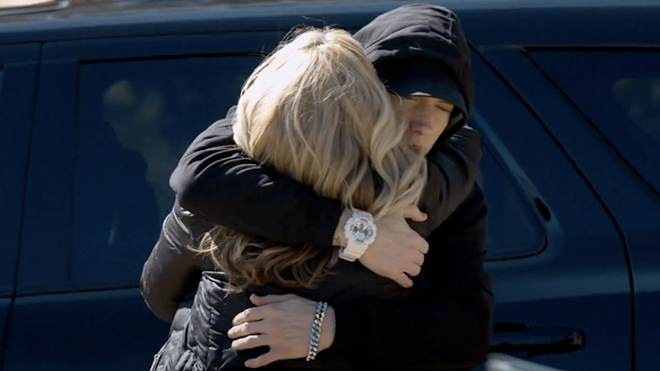 It's no secret that Eminem hasn't had the best relationship with his mother Debbie Mathers.
Remember "Cleaning Out My Closet?" He didn't have a lot of nice things to say about her in that particular song. But that was then (2002) and this is now, and Em and his mom no longer hate each other.
So as a Mother's Day tribute, Em released his new video for his latest single "Headlights," which is an apology to his mother, and he mentions COMC several times in it. Like this part:
I went in headfirst, never thinking about who what I said; In what verse, my mom probably got it the worst, the brunt of it
But as stubborn as we are, did I take it too far, "Cleaning Out My Closet;" And all them other songs, but regardless I don't hate you
Cause ma, you're still beautiful to me, cause you're my mom
And this one:
Cause to this day we remain estranged and I hate it though; Cause you ain't even get to witness your grandbabies grow
But I'm sorry momma for "Cleaning Out My Closet," at the time I was angry; Rightfully, maybe so, never meant that far to take it though
Cause, now I know it's not your fault and I'm not making jokes; That song I'll no longer play at shows and I cringe every time it's on the radio
"I really love the narrative for what we've come up together for 'Headlights,' because it's a great, great story," the video's director Spike Lee said in a teaser released Friday (May 9). "It's heartfelt. There's some pain in it, but that's life. So that's why we're here — back in the hood, 8 Mile, Detroit, shooting where all this took place."
WATCH EMINEM'S "HEADLIGHTS" VIDEO UP TOP
Be the first to receive breaking news alerts and more stories like this by subscribing to our mailing list.