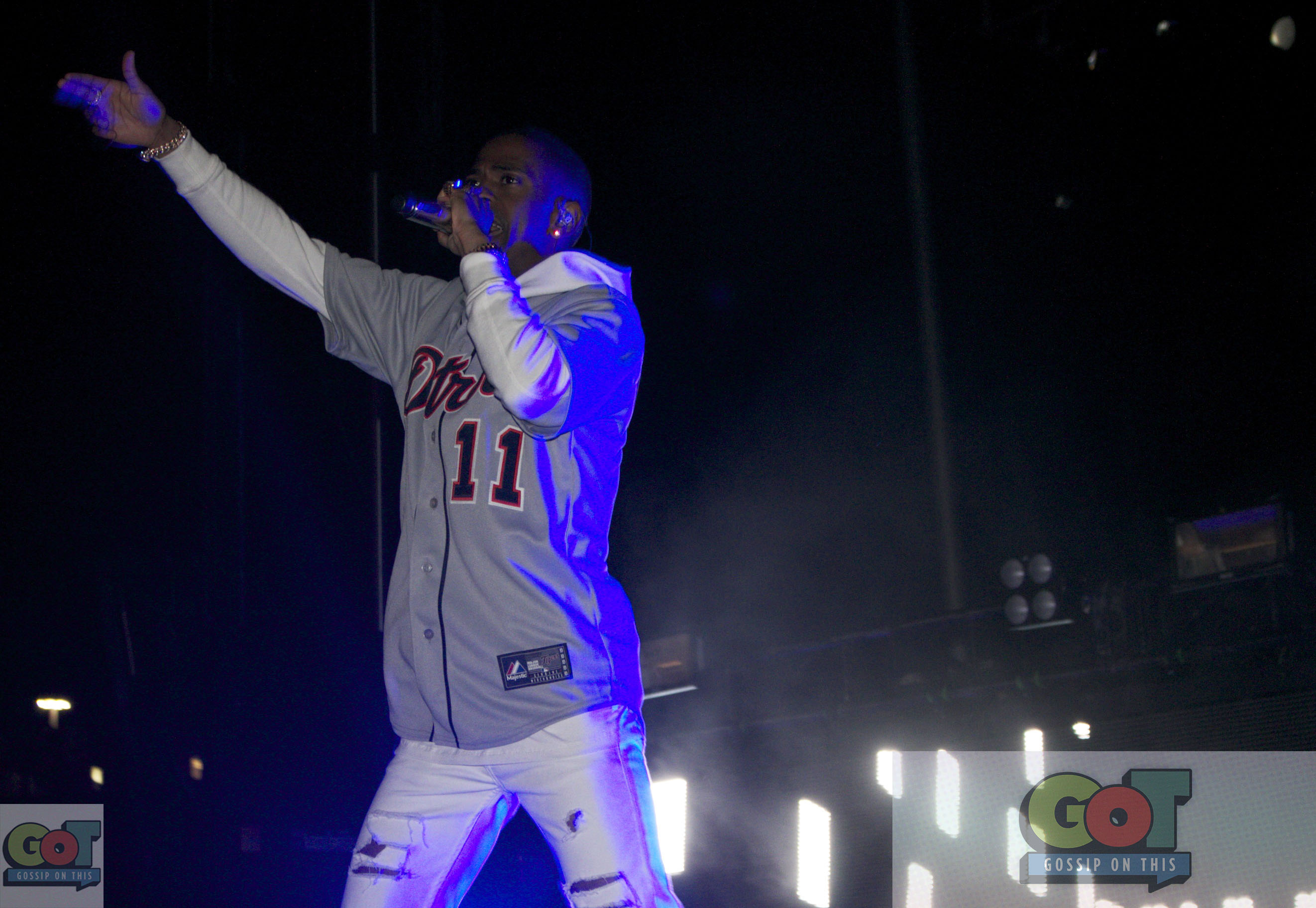 Art Attack is University of Maryland's (UMD) largest spring concert that has been hosted annually since its inception in 1984.
With over 10,000 terps and company filling Byrd stadium, Art Attack XXXI proved that UMD knows how to throw down with two of hip-hop's young stars. Friday May 2nd, 2014 Wale and Big Sean arrived to give fans something to cheer about just before final exams.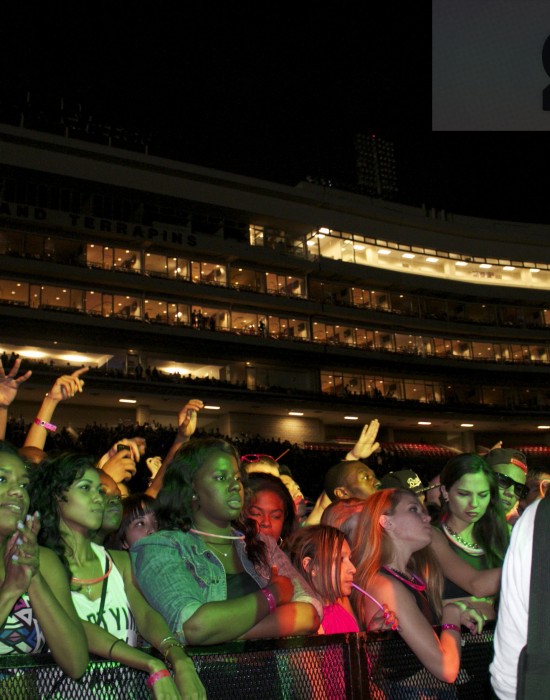 Wale is a native to Montgomery County Maryland and everyone was excited to see him perform for such a large crowd in his hometown.
Wale hit the stage shortly after arriving to the venue to keep fans from waiting. He immediately launched into a high energy set and let the crowd know he wanted the performance to be monumental.
Wale intentionally connected with members of the crowd by entering the pit following his second song and even performed a verse from within the sea-like crowd. He offered a mix of mixtape cuts such as "Bait" and recent album cuts such as "Love/Hate Thing" and "Clappers."
Ralph Folarin also ran through his biggest songs, like "Bad" and "Lotus Flower Bomb," and let the crowd take over for "No Hands."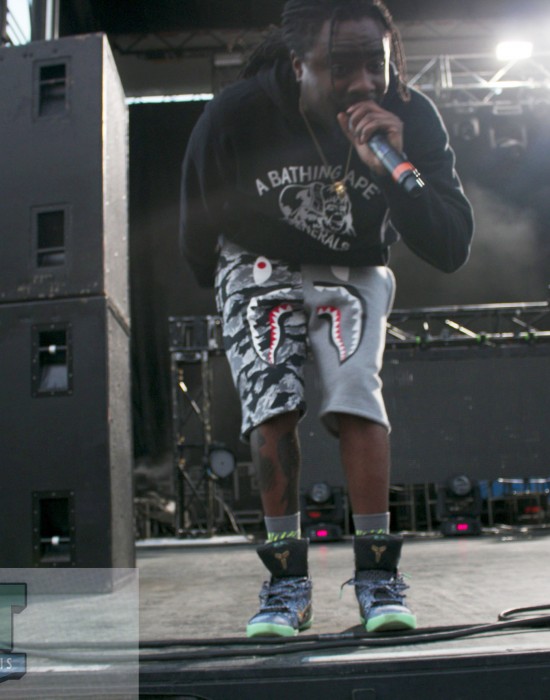 Due to a slightly late arrival, Wale was forced to forgo a short press conference but he did take the time out to address the crowd during his set.
The Maryland emcee made it clear that he was just like all the members of the audience and still is. A powerful message coming from a successful individual to a crowd of young students pursuing higher education.
Wale also brought out up and coming Washington D.C. group Thraxxx, to perform their street hit "Too Much" with a great response from the crowd.
For an artist that is often portrayed as reactionary and condescending, Wale was able to connect with fans, put on a great show to please the large crowd in attendance, and set the stage for his counterpart.
Wale and Big Sean are no strangers to sharing the stage, as Sean alludes to in the "Nothing Is Stopping You" intro for his most recent album 'Hall of Fame,' Sean has also performed at the UMD on two previous occasions in 2009 and 2011, but this time as a headliner his growth as a performer was clear.
Fresh off the split from his former fiance Naya Rivera, Sean was focused on the task at hand. Big Sean jumped into new material from the start kicking things off with his "1st Quarter Freestyle" demonstrating the top notch rapping he is known for.
Sean mainly did material from his first two studio albums 'Finally Famous' and 'Hall of Fame.' The G.O.O.D. Music emcee balanced out his raunchy hits such as "A$$," "Mona Lisa," and "Mula" with his more introspective tracks like "Toyota Music," "Fire," and "Beware."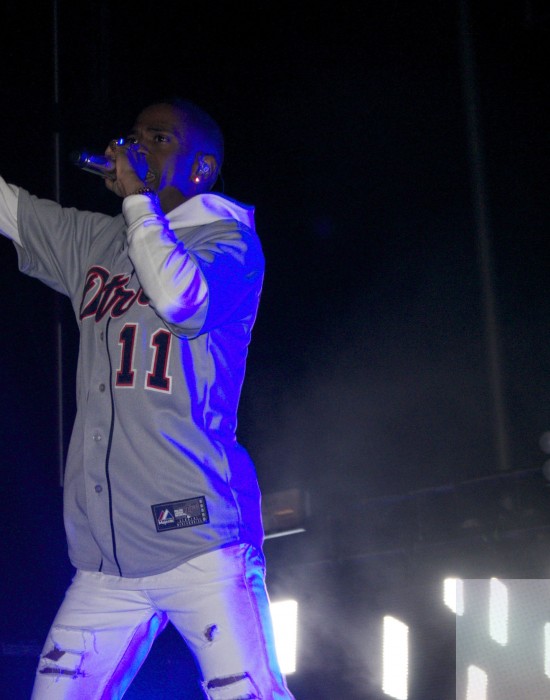 Big Sean was really able to get the entire stadium rocking with a digital display that changed along with the themes of his songs.
Despite his short stature, the stage presence was undeniable as he trotted through song after song killing every verse.
Big Sean was also accompanied by live music which helped make his set unique. The live band was able to transition smoothly and even played an impromptu version of a "Guap" interlude that many thought was simply a new song.
Sean of course also blessed the audience with a rendition of his "All Me" verse from Drake's most recent album. However, those in attendance may have noticed a slight alteration in Sean's lyrics. On the original "All Me" verse Sean raps, "My new girl is on 'Glee' and Sh*t, prolly making more money than me and sh*t."
On this occasion, myself and many in attendance heard Big Sean and DJ Mo Beatz ad-lib the verse with a resounding "Less!" in place of the usual "more." Surely, not a big deal in the slightest and probably truer than the original lyrics. However, it is interesting to see how artists can be affected by their personal life through their work.
Each artist can cope differently and Big Sean seems to be unfazed and delivered a stellar performance. Both Wale and Big Sean did not disappoint although both have collaborated on multiple songs together; it was disappointing to not see them both take the stage at once.
In the end, both emcees were able to stand on their own and keep the crowd heavily enthused for a concert to kickoff a spring weekend.
Following the show Big Sean commented, "There's good and bad college shows, but this one was definitely a good one … The energy was all the way through the roof."
The evening was full of good spirit and intoxicated students sang the night away. GOT was happy to be on hand to catch the event.
Make sure to check the gallery below for more pictures from Art Attack XXXI:
Be the first to receive breaking news alerts and more stories like this by subscribing to our mailing list.