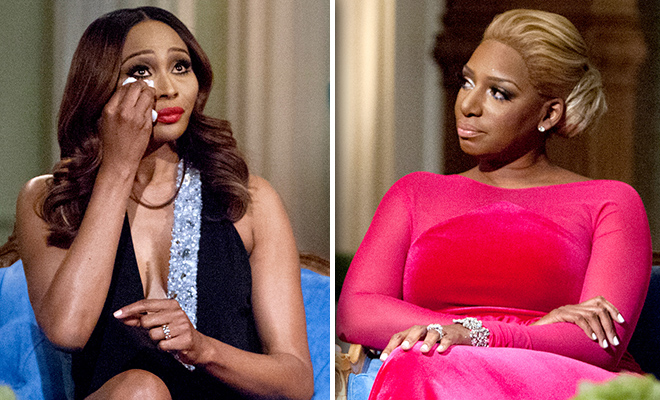 Part two of the three-part "Real Housewives of Atlanta" season 6 reunion aired Sunday night (Apr 27), and while most of our attention was focused on Mama Joyce and her crazy antics, we also couldn't help but notice how the "friendship contract" between NeNe Leakes and Cynthia Bailey was being breached right before our very eyes.
After NeNe and Cynthia was seen going back-and-forth with each other during the reunion, Cynthia talked about her feud with her BFF with Bravo producer Andy Cohen on "Watch What Happens Live" and revealed that NeNe is now her "worst enemy."
The former model told Andy that she came to that conclusion after NeNe said what she said about her on a recent "WWHL" episode, which was basically that Cynthia was boring and didn't deserve to see another season because "it's not like she's really bringing anything to the show…"
"The part of the reunion with NeNe was tough because we were really friends," Cynthia said Sunday night on WWHL. "She was someone I loved and cared about and I was in her wedding and when she got sick I was there."
Cynthia added:
"I want people to know I was a very loyal friend to NeNe. However, I'm actually glad that she did that. It validated that she was never my friend she is actually my worst enemy. For her to go on national television and say such things it's just unheard of.

"We're not talking anymore, so that just means now all of the sudden I shouldn't be on the show because you (NeNe) think I shouldn't be on the show? NeNe doesn't control my destiny. God controls my destiny. I was relevant before the show, I'm relevant on the show and I will be relevant after the show."
NeNe had said Cynthia was "wishy washy" and went wherever the wind blew, but Cynthia fired back, "The wind is fine to blow as long as it's blowing up her ass."
"It's about respect and accountability," she added. "She never thinks she's wrong about anything. she never wants to admit when she's wrong. When it comes to me, there was [no respect] and I respected her."
Cynthia and Andy also touched on the fight between Kenya Moore and Porsha Williams, and Cynthia said that Kenya waving that scepter around in people's faces was "provocative."
"Last year the fan was funny and even this year when she was just holding the scepter that was fine but when she started pointing it that it became provocative. The reunion is a provocative session. We all go to the reunion knowing that we are going to be provoked. We have a lot of things we have to get straight. It's a tough day. It's a tough day mentally.
"It's completely draining so you have to be mentally ready to deal with it. It's not easy … When the fight happened, it happened so quickly. Someone could've gotten hurt for real. I didn't go over there (to Porsha on the ground) because everybody was over there. I wanted to go check on Kenya because nobody was checking on her and she's the one who was attacked."
A caller later wanted to know why Cynthia seemed to side with Kenya.
"I didn't really side with Kenya, I just checked on Kenya because the other girls were checking on Porsha," Cynthia explained. "It was a horrible fight, It was horrible to sit in the middle of it and I don't condone violence and I think in a reunion setting we are there to fight with our words."
Next, Andy read a snippet of NeNe's (EXTREMELY LONG) Instagram rant addressed to Cynthia — which she later deleted — that said:
AS HOPEFUL AS I WAS 4 US 2 BE LIFE FRIENDS I'AM NOT SURPRISED OUR FRIENDSHIP HAS ENDED & IT TRULY SADDEN ME! REALITY FRIENDSHIPS NEVER LAST ANYWAY SO HOW FOOLISH WAS I TO THINK I HAD MADE SOMETHING SPECIAL! IT'S AMAZING WHAT PEOPLE R WILLING 2 DO 4 THE LOVE OF MONEY, RELEVANCY & 2 STAY ON TV.

WITH CYNTHIA'S SELL OUT PERSONALITY & BLOW WITH THE WIND PERSONA I KNEW IT WAS ONLY A MATTER OF TIME! IT'S ALWAYS THE ONES THAT R THE CLOSEST TO U THAT WILL TURN ON U! I WAS TOTALLY BLINDSIDED BY ALL THIS! YES I SAID PETER WAS ACTING LIKE A BIOTCH N EARLY OCTOBER OF LAST YEAR & I HAVE APOLOGIZED NUMEROUS TIMES 4 IT! CYNTHIA & PETER ACCEPTED MY APOLOGY & WE SIMPLY MOVED ON!

YES MOVED ON 2 TALKIN, TRAVELING & TEXTING SEVERAL TIMES A DAY AS WE ALWAYS DID! THE 4 OF US WENT 2 DINNER, CYNTHIA HOSTED MY CURVY GIRLS MODEL CALL @ BAR ONE & PETER WAS THERE 2 HELP OUT! THEY WERE @ THE HOSPITAL WITH ME, THEY SPENT THANKSGIVING @ MY HOME, WE CELEBRATED NEW YEARS EVE TOGETHER N VEGAS, WE WERE HANGING OUT TOGETHER DURING FASHION WEEK !SHE ATTENDED THE RED DRESS HEART TRUTH FASHION SHOW WITH ME & MICHAEL COSTELLO'S FASHION SHOW, WE CELEBRATED HER AN EARLY BIRTHDAY BRUNCH IN NYC @ LAVO!

WHEN THE EPISODE AIRED 4 ALL 2 SEE & TWITTER-VERSE HAD THEIR SAY I GUESS SHE CHANGED HER MIND & DECIDED SHE NEEDED 2 BE MAD NEARLY 6 MONTHS LATER!…..I KNOW U TRYIN 2 PULL THE SYMPATHY CARD BUT IF U WERE SUCH A GOOD FRIEND? Y DIDNT U PULL ME ASIDE & TALK 2 ME ABT HOW U WERE FEELING INSTEAD OF DICING OUR FRIENDSHIP UP N FRONT OF A BUNCH OF PEOPLE WHO DONT CARE! SURELY I'AM WORTHY OF THAT CONSIDERING I HAVE CARRIED U ON MY BACK!

I CAN ADMIT WHEN SOMETHING HURTS THE SAME WAY I CAN APOLOGIZE WHEN I'AM WRONG BUT HEY WHO CARES ABT A STUPID FRIENDSHIP WHEN U NEED 2 SECURE ANOTHER SEASON ON THE SHOW! THE SADDEST THING ABT BETRAYAL IS THAT IT NEVER COMES FROM THE ENEMY! 4 THE RECORD I DONT HATE U! I JUST HATE U TURNED INTO EVERYTHING U SAID U WOULD NEVER BE! GOOD BYE FRIEND!….PS: IF U OR ANYONE ELSE THINKS THE DEMISE OF OUR FRIENDSHIP IS YOUR STORY LINE 4 SEASON 7, THINK AGAIN FLIP FLOPPER.
Cynthia sniped back, "First of all we won't even get into storyline because NeNe is the one who doesn't have a storyline."
"If anything NeNe should be glad that we got into because that was her storyline this season, so let's be clear about that," she continued. "In regard to pulling someone aside, why didn't she pull me aside before she came on this show (wwhl) and tried to get me fired off the show?"
Andy and Cynthia also talked about NeNe calling Peter a "damn bitch."
Cynthia explained: "When NeNe called Peter a bitch I got a million Tweets saying 'you shoulda choked her, you shoulda slapped her'. I didn't do that because that's not what a lady does. A real lady doesn't call their best friend's husband a bitch in the first place. Again, that was provocative, I could've slapped NeNe because she called Peter a bitch, but then where does that leave me? Am I wrong? A million people thought I should have."
Andy, who pointed out how Cynthia's boob had slipped out when Porsha reached over to grab the bullhorn from Kenya, admitted that he got a lot of flack for allowing Kenya to even bring two props (the bullhorn and a scepter) to the reunion in the first place.
"Looking back on it, I should have taken the bull horn away," he said, explaining that last year Kenya brought a fan for comedic effect and it went over well. He said he thought the scepter and bullhorn would get a similar response, but he was obviously wrong.
"I'm sorry I didn't see it coming," Cohen said. "There will be no more props at reunion shows."
Andy also cleared up the rumors about Porsha being asked to leave and subsequently being fired from the show, neither of which actually happened.
"She was not asked to leave. She said she was not ready for the emotional stress of the day and we listened and didn't want to put her back into a situation in which she did not feel prepared emotionally and that she could potentially do something or say something that she didn't feel good about."
Perhaps the best moment of Cynthia and Andy's chit-chat happened when Andy speculated that Mama Joyce might have been drunk during the reunion show and Kandi Burruss promptly texted him saying that her mother has never had a drink in her entire life!
h/t: Reality Tea, Radar Online, The YBF
Be the first to receive breaking news alerts and more stories like this by subscribing to our mailing list.