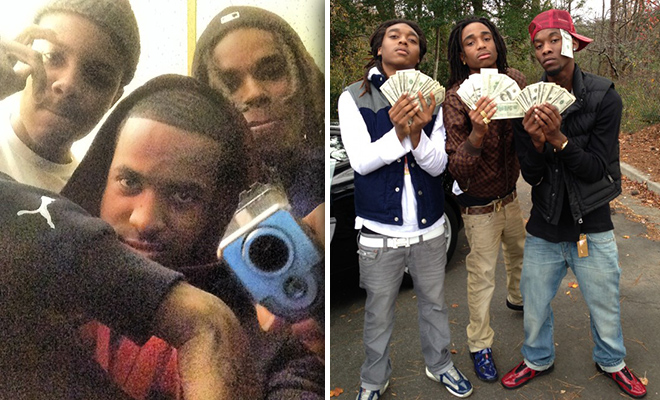 And the beef goes on…
Chief Keef's GBE crew and the Migos have been beefing for a while now, and based on a recent tweet from GBE rapper Lil Reese, it doesn't seem like it's going to be squashed any time soon.
Yesterday, the "YRN" rap trio tweeted a lyric from their song "Copy":
Whatever you wit, we wit.

— MIGOS™ (@MigosATL) April 9, 2014
Shortly after, a fan looking to drum up some trouble, retweeted the Migos' message and put Lil Reese's name in it, basically suggesting that the Chicago rapper should address the Migos about their beef:
@LilReese300 "@MigosATL: Whatever you wit, we wit."

— Rondo (@Lougotcash) April 9, 2014
Making matters even worse, for one reason or another, the Migos took it upon themselves to retweet the fan's tweet:
After Lil Reese caught wind of the tweets, he, apparently feeling some type of way, responded to the Migos and even threatened to involve "gunplay" (not the rapper). He has since deleted the message, but here's a screenshot: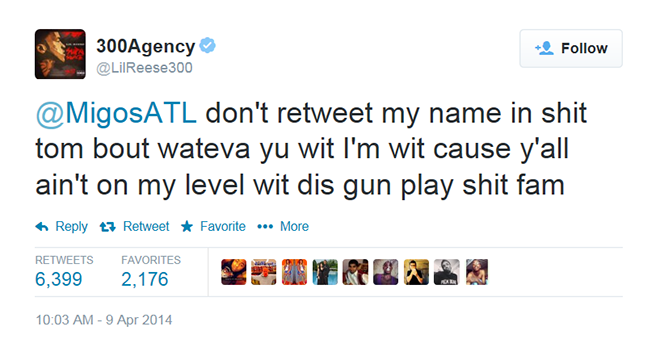 Though the Migos never replied to Lil Reese directly, Reese continued on with his threats against the group, posting a photo on Instagram of him pointing a gun at the camera, along with the caption: "All my niggas grimmy and yu know were 2find me…#300/150"
All my niggas grimmy and yu know were 2find me…#300/150 http://t.co/jcLeJme4TO

— 300Agency (@LilReese300) April 10, 2014
GBE and the Migos have been on bad terms over "sneak disses" since 2012, but their beef didn't go public until last December when Chief Keef called the ATL rappers out on Twitter for "sneak dissin no talkin."
Heard Migos sneak dissin No Talkin ????????????

— AlmightySo (@ChiefKeef) December 6, 2013
Hopefully this "beef" stays on social media and on wax because Lord knows the Hip Hop game doesn't need ANYMORE senseless killings!
Be the first to receive breaking news alerts and more stories like this by subscribing to our mailing list.