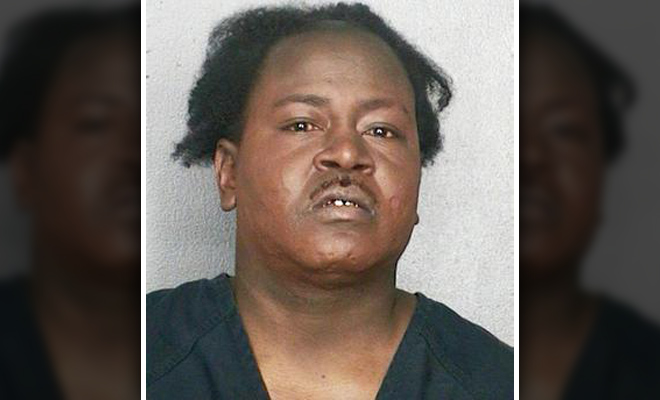 Trick Daddy put the "MADNESS" in "Mugshot Madness" over the weekend!
The Miami rapper posed for the unfortunate portrait above after being booked on drug & gun charges … and your mean (but hilarious) cousins on Twitter had a field day discussing the apparent struggle T-Double D must be going through and remarking on that "thing" sitting atop his skull.
Trick Daddy looks like a black version of a 70s kung fu movie villain

— David D. (@DavidDTSS) April 4, 2014
welp, good luck sleeping tonight after seeing #TrickDaddy's mugshot. http://t.co/jzgapmKYTP http://t.co/2E0eW97h0w

— Missinfo (@Missinfo) April 4, 2014
His teeth are still shiny. #ShineBrightLikeADiamond RT @freshalina: Say Something Nice About Trick Daddy's Mugshot http://t.co/cRTjVQv4M2

— I'm That Type Of Guy (@Marrrrcussss) April 4, 2014
Trick Daddy look extra ratchet in that mug shot lmao zamn

— -MrS.BiaZ- (@QweenKoopa) April 4, 2014
Trick Daddy mugshot look like he ready to audition for Walking Dead pic.twitter.com/aHcgDbl1Jp

— Mansa Musa (@dreadlocknoah) April 5, 2014
In case you haven't noticed, drugs are reallllllly bad for you… it doesn't work out, EVER! #trickdaddy #PSA

— Geli (@Geli) April 4, 2014
#TrickDaddy lookin like those school lunch ladies

— "Emmett" (@Emmett_N) April 4, 2014
#TrickDaddy looks like the old ratchet lady who cooks dinners at the corner store

— Jazz Van'Cartier (@JAZZYSWAGG305) April 4, 2014
And just what in the hell had T double D been eating? #Trickdaddy #youdontknownan #loosehairdontcare… http://t.co/cCOK5qa3Q8

— One&OnlyJAYAH (@27KARAT) April 4, 2014
Trick Daddy look like he sounds like Momma Jones in that mugshot

— Trav NEVER Chills (@SKTV_) April 4, 2014
According to reports, Trick Daddy (born: Maurice Young) was arrested at his home in Miami last Thursday (Apr 3) after cops stopped him, telling him they had a "sniff" warrant to search his place (inside AND out); and after searching the house they found a gram of cocaine on his nightstand and a 9mm gun under his pillow.
Young, 39, born and raised in Liberty City, was nabbed by Broward Sheriff's Office task force members who had gone to his home after securing a "sniff warrant," a document signed by a judge that gives police permission to search outside a home with dogs.

The Sheriff's Office complaint affidavit says a member of the Broward County Drug Task Force stopped Young as he was backing his green, two-door coupe out of his Miramar home at 16573 SW 19th St., and requested that he get out of the car.

When Young complained, the report says, the officer told him he was driving with a suspended license.

"He confirmed he was aware and asked if it was in reference to child support payments," an officer states in the police report.

When the officer explained he was on the property because a judge had signed a "sniff warrant," Young admitted he had cocaine and marijuana in his home, the report goes on to say. Young initially signed a consent form to enter the home, then rescinded after police entered.

Within four hours, officers had secured a search warrant that allowed them into the home. There, they found a gram of cocaine on a nightstand, ammunition, and a 9mm Sig Sauer P220 handgun under a pillow.
Trick was booked into the Broward County Jail jail and was released on a $6,100 bond early Friday, but not before being charged with multiple felonies, including possession of cocaine, possession of a firearm and ammunition by a convicted felon, and driving with a suspended license.
Be the first to receive breaking news alerts and more stories like this by subscribing to our mailing list.