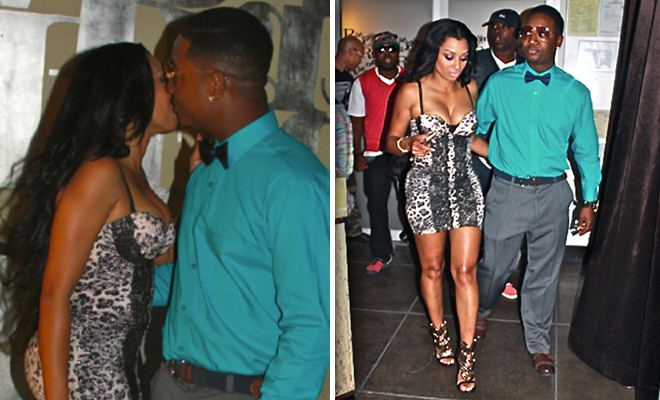 "It's going down!"
Atlanta rapper Yung Joc recently announced that he will be joining the cast of VH1's hit reality show "Love & Hip Hop: Atlanta" next season, and to make things even more interesting, he'll be starring alongside his "GIRLFRIEND" Karlie Redd!
Joc made a trip to BET's "106 & Park" to do a throwback performance of his hit song "It's Going Down," and while there, he confirmed that he will be appearing on LHHATL with his "girl" Karlie and we just "gotta watch."
"Ladies and gentlemen, yes I am on Season 3 of Love & Hip Hop [Atlanta], my girl is Karlie Redd, so you know, y'all just gotta watch," Yung Joc shared on the music countdown show.
When 106 host Bow Wow asked Yung if he was going to be involved in any of the show's infamous fights and conflicts (like the huge brawl this past February), Yung simply replied, "Ya'll just gon' have to watch," adding, "it kinda shows you what goes on in regular life, you know, not celebrity life… It's going to be really interesting to see how I handle everyday situations because I'm a little a little 'throw it off' at times and the world don't really see that on me, so they will when they tune in."

[Wetpaint]
We don't know how Karlie Redd continues to maintain her relevancy enough to hold on to her highly coveted spot on LHHATL, but she continues to do it every season, and for that, we salute you Karlie, even if you still lie about your age.
As for Yung Joc, the soon-to-be 31-year-old spoke to Bossip and talked about how much he loves Karlie and how they are the real deal.
"The best thing about Karlie Redd is I like the fact that she's a little throwed off and will jump off a building for me," he noted.
Joc also explained why he decided to appear on "Love & Hip Hop Atlanta" alongside that crazy Karlie Redd woman:
"By joining season 3 of Love & Hip Hop it allows people to see how Joc would handle some every day sh!t….Just because you're on a reality show doesn't mean it's the best fit for you.

"Just because cameras are on her (Karlie Redd) — as an actress, she's a great actress I'll give her that hands down — but when cameras are on you and you're forced to handle a decision that could be detrimental to how people view you, I don't know if she's the best candidate for handling that in front of a camera sometimes because I've seen her handle situations off the camera more professional.

"That's why I had to have these meetings because people were like, 'You don't want to go in there and your girl start trippin' on you, how you gone handle it?' so when we started having real-life situations I was like this ain't how you handle it on TV and that made it a lot easier to say, 'I'll accept the challenge of joining Love & Hip-Hop Atlanta Season 3."
Atlanta blogger/photographer FreddyO snapped a few photos of Joc and Karlie holding hands and kissing at an ATL nightclub (or restaurant?) last September.
Check 'em out below, and look out for the couple when they appear on the third season of VH1's "Love & Hip Hop Atlanta," which premieres in May 2014.
PHOTOS:
Be the first to receive breaking news alerts and more stories like this by subscribing to our mailing list.