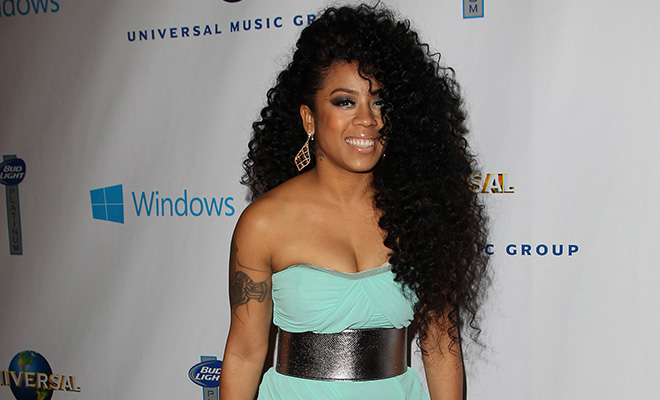 Keyshia Cole won't be doing any interviews for a while after a bad experience she had with Atlanta radio station V-103 Monday when the "Rick James" singer snapped on the air during an interview on the Ryan Cameron Morning show.
Keyshia was there to talk about her new single, her new album, and what's going on between her and her "husband" (can we still call him that?) Daniel Gibson … but things went real sour, real fast, when the show's co-host Wanda Smith questioned Keyshia on whether she thought she was "wifey material."
Keyshia didn't take the comment lightly, and gave everyone on the show a piece of her mind.
"You know what? Y'all really f*ckin' with my sh*t right now. I got some other sh*t going on. What y'all wanna talk about? Tell me now."
Check out excerpts from the interview (via Necole Bitchie) below:
Wanda: You were so busy, you had your career popping off and you you were doing your thing. Then you had to phase out and start doing the wifey things, the cooking, taking care of the kids. Were you really ready for that or were you still trying to do your music thing?

Keyshia: So you trying to insinuate that I was one dimensioned?

Wanda: Don't take it like that because I know at a time in my life, I had to pull back my career and… like with Monica! Right now, she's a little quiet and doing her thing.

Keyshia: Listen! Monica I'm sure is doing her thing. This isn't ain't no first rodeo for Monica. She's been through the ringer, this, that and the other. But at the end of the day, we can handle all that! It's a point of a man taking care of his business. Straight up on that. We good! We handle our sh-t. We do what we do! Period! I don't know what to tell you about that.
Shortly after the interview, Keyshia let loose on Twitter:
I'm done wit interviews for a minute! That interview with V103 left a very bad taste. And to be honest, I don't deserve that kinda treatment

— Keyshia Cole (@KeyshiaCole) March 24, 2014
Y'all can kiss my ass! With that phony shit RT @V103Atlanta: The city is already … http://t.co/1NVWYwAgsB

— Keyshia Cole (@KeyshiaCole) March 24, 2014
Y'all should be ashamed of ya selves! Not cool. Never another interview from me! RT @V103Atlanta: … http://t.co/DLq3sIZt1I

— Keyshia Cole (@KeyshiaCole) March 24, 2014
Man. Y'all don't even have to play my record. I'm cool wit that! RT @V103Atlanta: About to PREMIERE … http://t.co/K9OS84ECJz

— Keyshia Cole (@KeyshiaCole) March 24, 2014
Man. It's good tho. All love. God Bless. I'm gonna keep my head high and keep puttin one foot in front of the … http://t.co/DhbChQHft6

— Keyshia Cole (@KeyshiaCole) March 24, 2014
Listen to the audio here:
Be the first to receive breaking news alerts and more stories like this by subscribing to our mailing list.