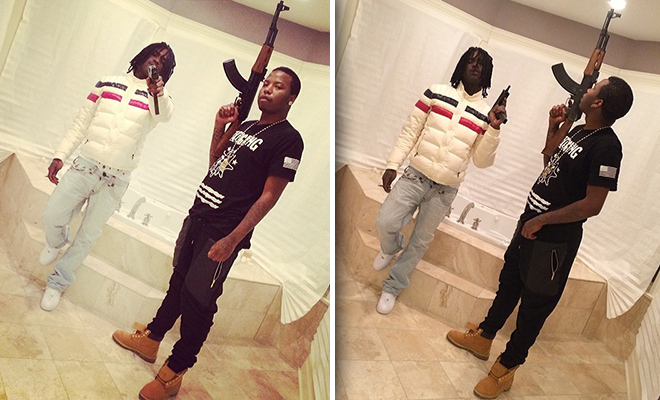 Chief Keef can't stay out of trouble to save his damn life! Real talk: if Chief Keef's life depended on him staying out of trouble, he wouldn't even have one. DUDE STAYS IN TROUBLE!
The "F*ck Rehab" rapper is being investigated for his involvement in a shooting that took place early Wednesday morning (Mar 26) at a suburban home his manager is renting out  in Northfield, Illinoi, about 20 miles outside of Chicago.
Chief Keef's lawyer told TMZ Keef wasn't the shooter and he just happened to be present when shots were fired, which sounds like something a lawyer for Chief Keef would say, because, duh.
According to WGN, the shooting victim is in stable condition after spending Wednesday in the ICU, however, there appears to be a discrepancy over what exactly happened:
Sources tell WGN one of Cozart's buddies shot another one of his buddies, who then ran off and drove himself to Skokie hospital. Another source tells WGN it was actually Cozart who drove the injured man to the hospital.
And to make matters even worse … over the past week or so, Chief Keef (real name: Keith Cozart), who has had his fair share of legal trouble in his short life regarding guns, has been flooding Instagram with photos of his gun collection — which includes an AK-47, a MAC-10, a TEC-9 and a few handguns.
On one of the photos, he wrote in the caption: "#AnotherSituation #ALREADY" … but what he should have wrote was, "#BadIdea #DUMBASS"
Way to make yourself look innocent, Keith! This guy has to be the dumbest…
Check out the possibly incriminating photos of Chief Keef & his friend "Ballout" below:
Be the first to receive breaking news alerts and more stories like this by subscribing to our mailing list.