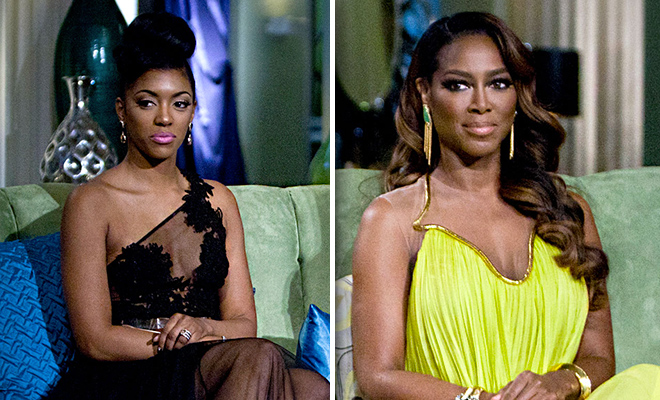 The "Real Housewives of Atlanta" just put the 'REAL' in real, if recent reports are to be believed.
According to US Weekly, "RHOA" stars Porsha Stewart and Kenya Moore got into what they described as a "vicious brawl" today during the taping of the season six reunion special, which is set to air about a month from now.
One of US Weekly's many spies reported to their leader:
"There was a major physical altercation between Porsha and Kenya … To the point that Porsha beat the crap out of Kenya, dragged her across the stage by her hair, and gave her a major beatdown."
Wait … WHAT?!?
We knew Porsha and Kenya had beef — for the past few episodes this season, Kenya has been antagonizing Porsha over her divorce from Kordell Stewart, suggesting that Porsha and her now ex husband Kordell's marriage was "arranged" and Porsha was simply acting as a "beard" for the former NFL player — but DAYUMMMMMMM!!!!
If what they described is true (US is usually right … about 75% of the time), that is one helluva beatdown!
While it's not even close to a good look for two grown azz women to be brawling like that on national television, we can't sit here and act like that's not one of main reasons why we all watch reality television.
No ratchet = boring TV. Even faked ratchet equals boring TV. The ratchet has to be "authentic" for it to truly work, which is why the "Housewives," "Basketball Wives" and "Love & Hip Hop" shows do so well, but then, when they try to remove the ratchet, they get real boring, real quick.
More details about the fight between Porsha & Kenya are forthcoming, however, we'll see what REALLY went down when the two-part "Real Housewives of Atlanta" Season 6 reunion special airs next month on April 20th and 27th.
Be the first to receive breaking news alerts and more stories like this by subscribing to our mailing list.