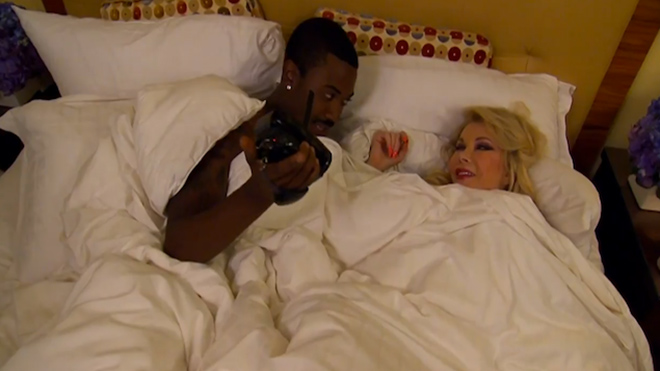 Ray J just won't let this whole "he hit it first" thing go, will he?
To promote the new season of WE TV's "Joan & Melissa: Joan Knows Best," Ray J and TV personality/comedian Joan Rivers spoof Ray J's infamous 2007 sex tape with Kim Kardashian. And it's just as awkward and gross as you would imagine.
In the video, after doing some freaky things under the sheets, the rapper/R&B singer  tells Joan that she is twice the woman Kim Kardashian was, to which Joan responds, "No, she was 32 at the time. I'm three times the woman."
Uhhh… no thanks, Joan!
Afterward, the two sit down for an "interview," in which they talk about the benefits of a relationship between an older woman and a younger man.
"I like older women because they know what they want, they know when they want it, and after they get it then they tell you to get out," Ray J said.
"But then I think it's, we know what we want and usually it's dinner at 4:30," Rivers added.
"Yes," Ray J followed up, "And I'm good with that because when I take you to dinner, after dinner it's 6:30. We hit the bed by 7:30pm, you sleep by 9, I'm in the club by 12. Hello! We got a perfect relationship."
Hilarious! But still gross. And awkward. But mostly just gross.
Be the first to receive breaking news alerts and more stories like this by subscribing to our mailing list.