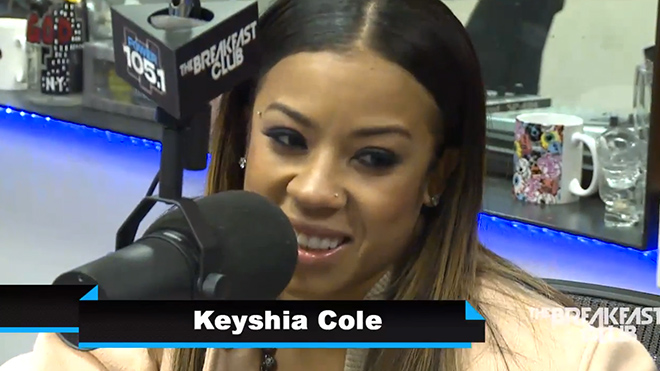 Keyshia Cole paid a visit to Power 105's "The Breakfast Club" Thursday morning and finally revealed the details on all of the controversy that's been taking place in her life lately.
While being grilled by Charlamagne Tha God, Keyshia spoke on criticizing Beyoncé (in regards to getting her feelings hurt over that "Bow Down Bitches" song), her beef with Michelle Williams, her rumored split from Boobie Gibson, whether or not she still speaks to her family (namely her ratchet ass mama Frankie), and more.
One thing we can say about Keyshia is that she always keeps it 100!
Here are a few excerpts (via our friends over at Rap-Up):
On Beyoncé: "I was not hating on Beyoncé. It was not directed at all as hate. I love Beyoncé. I've seen Beyoncé a few times. She's always a very sweet girl. To me, that just wasn't her thing. Like dude said, she switched it up or something. But that's just not what I know of her, so it kinda hurt my feelings."

On Michelle Williams: "She started that, and it really hurt my feelings too 'cause she's Christian and she's the church girl and all of this, but yet we talk on the phone, you say you apologized for taking the tweet down that you said about me in the first place. I just felt like everybody just jumped on me 'cause I'm from Oakland, I'm the ghetto chick and I'm always starting everything, when the actuality, I just say how I feel. I don't feel like I was starting nothing with her. I was just getting her back for what she said to me."

On divorce rumors: "I don't even really know what I wanna do right now. I don't wanna talk about it. I don't even want to go into it."

On her relationship with Boobie: "We co-parent. He's a great father though. [He takes] DJ to school every morning and I pick him up. We good."

On dealing with her anger: "I've grown a lot. I'm 30 years old. Ain't the same way I used to do and take my anger out and just go ahead and approach you and do something about it. That ain't the way I do it no more. I'm a mother and whatever I do from here on out, I want my son to be proud of."

On her family: "It's just chaos and I don't want that around [my son]. I gotta protect him from that kinda chaos."

On her mother Frankie: "I haven't even spoken to my mom in a minute. They don't have my number. It's a respect thing."

On her plans after this album: "I was speaking to Baby from Cash Money about a couple things, but I don't know what's gonna happen with that."
WATCH THE INTERVIEW UP TOP