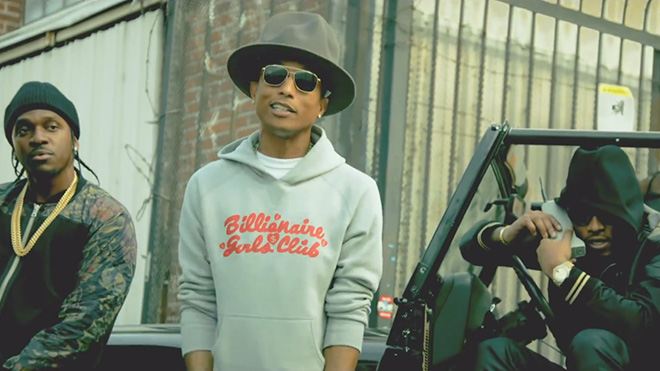 In the days following the release of his second solo album 'G I R L,' Pharrell Williams stole the show as he and his Smokey the Bear hat made a quick cameo in the video for Future's new single "Move That Dope."
Oh yeah, Pusha T and some new guy named Casino (who is signed to Future's "Freebandz" label imprint) were there too. No offense to you guys, but it's all about Pharrell here!
Here's a snippet of what he had to say:
"These ni–as is knocking over vehicles
These ni–as ain't waitin' just to see ni–as
These ni–as ain't tryna hear plea ni–as
These ni–as like choppin' down trees, ni–as
These ni–as 1-2-3 and they squeeze, ni–as
These ni–as hit the weed then they leave ni–as
Gee, ni–a"
The track will appear on Future's upcoming album 'Honest,' which will be available on April 22nd.
WATCH FUTURE'S "MOVE THAT DOPE" VIDEO (FEAT. PHARRELL & PUSHA T) ABOVE
And check out the "extended version," which features Casino here:
Be the first to receive breaking news alerts and more stories like this by subscribing to our mailing list.