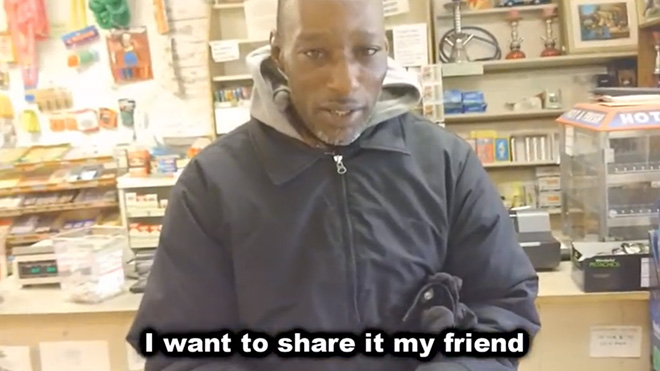 FAIR WARNING: If you don't feel like getting into your feelings like Drake does whenever he enters "Marvin's Room," DO NOT WATCH THIS VIDEO. If you don't feel like crying thug tears (REAL THUG TEARS) in front of your friends, family and/or co-workers, DO NOT WATCH THIS VIDEO.
However, if you can control your feelings, or if you know how to play it off (examples: "I'm not crying, I think I have an eyelash in my eye," or "those aren't tears, my eyeballs are just leaking fluid all of a sudden right now, THIS HAS NEVER HAPPENED BEFORE"), then by all means, go for it.
YouTube prankster Magic of Rahat is known for his antics that usually freak his victims out (like making skeletons pull up to drive-through windows around Halloween).
But last Tuesday (Mar 4) Rahat switched things up a bit, and shared a heartwarming stunt that brought the Internet as a whole to happy tears.
Rahat gave a lottery ticket to a homeless man, but before handing over the ticket, he gave the clerk at the store $1,000 and instructed the clerk to pretend that it was a winning ticket, and to give the cash to the man, whose name is Eric.
Eric could hardly believe the good fortune he had just so happened to come across as the clerk counted the bills, one-by-one, in front of him, but what happened next was just…. WOW.
As soon as Eric collected his money, he turned to Rahat and said to him, "I would like to share it."
WHAT?!?! Talk about restoring faith in humanity!
Eric began to cry, and Rahat shed some tears as well, and honestly, if you watch the video and you don't have an icebox where your heart used to be, you'll cry (or at least feel like you should) too.
Eric's selfless gesture has since gone viral, and inspired by fans who asked him to help them do something for Eric, Rahat set up a fundraising page the following Thursday hoping to collect at least $20,000 to help Eric get back on his feet.
As of today (Wed. Mar 12), the campaign has collected nearly $40,000 from over 2,200 supporters, with at least 13 days left until it closes.
Rahat has also been spending time with Eric, posting fundraising updates on Twitter, and sharing a photo of himself, his videographer (Trey) and Eric after the three had lunch together on Sunday.
During a Reddit AMA (Ask Me Anything), Rahat shared that he put Eric up in a hotel for two weeks and also took him out to dinner.
Some on the website have questioned why Rahat went to such great lengths to come up with a prank when he could have just handed Eric the money, but Rahat says he wouldn't have had it any other way.
"I wanted to create a moment of magic with him winning the lottery," Rahat wrote on Reddit. "I could've just went up to him and gave him $1000, but I wanted to do it in a unique way."
H/T: HuffPo
Be the first to receive breaking news alerts and more stories like this by subscribing to our mailing list.