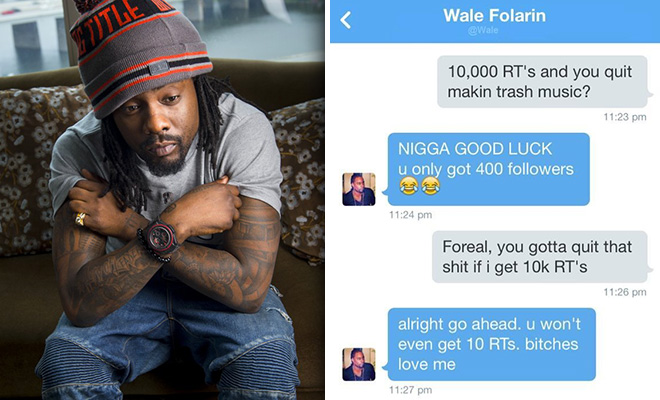 Your least favorite rapper Wale may be giving up the mic soon … or at least over 10,000 Twitter users hope so!
The Maybach Music rapper (who has a hard time dealing with people not liking his music) reportedly made a bet with a fan on the popular social networking site that could cost him big time.
According to Hip-Hop Vibe, a fan DM-ed Wale on Twitter and asked if he would quit making music if he could get 10,000 re-tweets.
Wale decided to take the fan (@iTweetYoMom) up on his challenge and even wished him good luck, considering the guy only had about 400 Twitter followers at the time (now he has over 1,000).
"u won't even get 10 RTs. bitches love me" was Wale's exact response.

Well, it just so happens that the guy was able to get those 10,000 re-tweets (he has over 12,000 now):
If i get 10,000 RT's @Wale will stop making music pic.twitter.com/s5i0AkcdRi

— Manny (@iTweetYoMom) February 28, 2014
But Wale has since spoken with Funkmaster Flex and claims that the alleged DM exchange was photoshopped and he will not be quitting rap anytime soon. Bummer.
Who knows whether or not the DMs were photoshopped, but the fact of the matter … people really hate Wale, apparently.
Real or fake, we doubt if Wale is really going to quit making music over a Twitter bet though … but you've gotta admit, the thought of it is still funny as hell.
Be the first to receive breaking news alerts and more stories like this by subscribing to our mailing list.