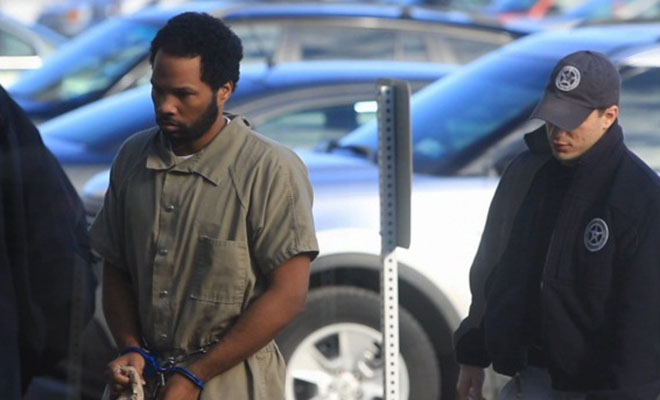 UPDATE (03/31/14): Mendeecees has been released on $600K bail, of which $200K was paid by his fianceé Yandy Smith! CLICK HERE for the pics/details…
******
Original post below…
Yandy Smith's storyline was pretty dry on the fourth season of "Love & Hip Hop: New York," but season five might be a totally different story … because Mendeecees is coming home! Or he's already home, if recent reports are to be believed.
On LHHNY Season 4, we saw Yandy holding down the fort as she awaited news of her fiance's sentencing. And last month, we reported on a story from December 2013 that suggested that Mendeecees could be spending the next decade of his life in prison.
Mendeecees from "Love & Hip Hop" Could Get At Least 10-15 Years in Jail
Mendeecees has been locked up on federal drug trafficking charges since January 2013, after authorities seized millions of dollars in cash and jewelry from the reality star and his alleged cohorts Tyrus Harris (his brother) and Ronald "Kellz" Walker.
Walker — who reportedly arranged for the distribution of 40 kilos of cocaine and a single kilo of heroin through New York City — pleaded guilty to money laundering and conspiracy charges last August and was sentenced to 10 years in prison, leading many to believe that Mendeecees would meet the same fate.
But as it turns out, Mendeecees must have struck a deal with the feds, because as of right now, he is no longer listed on the Federal Bureau of Prison's website. In fact, a search on their website for "Mendeecees Harris" turns up a 35-year-old "Black Male" who is listed as "NOT IN BOP CUSTODY" with an "UNKNOWN" release date.
According to Uptown Magazine:
Apparently as of November 2013, no public docket entries have been made by the Court Clerk. Both the Bureau of Prisons and Harris' attorney report that Mendeecees is currently not in federal custody, but do not offer any additional information or comment.

The most recent activity in Mendeecees' case was an order requiring the parties to inform the Court by November 15, 2013 as to whether the defendant would be requesting that infamous detention hearing. Curiously, no public filings appear on record thereafter.

If a detention hearing is eventually scheduled and held, the Court will hear testimony and determine whether there is probable cause that Harris committed the alleged offenses. If so, the judge must then decide whether any conditions of release would adequately ensure that the defendant is not a risk of flight or a danger to the community.

However, with confirmation that Mendeecees is currently not in federal custody and no recent court filings, there is a likelihood that the case has already been resolved and the details of that resolution are sealed.
Yandy recognized her future husband's 35th birthday last November with a heartfelt Instagram post thanking him for "strong" he made her, and for the "most precious gift" — their son Omere.
"Hope you know how much we love you and much we pray for you every day," she wrote. "Omere told me to tell you 'Happy Birthday Daddy.'" She added, "Also, since I have to work tonight, I put on the freak'em dress just for you!"
Yandy hasn't said anything about Mendeecees' alleged release, and his attorneys aren't responding to media requests for comment, so we'll just have to wait and see where things go from here.
Do you think Mendeecees is out of jail?
UPDATE (02/16/14): The following image was posted to Mendeecees' Instagram page Saturday (Feb 15), with the caption "Having a drink… y'all missed me?" leading many to believe that he is, in fact, out of prison.
But shortly after the posting went viral, Yandy commented in the post saying "Don't you think if he was home he would be posted all over my page stupid?! Just because it's in a magazine or online does not mean it's factual…"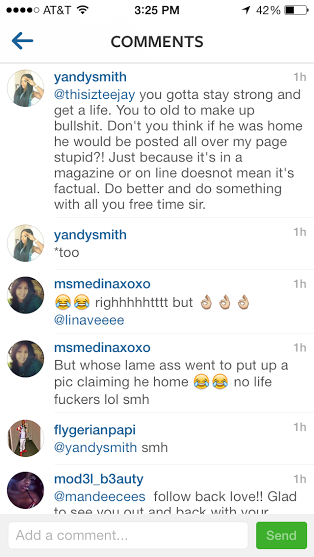 Now, the thing is, this is Mendecees' Instagram page. Or at least we think it is.
He was using it when he was out of jail, it's been updated pretty regularly, despite his incarceration, which is pretty odd. Maybe someone else has access to Mendeecees' account? Who knows…
But, like we said, the Federal Bureau of Prisons does list him as "not in custody," where it previously listed him as "in transit," so honestly, we don't know what the hell is going on here.
Be the first to receive breaking news alerts and more stories like this by subscribing to our mailing list.