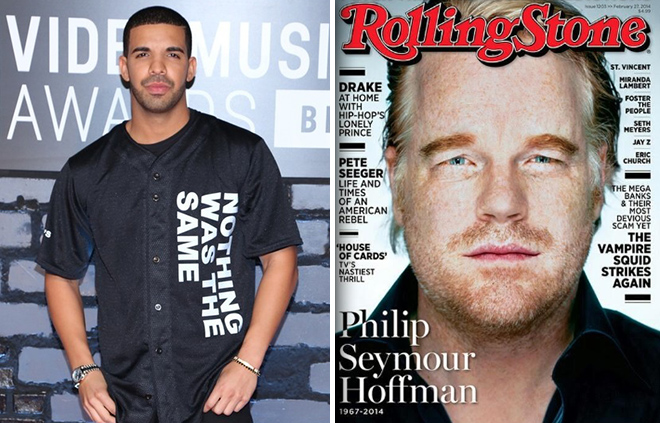 Drake was mad, real mad, Joe Jackson, the other day, and he let everyone know on Twitter.
What had Drake all in a tizzy was the fact that not only was he replaced on the cover of Rolling Stone magazine at the last minute with a cover story about the late actor Phillip Seymour Hoffman (who died earlier this month from an apparent drug overdose) … but the magazine had also apparently "misquoted" him regarding a comment he said about Kanye West's latest album 'Yeezus,' something he thought was "off the record."
Here is an excerpt from Drake's lengthy Rolling Stone feature, in which he mentions how jealous he was that he didn't think of Kanye West & Jay Z's "Ni**as in Paris" first, and goes on to say some other things about Kanye that could be really be taken the wrong way:
When Drake hears a song he wishes he'd made, "I get physically sick," he says, adding, "It doesn't happen often." It happened in 2011, when he heard Jay Z and Kanye West's "Ni**as in Paris," from Watch the Throne. "I was like, 'How did I not think of that?' – 'Ball so hard, that shit cray!' It was real rap shit, but it felt melodic; all the cadences felt so good." The song directly inspired "Started From the Bottom," he says, challenging him to come up with a rapped hook just as catchy as a sung one.

Drake is on good terms with Jay Z and Kanye. "Kanye and me are friends; we're plotting on getting some work done together," Drake says, and Jay, who will text him words of encouragement, recently called him the "Kobe Bryant" of hip-hop. Not long ago, though, the air between the three seemed cooler, with Drake and the pair trading thinly veiled barbs in their music. "I'm just feeling like the throne is for the taking – watch me take it," Drake rapped in one such moment of provocation. (Hov-baiting emphasis added.)

"It was a lack of communication paired with natural competitiveness," Drake says, explaining the friction. "When something monumental is happening in front of me" – i.e., the Throne album – "and everyone's paying attention to that, you gotta say, 'I'm still here.' But those two are gods to me."

What smoothed things over with Kanye was a favor-trade: The Chicago MC asked Drake to perform at a private birthday party for "some kid," Drake says; Drake, in turn, asked Kanye to drop in on OVO, Drake's annual Toronto festival, where they exchanged praise, and a big hug, onstage.

Their patched-up friendship doesn't exclude criticism. For instance, Drake says that he was ambivalent about Kanye's last album, Yeezus. "There were some real questionable bars on there," he says. "Like that 'Swaghili' line? Come on, man. Even Fabolous wouldn't say some shit like that." But Drake says he speaks from a bedrock of deep respect: "Kanye's the reason I'm here. I love everything about that guy."
The bolded portion is the part Drake says is basically a "misquote," and in a Twitter rant Thursday (Feb 13), he denied speaking on 'Yeezus' for the "interview portion" of his Rolling Stone feature (alluding to him actually speaking on it with the reporter, but not thinking it would actually make it IN the interview).
I'm done doing interviews for magazines. I just want to give my music to the people. That's the only way my message gets across accurately.

— Drizzy (@Drake) February 13, 2014
He has since deleted most of the tweets, but not before the always reliable Internet was able to screenshot them: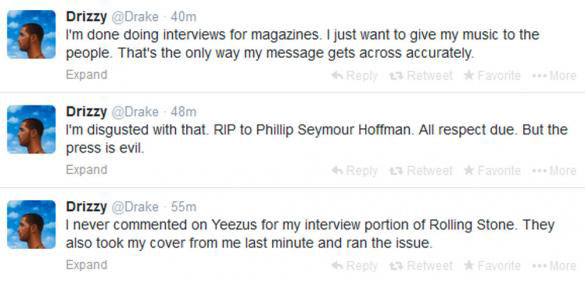 Now, Drake — aka "The Boy" — is back-peddling on his comments, probably because of the backlash he received and not because he really feels "sorry."
In a post titled "Tough Day At the Office" (LOL), an "extremely emotional" Drizzy wrote on his OVO blog early this morning:
With today being the 5th anniversary of So Far Gone I figured it's fitting to return to it's place of its origin in order to clear the air about an extremely emotional day. I completely support and agree with Rolling Stone replacing me on the cover with the legendary Phillip Seymour Hoffman. He is one of the most incredible actors of our time and a man that deserves to be immortalized by this publication.

My frustration stemmed from the way it was executed. The circumstances at hand are completely justifiable (on the magazines behalf), but I was not able to salvage my story or my photos and that was devastating. They ran the issue without giving me a choice to be in it or not. I would have waited until it was my time because I understand the magnitude of the cover they chose but I just wasn't given that option and that made me feel violated.

I apologize to anybody who took my initial comments out of context because in no way would I ever want to offend the Hoffman family or see myself as bigger than that moment. I am still the same person. Today I was forced out of my character and felt the need to react swiftly. These days are the worst ones. Waking up after a great night in the studio and it's your day to be picked apart.

After dwelling on it for a few hours or days you will come to the conclusion that you brought it on yourself almost every time. So here I am having that moment. I once again apologize to everybody who took my cover comments the wrong way. I respect Rolling Stone for being willing to give a kid from Toronto a shot at the cover. I guess this is a day to learn and grow.

Sincerely,

The Boy
Yeah… I don't know about you, but to me, that reads nothing like a TRUE "apology." More like one those "sorry, but not really sorry" types of apologies these celebs only put out at the advice of some PR person.
He's basically saying "I'm not sorry for what I said, I'm sorry for how you took it," which isn't really an apology at all, is it?
Be the first to receive breaking news alerts and more stories like this by subscribing to our mailing list.