Shirley Temple, the actress who not only rose to fame as arguably the most popular child in the history of Hollywood, but also survived the craziness of show-business and went on to a successful post-acting career, has died.
According to her publicist Cheryl Kagan, Temple — known in her private life as Shirley Temple Black — passed away late Monday night at around 11 p.m. at her home near in Woodside, California (near San Francisco), surrounded by family members and caregivers.
She was 85 years old.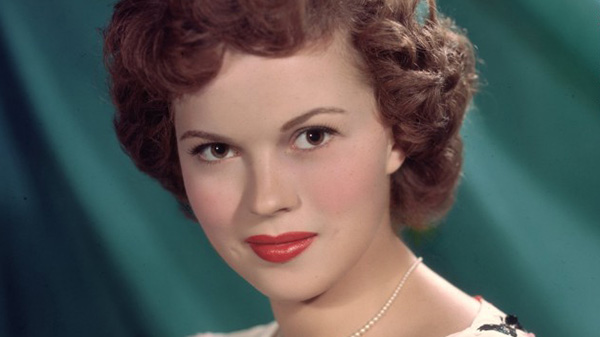 "We salute her for a life of remarkable achievements as an actor, as a diplomat, and most importantly as our beloved mother, grandmother, great-grandmother, and adored wife for fifty-five years of the late and much missed Charles Alden Black," a statement from her family said.
Shirley Temple — who began acting at three years old and became a major box-office draw before turning 10 — is best recognized as the "dimpled, curly-haired child star who sang, danced, sobbed and grinned her way into the hearts of Depression-era moviegoers," according to the AP's report on Temple's passing.
Most of us under the age of 30 remember Shirley Temple from this commercial that used to air EVERY SINGLE NIGHT on Cartoon Network when we were kids:
A talented and ultra-adorable entertainer, Shirley Temple was America's top box-office draw from 1935 to 1938, a record no other child star has come near. She beat out such grown-ups as Clark Gable, Bing Crosby, Robert Taylor, Gary Cooper and Joan Crawford.

In 1999, the American Film Institute ranking of the top 50 screen legends ranked Temple at No. 18 among the 25 actresses. She appeared in scores of movies and kept children singing "On the Good Ship Lollipop" for generations.

Temple was credited with helping save 20th Century Fox from bankruptcy with films such as "Curly Top" and "The Littlest Rebel." She even had a drink named after her, an appropriately sweet and innocent cocktail of ginger ale and grenadine, topped with a maraschino cherry.

Temple blossomed into a pretty young woman, but audiences lost interest, and she retired from films at 21. She raised a family and later became active in politics and held several diplomatic posts in Republican administrations, including ambassador to Czechoslovakia during the historic collapse of communism in 1989.

"I have one piece of advice for those of you who want to receive the lifetime achievement award. Start early," she quipped in 2006 as she was honored by the Screen Actors Guild.

But she also said that evening that her greatest roles were as wife, mother and grandmother. "There's nothing like real love. Nothing." Her husband of more than 50 years, Charles Black, had died just a few months earlier. They lived for many years in the San Francisco suburb of Woodside.
Shirley Temple Black is survived by her three children, as well as grandchildren and great-grandchildren.
Be the first to receive breaking news alerts and more stories like this by subscribing to our mailing list.