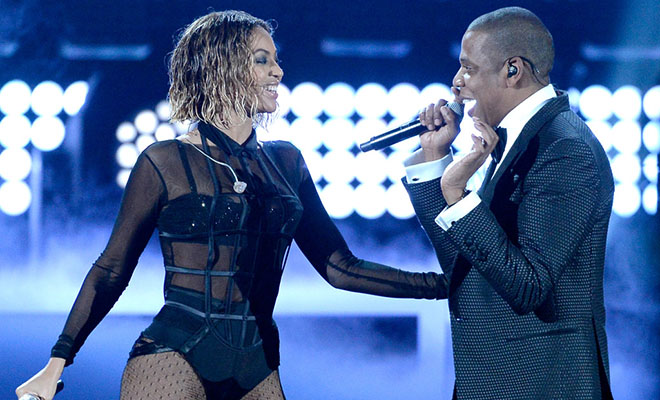 When Beyoncé released her self-titled visual album at the end of 2013, critics wondered whether or not the project would produce any hit singles. Well guess what? IT IS!
As of this week, Beyoncé's "Drunk In Love" — the latest single from the album, featuring hubby Jay Z, is the No. 2 song in the country, up more than 10 spots from last week!
According to Billboard, DrIL sits right behind Katy Perry's "Dark Horse" (feat. Juicy J), which is the No. 1 song on the Hot 100 chart for the second week straight.
"Drunk In Love" marks Beyoncé's 15th top 10 and her first in nearly four years since collaborating with Lady Gaga on "Telephone" in 2010
The song marks her first top 10 as a lead act since 2009's "Sweet Dreams" and is also Bey's highest-charting single since "Single Ladies (Put A Ring On It)" spent four weeks at No. 1 in December 2008.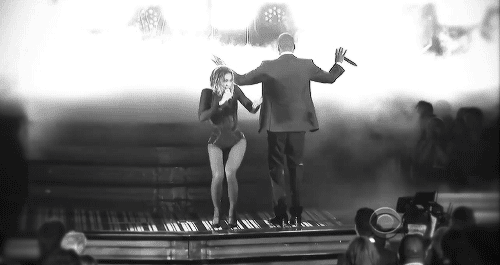 More via Billboard:
With 15 top 10s, Beyonce ties Connie Francis and Olivia Newton-John for seventh-place among women with the most top 10s in the Hot 100's 55-year history. (She passes P!nk, Donna Summer and Taylor Swift, each with 14.) Among female soloists, Madonna leads with 38 top 10s (the best mark of any act), followed by Mariah Carey, Janet Jackson (27 each), Rihanna (25), Whitney Houston (23) and Aretha Franklin (17).

Jay Z, meanwhile, extends his record for the most Hot 100 top 10s among rappers, as he collects his 21st (with 12 in a lead role; Beyonce has sported lead billing on 13 of her 15 top 10s). Among rappers, Lil Wayne and Ludacris share second place with 18 top 10s each, followed by Eminem (17), Diddy and T-Pain (15 apiece).

"Drunk" is Beyonce and Jay Z's fourth shared Hot 100 top 10 (and the third with Beyonce as the lead artist). With Jay Z as the lead, "'03 Bonnie & Clyde" reached No. 4 in December 2002. The couple followed with "Crazy in Love" (eight weeks at No. 1, 2003) and "Déjà Vu" (No. 4, 2006). (With the pair having wed in 2008, "Drunk," thus, marks the Carters' first top 10 as husband-and-wife.)
Meanwhile … in related news, Beyoncé surprised fans with a performance of "Drunk In Love" during Jay Z's headlining gig at DirecTV's SUPER Saturday Night pre-Super Bowl Party last weekend, co-hosted by Mark Cuban and Eli Manning at New York's Pier 40 stadium.
The happily married couple — who shut down the Grammy Awards with a performance of the same song earlier that week — ended with a hug and a kiss that made everyone in the crowd go "AWWWWWW!!!!"
Jay Z then bowed down and said "All Hail The Queen!!" as Beyoncé walked off the stage.
Check out the pics and video below: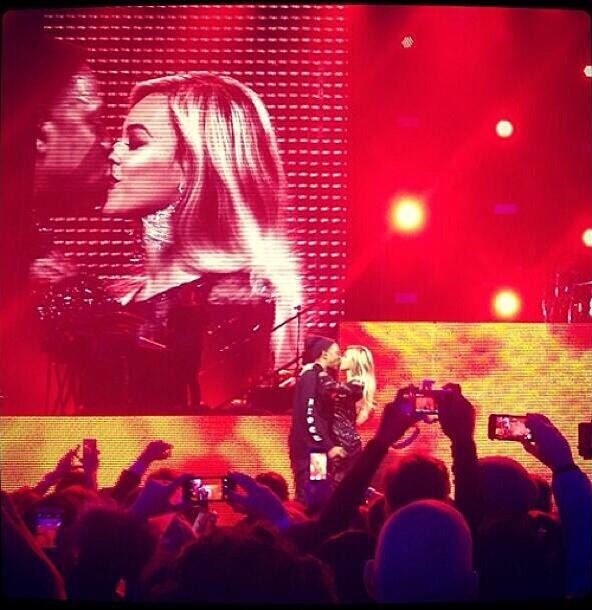 Be the first to receive breaking news alerts and more stories like this by subscribing to our mailing list.