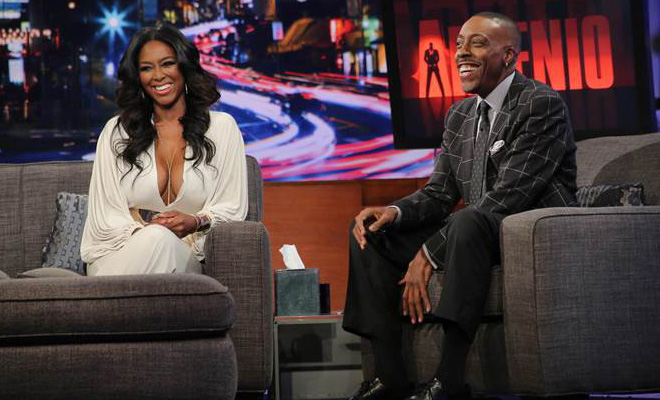 "The Real Housewives of Atlanta's" messiest cast member Kenya Moore dropped by the "The Arsenio Hall" show and threw all kinds of shade while discussing her "RHOA" co-stars Phaedra Parks and Porsha Stewart.
Kenya Moore Exposes Christopher Williams, Who DENIED Being Married in 2013 Interview!
When Arsenio asked Kenya bout the cheating rumors between herself and Phaedra's husband Apollo, Moore responded with (emphasis ours), "Whatever woman would believe that lie, especially a woman that's supposed to be an attorney, has to be the dumbest attorney I've ever seen in my life."
"Real Housewives of Atlanta" Recap: Porsha Stewart Believes the Underground Railroad Was an Actual Train
Ouch! That's typical Kenya though. But she didn't stop there. She also called "Porsha Stewart" ignorant, in regards to that ridiculous comment she made about the "Underground Railroad" a few episodes back.
"Her grandfather is Hosea Williams. He has a street named after him in Atlanta, and he was a civil rights activist.

"And Porsha is a a part of his legacy — she's his grandchild, and for her to not know anything about the 'Underground Railroad,' which she should know more about that anyone of us really. She should know it backwards and forwards…

"She thought that the Underground railroad was an ACTUAL railroad, underground, like… there was a train that had stops for the slaves, and they would get on and pay their fare, and say, 'Yes, please take me to freedom!'

"And they said, 'Oh yes, two stops! So… this is what we deal with on the show, but it's embarrassing, and I almost feel sorry for her to be … I don't want to use the word 'dumb' … but 'DUMB.'

"And to show that to the world, you know, we all make mistakes, and the igorance is something to deal with. And I believe on a lot of levels we failed her."
WELL DAYUM!
When Kenya goes in, KENYA GOES IN. If she was any shadier, we would never see sunlight!
Moore also admits in another interview clip that after passing up seven marriage proposals in her lifetime, she's over the concept of "needing a man" to have a baby, and she talks with Arsenio about considering IVF and looking for reputable sperm banks.
Watch her talk about that in the video clip below, and check out the clip where she shades the hell out of Phaedra and Porsha up top!
Be the first to receive breaking news alerts and more stories like this by subscribing to our mailing list.