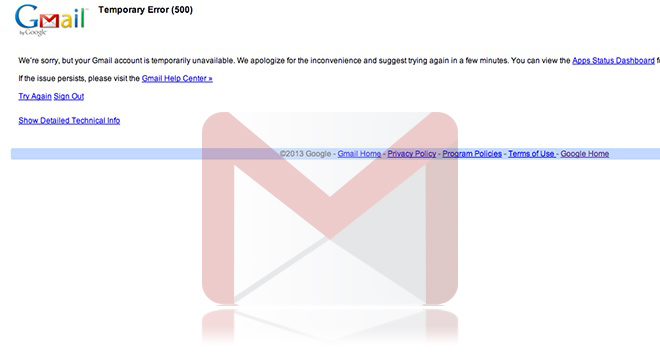 "Is Gmail Down?"
YES. And it's not just you, either. GMAIL IS DOWN FOR EVERYONE RIGHT NOW.
Gmail is down. Guess we can all just go home.

— Complex (@ComplexMag) January 24, 2014
is gmail down for anyone else or is the NSA just in my account mining my e-mails for metadata about my subversive advocacy of naps

— caroline (@iamcaroline) January 24, 2014
Freaking out over Gmail being down? We have a place for you to go to kill some time: http://t.co/7eOhhdnDBu

— MTV News (@MTVNews) January 24, 2014
Well, guess I'm done working for the day now that Gmail is down.

— Jenna Golden (@jigolden) January 24, 2014
Gmail Goes Down Across The World http://t.co/oHXIxrBIXx by @drizzled

— TechCrunch (@TechCrunch) January 24, 2014
GMAIL IS DOWN. WEEKEND, HERE WE COME.

— netw3rk (@netw3rk) January 24, 2014
Make sure to get your Gmail-is-down jokes in before it comes back: http://t.co/Qu4y1YEXQG

— Gizmodo (@Gizmodo) January 24, 2014
You know that "rule" that if your professor doesn't show in 15 min, everyone goes home? Let's do that for Gmail being down. START THE CLOCK.

— E! Online (@eonline) January 24, 2014
BREAKING: Google Shuts Down Gmail For Two Hours To Show Its Immense Power http://t.co/r2YRjsPogz

— Hammond Morris (@OnionAdCzar) January 24, 2014
Gmail is temporarily unavailable pic.twitter.com/KLNxcQ9zUP

— Yahoo (@Yahoo) January 24, 2014
LOL @ the obvious shade from Yahoo!
We're sure that since this is such a widespread problem, Google is already on it and whatever issue will be resolved quickly. HOPEFULLY.
UPDATE: Gmail's back! And it only took "roughly" 50 minutes, according to TechCrunch (SMH… Do better Google!)
Now we can all get back to work, and world order will slowly restore itself over time.
Be the first to receive breaking news alerts and more stories like this by subscribing to our mailing list.