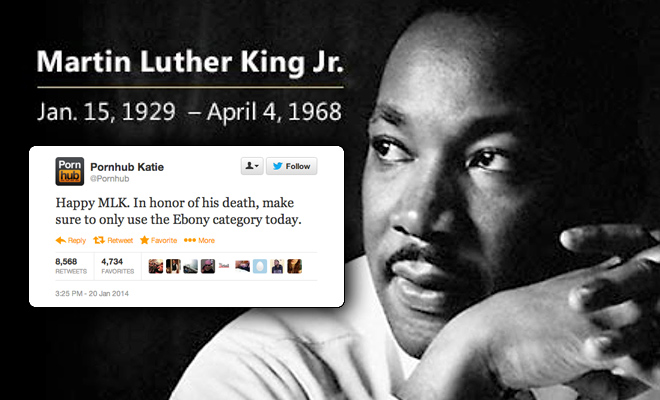 There are good ways to honor the one day a year we reserve to celebrate the life and accomplishments of Dr. Martin Luther King Jr., and then there are bad ways to honor MLK's legacy.
This morning when we shared with you those 13 offensive MLK Weekend Party Flyers, we honestly thought we had seen the worst.
"Freedom 2 Twerk:" These 13 Offensive MLK Weekend Party Flyers Show How Not To Honor Dr. King's Dream
But nope. This tweet from the world-famous adult video streaming site Pornhub is probably even worse than that, or at least just as bad:
Happy MLK. In honor of his death, make sure to only use the Ebony category today.

— Pornhub Katie (@Pornhub) January 20, 2014
Really, Pornhub? I mean… not that I expect class and dignity from a website whose slogan is "Makes your d**k bigger and your p**sy wetter." But … REALLY?
Realizing their faux pass, the world's #1 free porn site offered this "apology" tweet:
Apology: MLK would have wanted everyone to watch the Interracial category today. #IHaveADream

— Pornhub Katie (@Pornhub) January 20, 2014
Okay, you get points for originality, Ms. "Pornhub Katie," but this is all still so WRONG.
We shudder to think of what "creative" tweets Pornhub comes up with for Black History Month.
Be the first to receive breaking news alerts and more stories like this by subscribing to our mailing list.