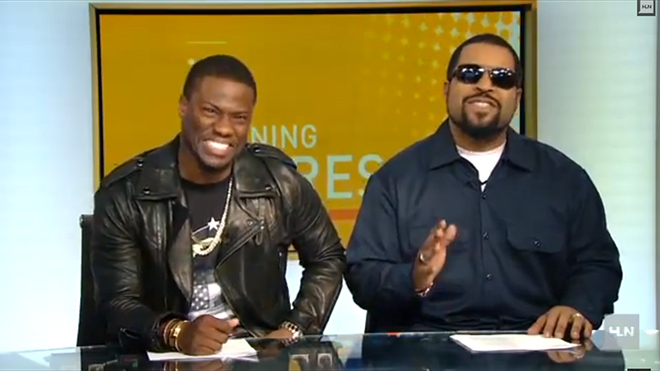 During their media tour Tuesday (Jan 7) to promote their new movie "Ride Along," Kevin Hart and Ice Cube stopped by HLN's "Morning Express" with Robin Meade and took over the news.
Among the stories discussed included the one about the Kentucky inmate who escaped from prison but called the police to come get him because it was too cold, one about a "Velveeta shortage," and another about a new study about how the light from your cell phone can keep you awake.
Cube kicked things off and noticeably struggled a bit with keeping up with the teleprompter.
"You know I went to the L.A unified school district, you know what I mean?" he explained after Hart called him out about mispronouncing Velveeta as Vetta. "They didn't really teach us how to reach that good."
And that's when things REALLY got funny, as Kevin Hart did what Kevin Hart does and made the news HILARIOUS by transforming into his news anchor alter ego "Barry Dove."
Even funnier is the fact that in another clip shared on HLN's YouTube channel, Robin asks both of them what would be the scariest part of being a news anchor, and Ice Cube says, "I wouldn't be scared at all, but for [Kevin] it would be reading the teleprompter, you know he can't read that good."
Then Kevin Hart basically goes on to show him up when they turn the cameras on.
Watch the footage showing Ice Cube and Kevin Hart doing the news above, and the behind the scenes clip of them hanging out with HLN's Robin Meade below:
Be the first to receive breaking news alerts and more stories like this by subscribing to our mailing list.