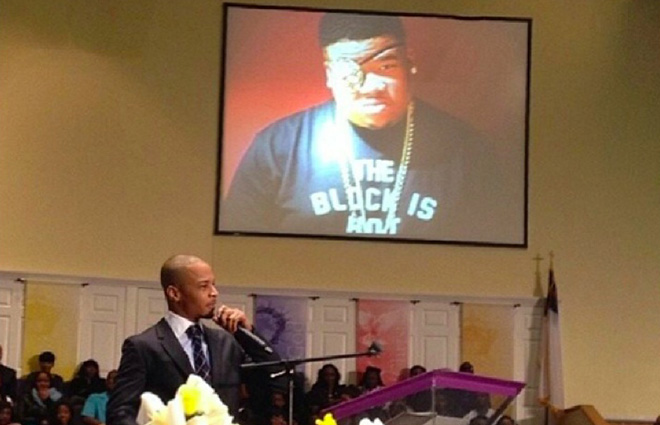 Grand Hustle rapper Doe B was laid to rest over the weekend in his hometown of Montgomery, Alabama.
Hundreds of mourners packed into the True Divine Baptist Church Saturday afternoon (Jan 4) to bid a final farewell to the 22-year-old artist (real name: Glenn Lamar Thomas) who was shot and killed last month in an altercation at a local nightclub.
Kimberle Johnson, an innocent clubgoer who was also killed in the December 28th shooting, was also laid to rest Saturday following her funeral at the same church earlier in the day.
During Doe B's homegoing service, his Grand Hustle boss T.I., who signed Doe B to his label just last year, spoke highly of the slain rapper, talking about how much he admired him, his maturity and his work ethic.
"I admired Doe because, as a young man at the age that he was, he always presented himself to be more mature," Tip said. "It's very rare that you could find somebody at the age of 20 or 21 and sit them down in front of somebody they aspire to be like and they are as composed and poised and postured and looking eye to eye with this person."
He continued, "It's very rare that you find somebody at the age of 20 or 21 and you could walk them into the room with a Nelly, or you could walk them into a room with a Timbaland or Jay Z, and they not lose their cool, they're composed, postured, with the morals, standards, and the principles that were instilled in him from his family, his mom, his dad, grandmama, brothers, sisters, aunts, uncles…"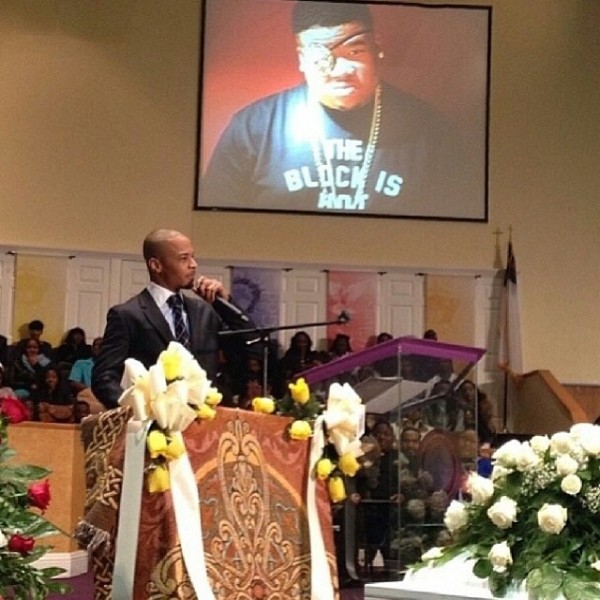 Tip also made a promise to Doe B's family and friends that he will never let his legacy go to waste.
"I want everybody to know that one thing I will never do, I will never let this man's hard work go to waste," he said. "I will never let his life be lived in vain. All of my resources, all of my relationships, all of my efforts, all of my energy will be put forth to make sure that his dream lives on."
As Doe B was being laid to rest, a third victim (Timnorius Hamilton) reportedly died from gunshot wounds he suffered as a result of the shooting.
As we previously reported, two men — Jason McWilliams and Darius Thomas — have been arrested and charged with two counts of murder after turning themselves in to authorities last Sunday (Dec 29) and Wednesday (Jan 1), respectively.
Coincidentally, Thomas made an appearance in Doe B's "Let Me Find Out" video released back in 2012.
In addition to T.I., others eulogized Doe B, including the late rapper's mother, who recalled his appetite for her come-cooked meals.
"I'm going to miss him coming in saying, 'Lady, what you cooking?' and I would say, 'whatever you want to eat I'm going to cook it," she said. "He would say, 'you know I love some of them chicken wings.' He would have a whole crew with him and I'd have to cook enough for everybody."
"I'm going to miss him so much," she added.
Be the first to receive breaking news alerts and more stories like this by subscribing to our mailing list.