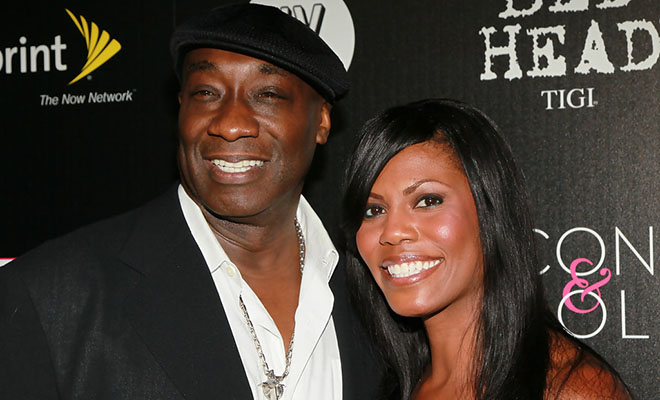 Michael Clarke Duncan's fiancee Omarosa Manigault says she is heartbroken over the fact that Duncan has been lying in an unmarked grave for over a year due to family infighting.
The former reality TV star says she visits her late fiance's unmarked tomb at Forest Lawn Memorial Park in the Hollywood Hills every week, and now that she has finally stpped in with the trustee of his estate, "a beautiful memorial plaque has been ordered," she told the New York Daily News this week.
"I tried to do it immediately, but his sister, niece and cousins could not decide on what to put down. I finally had to step in and tell them to come to some consensus," she said.

"This is about respecting Michael, his life and his legacy. I will not allow Michael's legacy to suffer while there's Duncan family infighting," Manigault told The News.

"I'm there after church every week and sometimes 2 or 3 times a week, visiting, keeping the flowers fresh, so I'm the one who has to see there's no plaque. His family does not visit him. They don't see the urgency," Manigault said.

"He was the love of my life. I still think about him every day," she said, explaining that she's still in the house they shared and still takes care of their animals and charitable foundation.
The Daily News tried to reach out to MCD's older sister Judy Duncan and his mother Jean Duncan, but attempts were unsuccessful.
Manigault says she too has tried to reach out to them, and extended an olive branch Monday, inviting them to California, the Daily News reported.
"The family needs to come together and be united and stop all the infighting," she said, asking them to join her at Weller Street Baptist Church in downtown Los Angeles, where she's an assistant pastor.

"I want them to come out and come to my church and reconcile," she said. "We can visit his grave site and worship together and take the opportunity to heal. It's so important that they find some peace after the death of Michael."
Something tells us the Duncan family doesn't really like Omarosa for one reason or another. What do you think?
Be the first to receive breaking news alerts and more stories like this by subscribing to our mailing list.