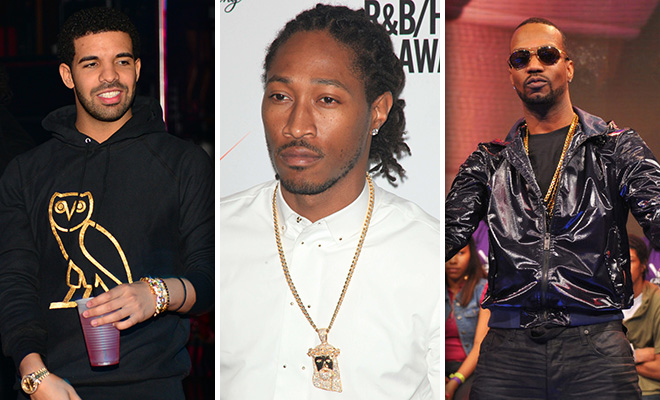 Just a few days ago, Drake previewed his verse on the remix to Future's "Shit" song, and now the remix is finally here and it also features Juicy J!
On the track, which appears on DJ Esco's 'No Sleep' mixtape (hosted by Future), Drake appears to be getting at Kendrick Lamar for his "Control" verse.
Drake's ENTIRE verse is below:
Took niggas out the hood like I'm from there
So you know it's all good when I come there
I hear you talk about your city like you run that
And I brought my tour to your city, you my son there nigga

But I had to come through for the remix
On my haven't done a verse in 8 weeks shit
And if a nigga say my name, he the hot shit
But if I say the nigga name, he still the hot shit

Fucked up, lucky I don't feed into the gossip
Niggas act like they don't know, but they should know
Yeah, I just think it's funny how they dangling the bait
But I'm the one that's killing niggas on the hooks though

And niggas ain't got a grill, still ice grill hating
I know y'all already know Mike Will Made It
Just looking at the numbers, nigga, I feel amazing
I call Michael Jordan up and Mike will make it

I'm the young rap nigga with the 'Melo deal
You need to come to OVO for a better deal
Just know a million ain't shit once you get a mill
And niggas say it's all good, that's how you better feel

Nigga nah, fuck that, this year I'm talking big stuff
Rolling through the city like a young nigga bricked up
Fuck niggas gon' be fuck niggas
That's why we never give a fuck when a fuck nigga switched up
Yup, definitely sounds like he's going at Kendrick Lamar to us!
LISTEN TO THE SONG HERE:
Be the first to receive breaking news alerts and more stories like this by subscribing to our mailing list.