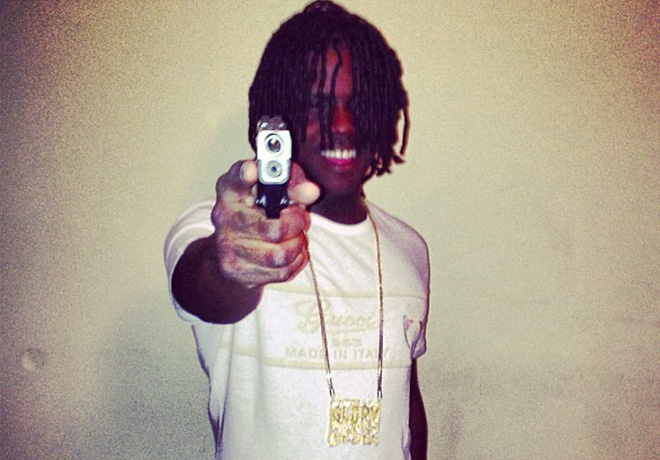 Chief Keef wants to "raise the murder rate up," and he plans on using his new mixtape to do it.
The troubled 18-year-old rapper made the shocking threats in a post on his Instagram page a few weeks ago, reports XXL:
Chief Keef is at it again, this time threatening that his new mixtape will wreak havoc throughout the streets. With Keef's Bang 3 project arriving soon, of all things the rapper says his forthcoming mixtape with "Raise the murder rate up" and he assures that this is no lie.

"Bang 2 And Almighty So On ITunes Right Now But Bang 3 No Lie Y'all Really Don't know How crazy Im goin #ImFinnaRaiseTheMurderRateUp," said Chief Keef on Instgram. "If I'm Lien I Can Get Killed right Now this Sh*t Is So f*ckin hardcore #ThatOldSosa #bang3 N*ggas Better Be Scared."

Last year, there were 506 murder victims in Keef's hometown of Chicago and in 2013 there are currently 373 murders recorded, making the windy city's homicide rate higher than Kabul, Afghanistan.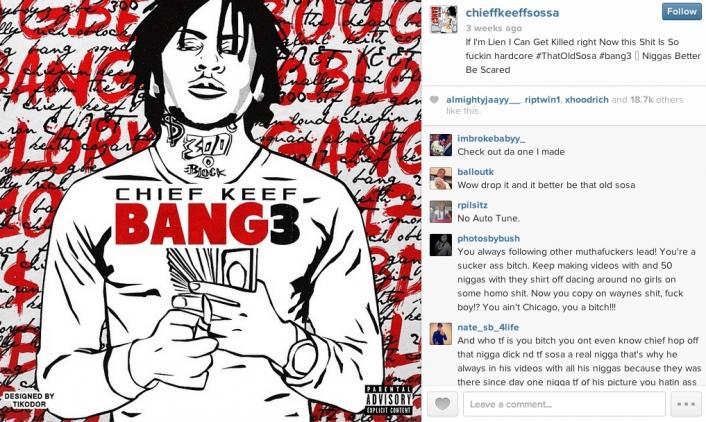 In other Chief Keef news, due to "overwherlming media attention," the "Love Sosa" rapper has relocated from Promises rehab center to a more private Southern California location.
Keef (real name: Keith Cozart) was receiving treatment for marijuana addiction (LOL…) at the Malibu, California facility where several other celebrities have gone for treatment for various addictions.
The teen rapper's record label has reportedly agreed to foot the $160,000 bill for his rehab treatment.
Cozart was sentenced to 90 days for failing a drug test, which violated his probation, stemming from a May speeding ticket, and he was approximately one month into his stay at Promises before he chucked the deuces.
According to TMZ, he has about two months left of treatment before he's able to wreak havoc on the streets again and get started on his mission to get that murder rate raised up.
Meanwhile, a judge is threatening to send Chief Keef back to jail if he fails another drug test.
According to The Chicago Tribune, Judge Earl Hoffenberg is "clearly losing his patience" with the rapper's failed drug tests that have led to multiple court cases stemming from him being issued a speeding ticket and later pleading guilty to driving 110 mph on a Chicago freeway back in May.
"I've had murderers who haven't had so much time before this court. It's getting ridiculous. … I'm very happy he's doing well, but if he comes back dirty, I'm done. This is it," Judge Earl Hoffenberg told Chief Keef's three lawyers at a hearing at the Skokie courthouse, suggesting that he would send the rapper back to jail if he fails another drug test.
In other words: Get your shit together Chief Keef!
Be the first to receive breaking news alerts and more stories like this by subscribing to our mailing list.