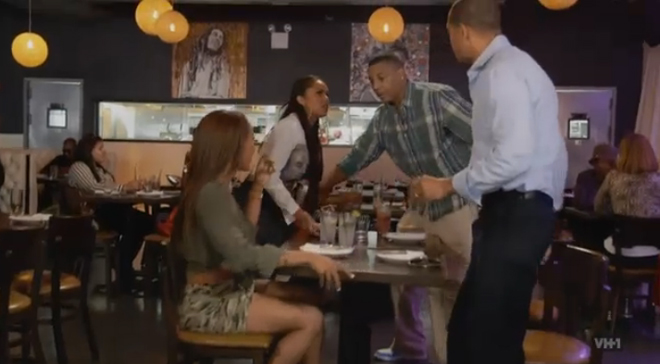 When VH1 was looking to cast the fiery Latina stereotype in its cavalry of bad bitches, the network couldn't have done better than the habanero-flavored Erica Mena.
This is one boricua who is ALWAYS ready to pop off. She scraps, yelps and barks at anything with a pulse. She's like a paranoid chihuahua with a Napoleon Complex. Her crazy ass always has something to prove.
But she told Rich Dollaz that she'd changed and this marshmallow-shaped, mustard-colored fool believed her and decided to bring her back into the fold as one of his artists. I know Olivia is dead weight but surely there are better fish in the sea than Erica Mena's sardine ass.
It's bad enough Rich is involved in Mena's career again, but he decides to up the ante and see if he can get Peter Gunz to manage Erica. Peter was the main instigator in Rich's ear urging him to dump Erica Mena professionally and personally. So it's no surprise that she hates his guts. Rich, however, thinks that their differences can be sorted out over dinner.
Yes, because the "Love & Hip Hop" franchise has a great history of people breaking bread and putting beef to rest. Not.
Even worse, Rich doesn't TELL Mena she's going to meet up with Peter, so when Rich invites her to join him for a business meeting and she sees Peter and his wife/skank Amina Buddafly smiling at her, she turns cold as ice.
In Peter's defense, he did start off with an apology for harshly judging Erica last season, but Erica is no Mother Theresa and she ain't the forgiving type. As her slick mouth starts firing up, Peter starts to insult her for having fake breasts and ass.
"Yeah, my tits is fake and my mouth is real motherf**ker and you still can't hold up your end," Mena claps back.
Peter doesn't know enough to leave well enough alone and so he starts to tell Rich, "Get this nasty, funky bi—" and before he can even finish, Mena launches a plate at his high-yellow head.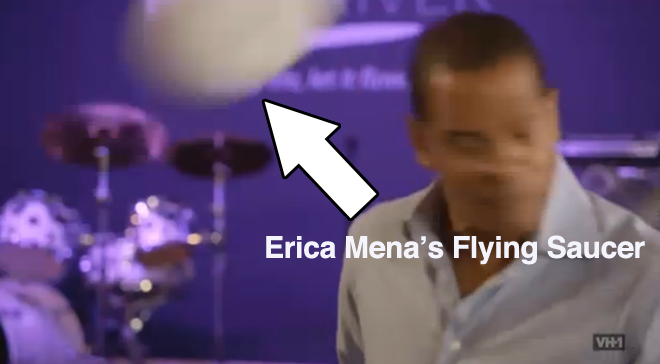 Yep, Erica Mena literally launched a flying saucer at Peter Gunz's head on national television. Uptown, baby, uptown, baby!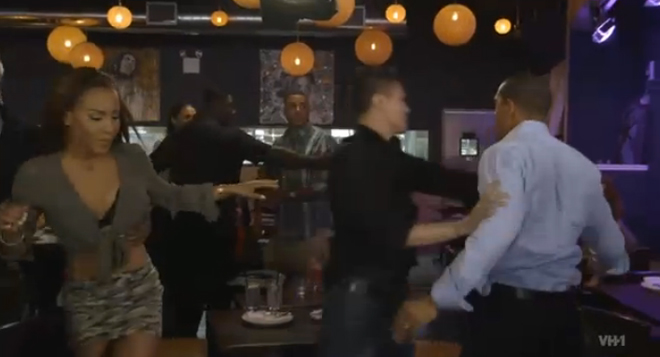 Poor Amina kept her ass quiet as a church mouse throughout the whole ordeal and let her man get verbally and physically assaulted without lifting a fingernail. Given how badly Tara stomped her ass last time, that was probably for the best anyway. Erica would've turned her into minced meat.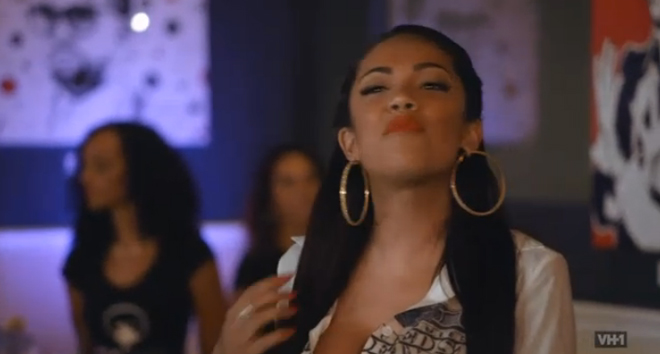 "You can't handle my mouth, motherf**ker!"
Erica Mena needs to be in the next Street Fighter. She takes no prisoners and gloats over her victories like a gladiator. Hadouken ain't got nothin' on she.
K. Michelle Shakes the Table on Her Assistant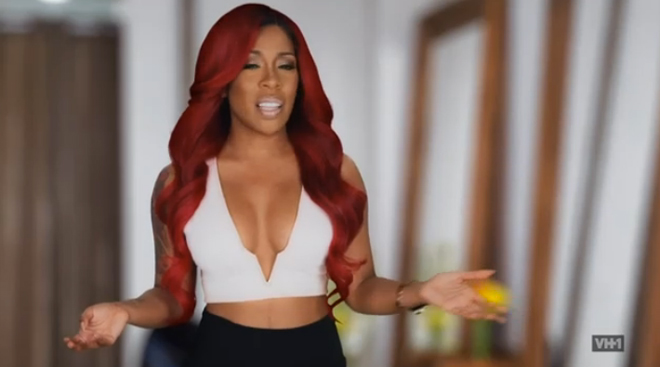 After being MIA for a few episodes, LHHA star K. Michelle returns for a few scenes of LHHNY again. I know they said K. was brought in to boost ratings, but she's so disconnected to the cast and she appears infrequently so she doesn't even really provide much of a boost.
That being said, K. manages to do what K. does best in this episode: Turn up.
While she's getting her red weave touched up, K. Michelle recounts to her friend Paris how she fired her Indian, vegetarian assistant Brianna for being inept, incompetent and just plain dumb.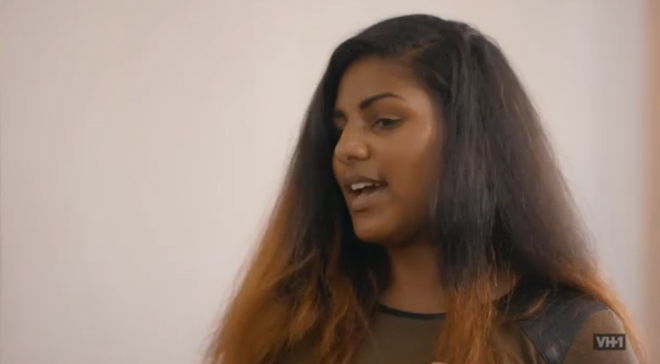 As if on cue, Brianna's clumsy ass comes bumbling through with some damn Gatorade and organic dog food talking about how she knows she has to earn K. Michelle's heart back after she failed to hail a cab when she was told to and instead burst into tears. Then, Brianna's dumbass talks about how the organic dog food is great because K. Michelle can eat it too.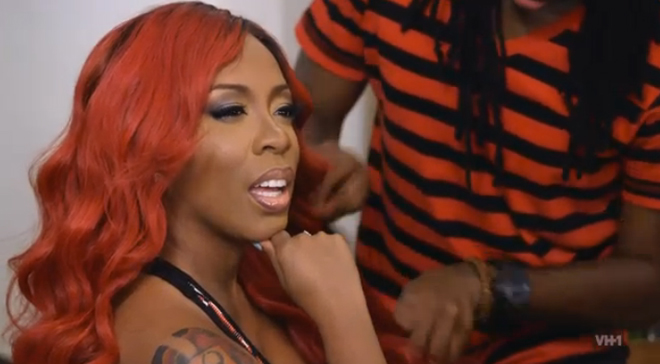 Girl, bye.
Tahiry Mends Fences with Her Little Sister Lexie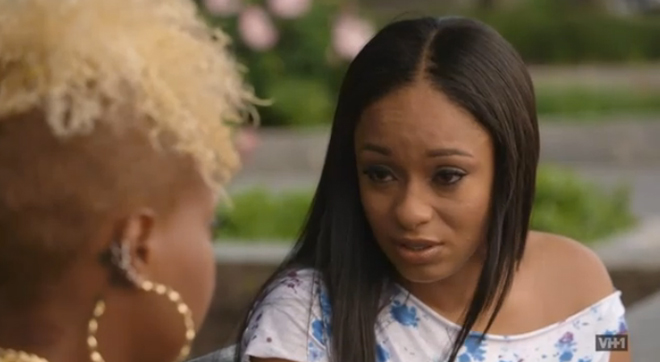 I don't really have a firm grasp on how big Tahiry's family is, but apparently she has a little sister named Lexie on her father's side. She's noticeably darker than Tahiry so it looks like Tahiry's dad was dippin in some of that good chocolate.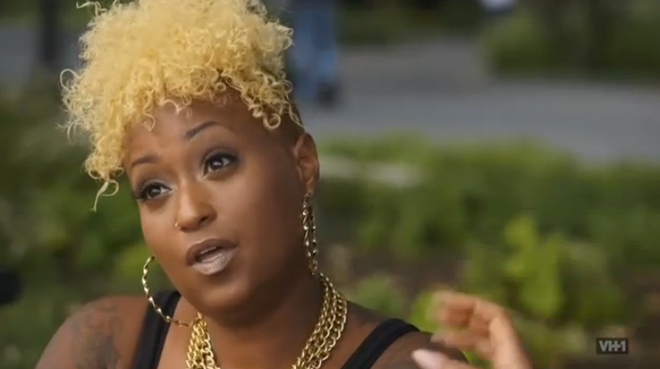 Lexie looks like a punk rocker with her bleached blonde, kinky ponytail and buzzcut hairstyle. You can tell ol' girl doesn't mind drawing attention to herself.
But apparently there's SERIOUS bad blood between Tahiry and her sister Lexie because the two women haven't spoken in 5 years. Lexie chalks this up to Tahiry choosing Joe over her family.
They don't get into any real specifics behind the fallout other than blaming Tahiry's all-consuming relationship with Joe, but the women are incredibly emotional as they recount the hurt and heartache of the years of silence that robbed them of precious sisterhood time.
The reason for Lexie's outreach isn't necessarily about mending fences with Tahiry. Their father is apparently in dire straits financially and he needs their help after he's been evicted from his apartment in the Dominican Republic.
Tahiry immediately expresses shock at the news since she's been in contact with her dad regularly.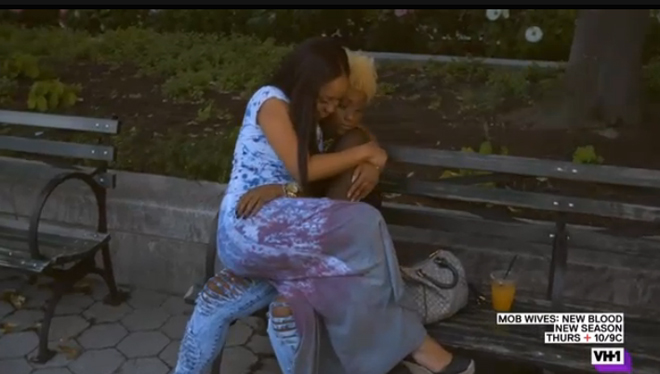 Lexie seems more stubborn than Tahiry as she refuses to hug her sister after several requests, so Tahiry has to go over and sit on her lap and she promises to make it all better between them.
I much prefer hearing and seeing this side of Tahiry than going through the same ol', same ol' with Joe. That storyline is dried up so Mona should just leave it on the backburner for all of our sakes. But we know that unfortunately won't happen.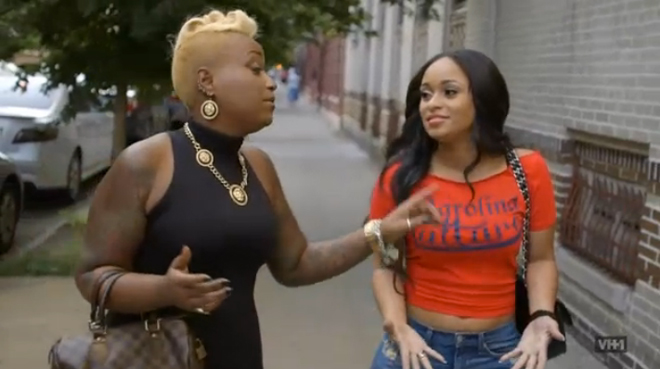 After their emotional reunion, Lexie and Tahiry meet to brainstorm how they can help their father get back on his feet. So they come up with the brilliant idea of building him a church so he can live in it and run the church as a business. They plan on getting their friends to "sell themselves" (does that mean a date auction? I hope so…) to raise funds for their papi's church.
Two hooker sisters are gonna get their hooker friends to pop their puss for Jesus. If I thought the scheme had no chance in hell of working, I'd cry. The sad thing is that Tahiry's dad might could be the next big mega pastor of the DR off of this and he'll have a flock of followers sustaining his lifestyle thanks to the brilliant scheme put in motion by his birdish baby girls.
God have mercy on us all.
Be the first to receive breaking news alerts and more stories like this by subscribing to our mailing list.