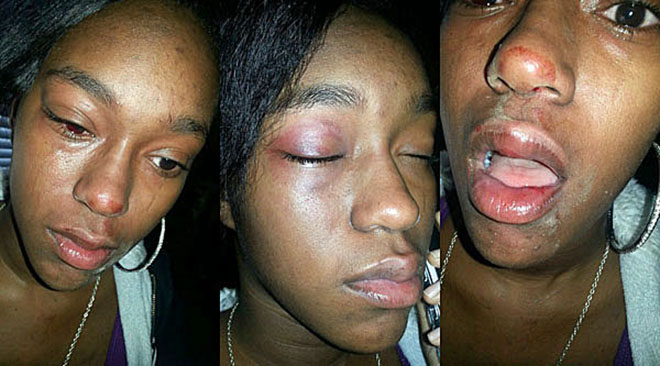 If you've spent at least five minutes on the Internet this week, you've probably heard about the aggressive hoodrat in training, best known as "Sharkeisha," who quickly became a major topic of discussion (and the subject of hundreds of memes) after a video of her brutally assaulting another teenage girl went viral on Twitter and Instagram.
Instagram has since deleted the footage (and banned it from being uploaded in the future), but we all know nothing is ever really gone from the Internet. Especially when sites like WorldStarHipHop are up and running.
KHOU Houston has indentified the victim in the video as a 17-year-old student at Cypress Creek High School in Houston, TX named Shamichael Manuel, who says she was attacked by 16-year-old Sharkeisha over a boy.
Shamichael — or "Shay," for short — told KHOU that she was set up by a former friend and a group of other girls. She thought she was on her way to a friend's house to pick up some of her stuff, but she quickly found out that she was sorely mistaken after she was literally blindsided by Sharkeisha.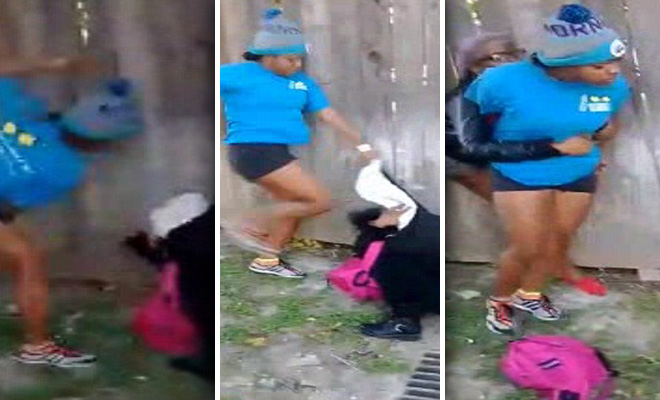 The cell phone footage shows Shay being punched in the face and kicked multiple times while she's lying curled up on the ground.
"I was just in shock. I was like oh my God. Did she really do this? You're supposed to be my close friend," she said, adding that she never even saw the first hit coming.
Shay also said that she didn't even know Sharkeisha wanted to fight her. "We were talking in school earlier that day. She made it seem like there was nothing wrong with her," she explained.
The vicious beat-down Shay received at the hands of Sharkeisha left her with a black eye and a busted lip, and she hasn't been back to school since because she's having trouble seeing out of her right eye.
Photos of her injuries (above) show a bruised eye, a busted lip, a bloody noose, and it appears as though a blood vessel has burst in her right eye.
"It is hurting and crushing to me," she said. "I felt humiliated and embarrassed and hurt at the same time."
The popularity of the video, which went viral within hours and has already been seen by millions of people online, has made the humiliation for Shay even that much worse.
"The video's just going and going. They're making jokes, and they're taunting. They're glorifying the girl Sharkeisha, but they're taunting my daughter at the same time," said Shamichael's mother Olevia Henderson.
Ms. Henderson said she reported the violent attack against her daughter to an assistant principal at the school, but was told nothing could be done since it didn't happen at school, so she has taken things a step further and will now be pressing charges.
Ms. Henderson also said she's been trying to report the video online, but she feels like there is absolutely nothing she can do to stop it.
"I was in the grocery store, and the girl was checking out my groceries. The baggers were just laughing and talking about it. I said that's my daughter in that video, and their whole expression changed," she said.
Previous reports have stated that Sharkeisha had been arrested, and there was a purported mugshot floating around, but it turns out that was just a rumor gone wild. The real Sharkeisha is just a kid, y'all. THESE ARE CHILDREN.
Be the first to receive breaking news alerts and more stories like this by subscribing to our mailing list.