At the reunion last season, Kenya Moore dropped a bomb on the world when she hinted that she and Apollo Nida, Phaedra's husband, we're having a steamy love affair via text.
After that shady move, Kenya sealed her fate with Phaedra as she is permanently on Mrs. Parks' naughty list now.
But did the flirtatious texts extend into something physical? Phaedra heard around the streets that Kenya propositioned Apollo about giving him some dome. Apollo meanwhile, admitted to running into Kenya in L.A., but he claims she pursued him. Kenya, however, claims Apollo pursued her but she says they haven't met in person since the reunion.
Who's phony, who's fake? If you ask me, Apollo and Kenya are lying about different things and telling the truth about different things. Apollo wants to head off Phaedra's angry spirit so he copped to "running into her," but he's not copping to the fact that he actually likes Kenya's personality and energy.
Cause the text messages that Phaedra shared from Apollo were those of someone who is DEFINITELY interested in getting to know you, know what I'm saying?
This fool was asking if they could meet up. Why would he want to meet up with the woman who snatched his wife's business idea? Probably because he wanted to put a sombrero on and ride that donkey booty.
Speaking of the legendary donkey booty, that thing looked like two pillows stuffed down her leggings when she was at that studio.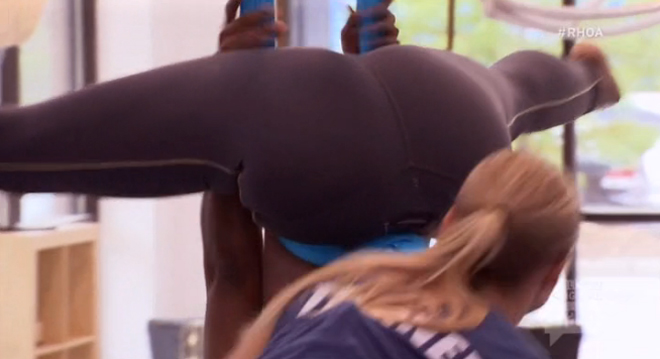 In the court of public opinion, I want to give it to Kenya for willingly showing Kandi the text messages she received from Apollo. She scrolled through and walked Kandi through all of her iMessage history.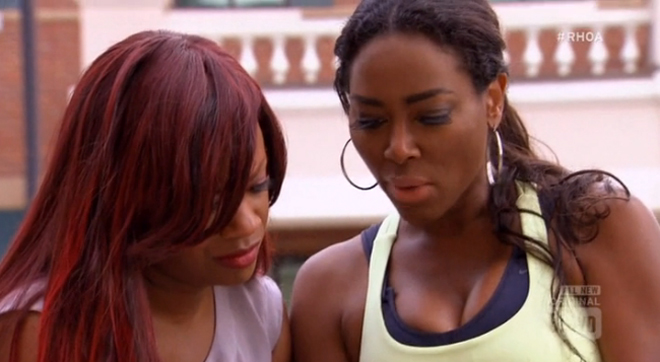 But you can't deny the sexual chemistry between her and Apollo. And Apollo is saying he met with Kenya in L.A. while she denies it. Apollo wouldn't admit to the meeting unless he felt like he had to, so it seems like Kenya's fibbing on that end.
Phaedra has a hint that Apollo isn't being completely forthcoming either, so when she meets him for dinner she goes in for the kill.
"What DID you say?" Phaedra asks.
That's when Apollo gets to storytelling. And boy, does he use some hood-ass language. He says "I could've smashed" and references how a man knows when a "female is open." Phaedra winces at his vulgarities each time. He needs some etiquette classes.
But worse than the rough-around-the-edges vocabulary is Apollo's story that he BOLTED from the Beverly Wilshire Hotel to get away from Kenya cause she was pressing up on him. NERGO, PLEASE. You don't have to change hotels to avoid having sex with someone you don't want to have sex with. If he did change hotels, it's because he FEARED he would fall prey to a late-night temptation.
His insistence on being able to maintain a friendship or acquaintance with Kenya is also telling. Phaedra wants him to cut off all ties with Kenya but Apollo doesn't want to, claiming that it's Phaedra's fault for introducing them in the first place.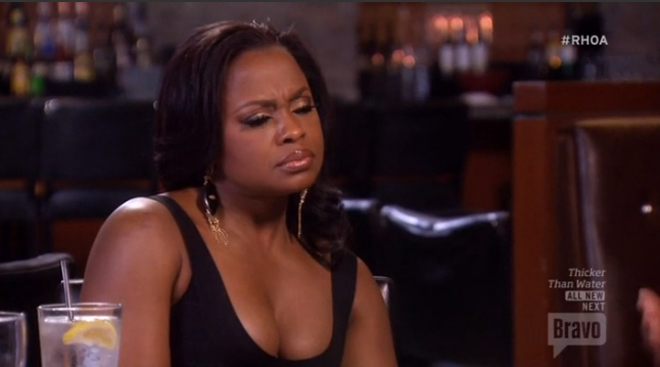 Phaedra was not here for that.
Porsha Looks to Her Girlfriends for a Pick-Me-Up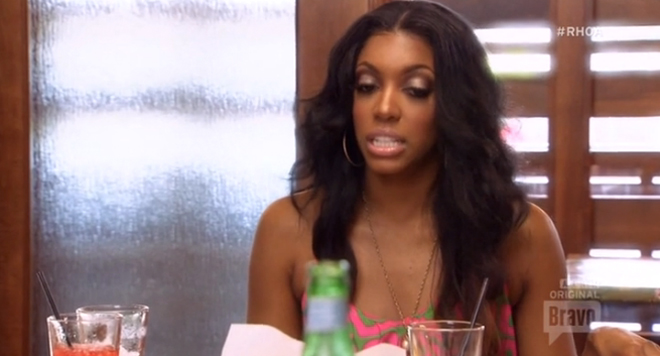 After weeping into Kandi's Kool-Aid red wig a few episodes back, Kandi decides that it's time for the girls to get together to give Porsha a pick-me-up lunch. So she organizes the event and they all gather round. Well, everyone except Kenya. I guess her invite got lost in the mail.
For the millionth time, the women exclaim about how WONDERFUL it is to get to know the "real" Porsha now that she's no longer under Kordell's thumb. Porsha feeds this by regaling the crew with horror stories. Like how he apparently didn't let her see her mother or her sister. What in the "The Color Purple" hell? Kordell was on some Mister shit.
Upon hearing the extent of Kordell's controlling ways, NeNe can't help but express her disgust in the form of an epically rude "What the hell were you thinking, bitch?" face.
Porsha was thinking she could land a baller and get herself a spot on RHOA, that's what. And guess what? It worked. She just didn't count on Kordell flipping the script on her.
But hey, all Porsha needs in this life of sin, is NeNe and her girlfriends.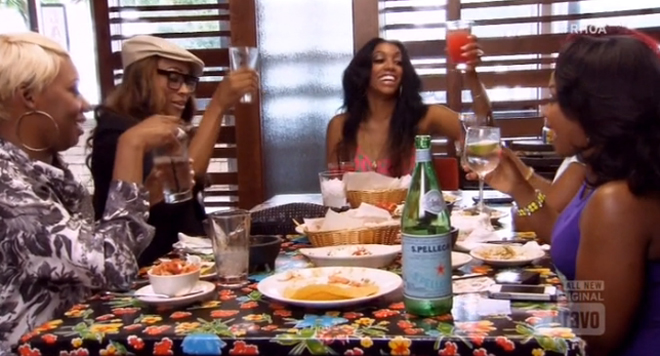 Be the first to receive breaking news alerts and more stories like this by subscribing to our mailing list.