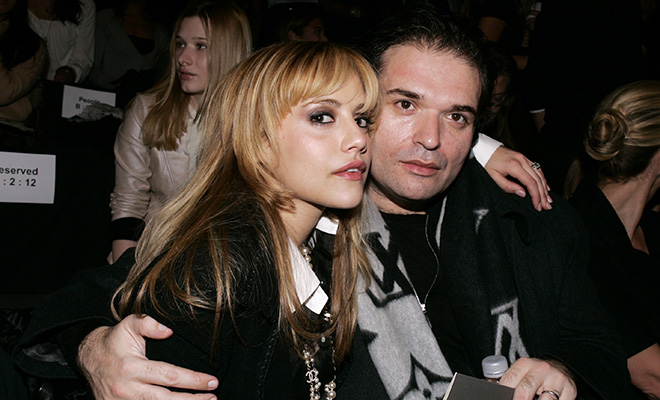 There were many questions surrounding the shocking death of actress Brittany Murphy at the young age of 32 almost four years ago.
One theory was that her husband, the British screenwriter Simon Monjack, who looked something like a con-artist, could have killed her, and he raised suspicions even more by refusing an autopsy.
However, the coroner decided to perform one anyway and determined that Murphy had died from a combination of acute pneumonia, an iron deficiency (also known as anemia) and multiple drug intoxication. She wasn't tested for anything else, like poisons for instance.
Then almost five months to the day of Brittany's death, Simon Monjack dies of the same exact thing (acute pneumonia and severe anemia), and now everyone starts scratching their heads, because huh?
So the question remains … how do two seemingly healthy people, who are married, just wind up dead all of a sudden, in the same house, from the same thing, within five months of each other? Were they perhaps … murdered?
Possibly. Especially if a new toxicology report that suggests the actress and her husband were intentionally poisoned is to be believed.
For the past four years, Brittany Murphy's father Angelo Bertolotti has suspected that her death was the result of foul play, with him even going as far as suing the L.A. County Coroner's Office and LAPD in 2012, alleging that the investigation into his daughter's death was mishandled.
While Bertolotti's lawsuit was dismissed, he did win the right to independently have Murphy's hair, blood and tissue tested, and the results from the tests were released this week, concluding that Murphy and Monjack both may have died due to heavy metal poisoning.
Heavy metals are commonly found in rodenticides (chemicals that kill mice or rats, like "rat poison," for example) and insecticides.
Symptoms of acute heavy metal poisoning in humans can range from headaches, disorientation and feelings of dizziness, to sweating, disorientation, coughing/wheezing and pneumonia.
According to Mr. Bertolotti, his daughter and son-in-law both showed all of these symptoms prior to their untimely deaths, and the levels of heavy metals that were found in Brittany's hair were more than 9 times over the "high" limit designated by the World Health Organization.
Bertolotti wrote in an email to The Huffington Post Monday:
"Since the autopsy narrative recorded a number of symptoms synonymous with poisoning, I requested testing for heavy metals/toxins. My suspicions were confirmed. Ten heavy metals were found in abnormally high quantities. These types of heavy metals/toxic elements are commonly found in rat poison, pesticides, insecticides, etc. Since neither Brittany nor Simon would have willingly consumed any such substances, the lab concluded that they may have been introduced by a third party with criminal intent."
So here's the big question: Who on earth would kill Brittany Murphy and her husband?
Well, one could argue that Simon killed Brittany first, then couldn't live with himself and took his own life by the same means just five months later.
But what about Brittany's mother Sharon Murphy, who was rumored to be sleeping (in the same bed) with Simon after Brittany's death?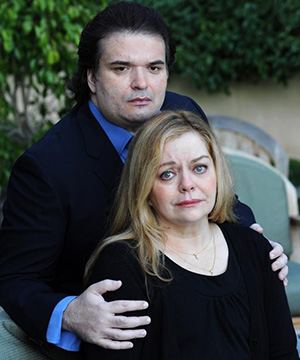 As you might recall, in 2010, Sharon launched her own "investigation" saying toxic mold killed Brittany and Simon before accepting a $600,000 cash settlement and selling the home.
The coroner agreed with the investigation blaming toxic mold, but that same coroner also said Murphy and Monjack died of "natural causes."
And since no one but Sharon would have such easy access to both deceased parties — unless they had a maid, or something (Wait… did the maid do it?) — it has to be her, right?
Whatever the case, Brittany's father just wants her and her husband's names cleared.
"Vicious rumors, spread by tabloids, unfairly smeared Brittany's reputation," Bertolotti told The Examiner, who first published the latest toxicology report. "My daughter was neither anorexic nor a drug junkie, as they repeatedly implied. Brittany and Simon were ridiculed by The Hollywood Reporter, when they complained of being under surveillance and in fear for their lives. I will not rest until the truth about these tragic events is told. There will be justice for Brittany."
If Brittany Murphy and Simon Monjack were murdered, who do you think did it?
Be the first to receive breaking news alerts and more stories like this by subscribing to our mailing list.