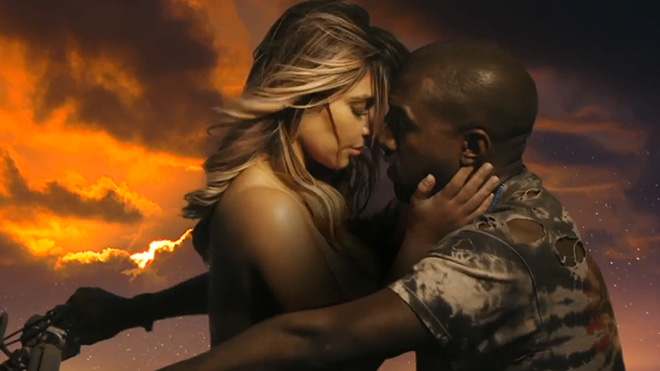 As the free world slowly comes to the realization that Kanye West is a ridiculous caricature of a human being, a fictional parody of his own self, if you will, the most prolific composer alive (at least in his own mind) released the video for his latest single "Bound 2" today.
Directed by Nick Night, the clip made its big debut during Kanye's appearance on Ellen this morning (then later on his website), and it's everything you would expect from a cheesy green screen video showing nothing but Kimye.
Throughout the entire 4-minute video, Kanye and his baby mama Kim Kardashian are basically having pretend sex with each other while riding on a motorcycle against a cheesy green screen backdrop that randomly shows pictures of mountains, canyons, rivers, valleys, shooting stars, leprechauns, mermaids and running horses.
Okay, maybe not the leprechauns and mermaids, but definitely everything else and then some.
In short, it looks like one of those crappy videos people used to make at the mall in the late 80's and early 90's. You remember, the one that's on that VHS tape your dad accidentally recorded the Super Bowl over.
It's awful. It's ridiculous. It's ridiculously awful, and awfully ridiculous. It's just … bad. All bad, guys.
I mean, Kim Kardashian is literally buck naked from head to waist, and there's not even a hint of nipple, which is probably an idea Kanye came up with so he can have yet another reason call himself an "artistic genius."
News flash, "Yeezus." We've already seen Kim Kardashian have real sex with a black guy on camera, and that time, we were able to see her nipples (and that ass).

WATCH KANYE WEST'S RIDICULOUSLY AWFUL "BOUND 2" VIDEO UP TOP!
Be the first to receive breaking news alerts and more stories like this by subscribing to our mailing list.