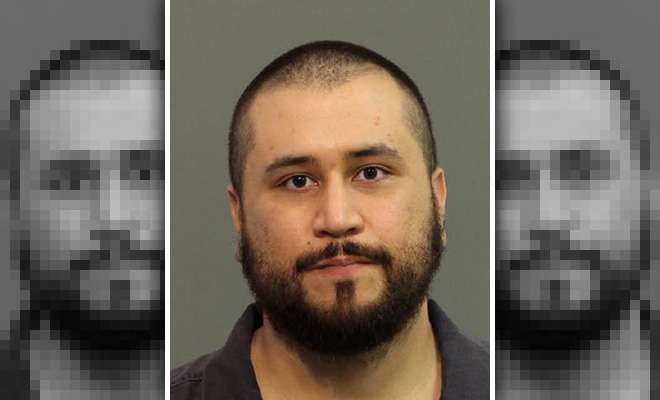 It happened again: George Zimmerman was arrested. In the state of Florida. For attacking someone. And there was a gun involved. Specifically, a shot gun.

Multiple news sources are reporting that the boastful, violent, gun-toting former neighborhood watchman was taken into police custody Monday afternoon (Nov 18) in Sanford, Florida and was being held at the Seminole County Jail without bail.
According to TMZ's law enforcement sources, Zimmerman — who literally just got away with murdering a teenager not even six months ago — is said to have "gotten physical" with his 27-year-old girlfriend Samantha Scheibe, who claimed she was pregnant.
Zimmerman was booked for domestic violence, and if it's true that Scheibe is pregnant, that would automatically make the charge a felony.
Scheibe reportedly told deputies that she and Zimmerman were having a verbal dispute when Zimmerman attacked her. She also alleged he broke a table before pointing a shotgun at her, pushing her out of the home and barricading the door with furniture.
When police arrived, Zimmerman was unarmed, but since he had barricaded the door, they had to move the furniture out of the way to get to him. Ms. Scheibe told police that she was "in fear for her life."
Dennis Lemma, Chief Deputy of the Seminole County Sheriff's Office, said that Scheibe didn't suffer any injuries, but "she was concerned for her safety, certainly from having the weapon pointed at her."
Lemma said that if a judge were to decide to grant Zimmerman bond, the Sheriff's Office has asked that he be placed on electronic monitoring, "an additional step we ask for in every domestic violence in Seminole County," he noted.
While investigators work to obtain a search warrant to locate the shotgun, and another gun they believe to be in the house, they will be meeting with Ms. Scheibe to get more details about the incident.
In Seminole County, all domestic violence suspects are held without bail until they appear in court before a judge. Zimmerman could see a judge tomorrow afternoon to learn more about the case and whether or not he'll remain behind bars.
If this story sounds at all familiar to you, it should. Georgie has had multiple run-ins with the law ever since his acquittal in the murder of 17-year-old Trayvon Martin back in July.
The 30-year-old was arrested (but later released) in September after a domestic incident involving his then-wife Shellie Zimmerman and her parents, who accused him of threatening them with a gun while they were moving her things out of a home the couple shared until Shellie filed for divorce.
Be the first to receive breaking news alerts and more stories like this by subscribing to our mailing list.