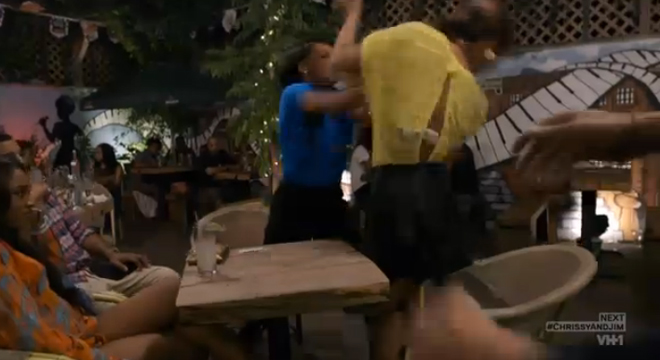 Sometimes people don't have their minds right and they need help clearing them.
Tara Wallace, Peter Gunz's baby mama and girlfriend of 13 years, decided to help Amina dust off the cobwebs in her head by slapping the shit out of her after she learned that Peter had not only slept with her, but actually married her too.
The mess on this season of "Love & Hip Hop" is definitely giving LHHA a run for its money. But let's back up, and start from the beginning.
At the onset of the episode, Peter promises Amina that he'll finally come clean with Tara about the nature of their relationship. True to his word, Peter invites Tara to the recording studio and he confesses to her that he "f**ked up" with Amina.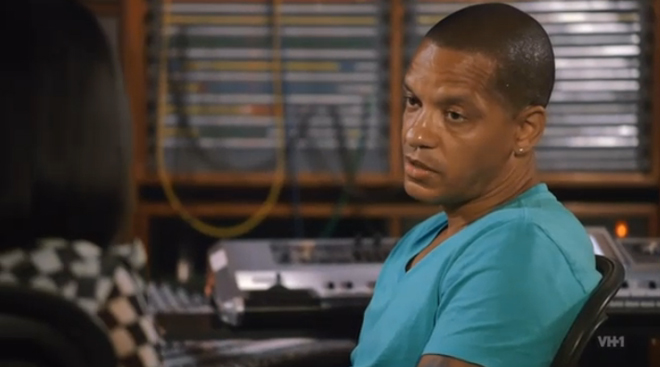 She asks for clarification and he bluntly admits to sleeping with her. For a long time.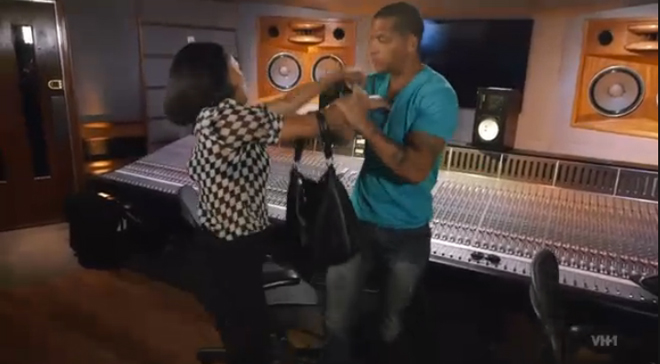 Tara suddenly turns into the Karate Kid and starts smackin' the hell out of Peter. Now, Peter might be a slimeball, but Tara beating on him like that is really unacceptable and it's the sort of behavior we give women a pass for because, you know, guys can take it.
After smacking Peter silly about 20 times, Tara runs home and pulls up pictures of her and Peter in happier times on her tablet. I almost cried a digital tear, I swear.
Once she's gone getting her Mary J. Blige on all by herself, Tara calls Yandy up and pours her heart out. Yandy gobbles up everything hook, line and sinker. But there's a problem: Yandy is still considering signing Amina to her little label with Rich Dollaz.
So the two head out to Amina's next concert to see if she's the real deal. After her well-received performance, Amina bubbily sits down for a chat.
The whole time, Yandy is there side-eying and jabbing Amina verbally and before you know it, BOOM! Guess who steps in the room? That's right, it's Tara.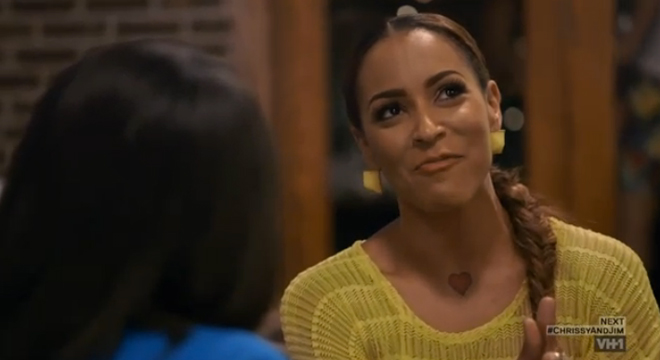 Rich, who seems to have ceded the ratchet crown to Peter this season, immediately steps away from the situation. After Tara quizzes Amina on what she knew about the status of their relationship, Amina secures the upper hand and proclaims that Peter doesn't just screw her, he LOVES her.
As proof, Amina announces that she and Peter are married and then she pulls out her greencard so Tara knows that it's real.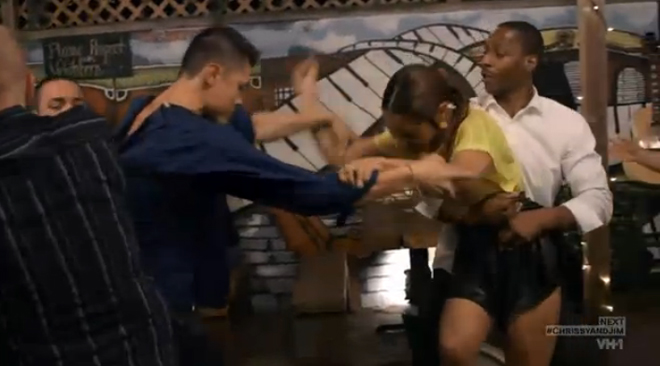 Suddenly, Tara sees red and she leaps on Amina and smacks the life out of her half-German ass. Honestly, Tara is a beast. She may be smaaaaaaallll, but she sure can fight like she's a six-foot-tall heavyweight champion.
The hits were flying so fast and so furious you might as well call Tara E. Honda.
I hope Peter got his wife, Amina, some health insurance cause I know she's bruised up from this ass whooping. Welcome to America, bitch.
Nya and Erica Mena Fall Out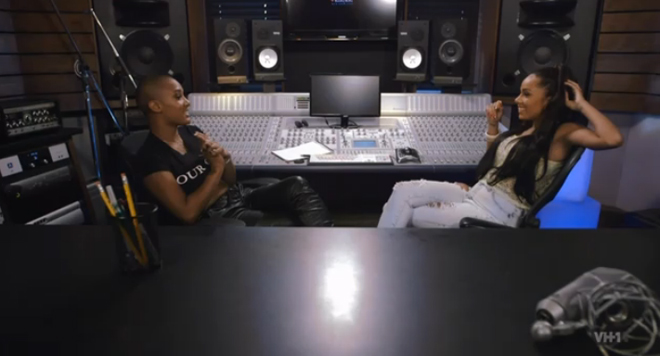 Alright now. This Nya chick is burning bridges like her name was K. Michelle. After insulting Rich Dollaz and throwing him off the set of her music video, Nya reached out to Erica Mena to talk about collaborating on a song together.
Nevermind the fact that Erica Mena's one song, "Where Do We Go From Here," went absolutely nowhere. Nya, for whatever reason, believes that putting Erica Mena on a track could somehow turn into a plus for her career.
The only problem is that Erica has been MIA and difficult to collaborate with ever since the two ladies agreed to work together.
Nya finally gets some time with Erica in the studio and she plays her the track and spits some of her verse for Erica. It's a hood anthem and Erica nods and gives her approval, talking about she could write a hook to that.
Bitch, when did Mena become a songwriter to be talking about writing hooks? Hopefully she's better at that than she is at singing, because we all know how much heavy lifting auto-tune was doing on that Rich Dollaz song.
After a relatively positive session, Nya starts lecturing Erica about how she needs to take music more seriously and leave behind her modeling career and other endeavors. Erica takes an affront to Nya lecturing HER about her career when Nya isn't exactly Billboard certified herself.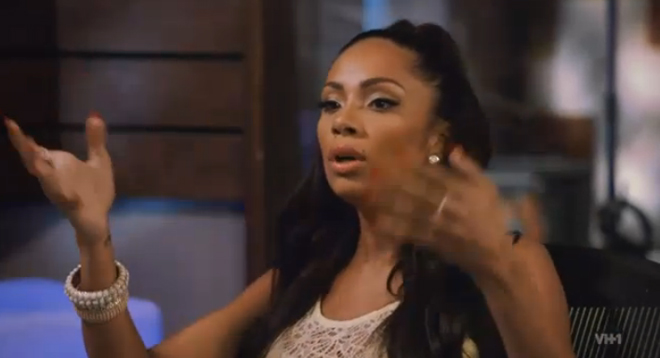 Nya, who still has to strip to make ends meet, accuses Erica of being lazy and complacent, while claiming that she, Nya, prioritizes music ahead of being a "personality." That's clearly a lie because she's on "Love & Hip Hop" so I don't know why the plus-size Eve is coming down on Erica so hard.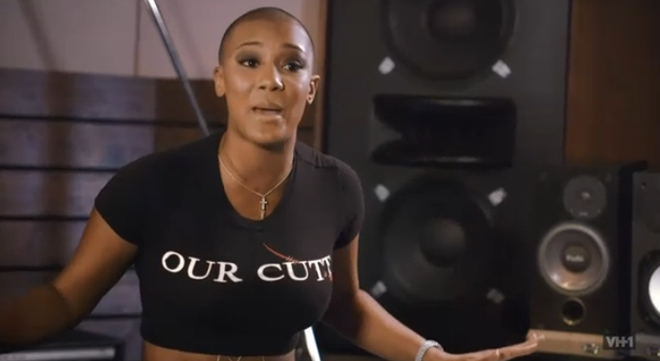 The two curse each other out and abruptly cancel their collaboration. After striking out with both her former friend Lore'L and now Nya, maybe Erica should just stop trying to work with bitches on a song. It never seems to turn out well.
As for Nya, after flying off the handle with Rich in the first episode and now Erica Mena in the third, is there anyone who Nya won't lose her cool with?
Erica Mena Loves the Ladies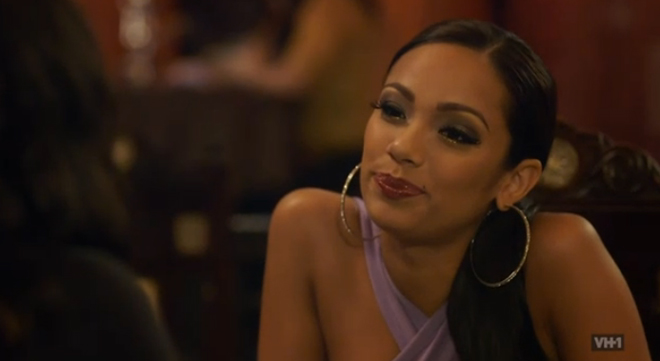 So because Erica Mena is desperate to do anything on television, we're forced to sit through her horribly awkward attempt at portraying a lesbian.
She enlists her friend Cyn to play the part of the doe-eyed virginal straight girl while Erica plays the experienced lesbian Lothario.
You want to know how I know this damn relationship is fake? Because Cyn talks more about how much she loves Chipotle than she does p**sy.
Seriously, while Erica and Cyn are at the restaurant, Cyn says about 4 different times that she loves Chipotle and they should go to Chipotle after their dinner date.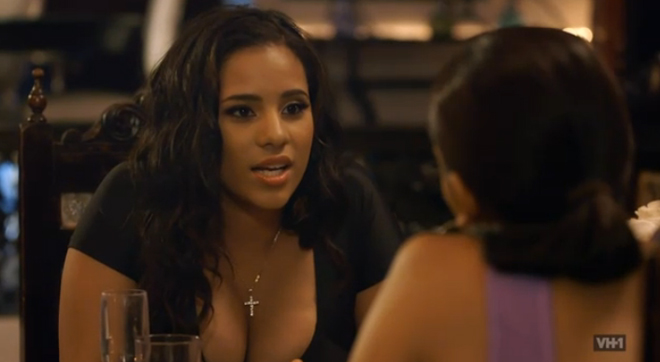 Damn, girl. In the words of Khia, is you hongray?
The two lezzie lovas agree to explore where their romance will take them but make a pact that they'll remain friends no matter what. Yeah, Erica Mena couldn't keep a friendship with a Catholic nun. Ain't no way this story is gonna end on a simple or happy note.
Be the first to receive breaking news alerts and more stories like this by subscribing to our mailing list.