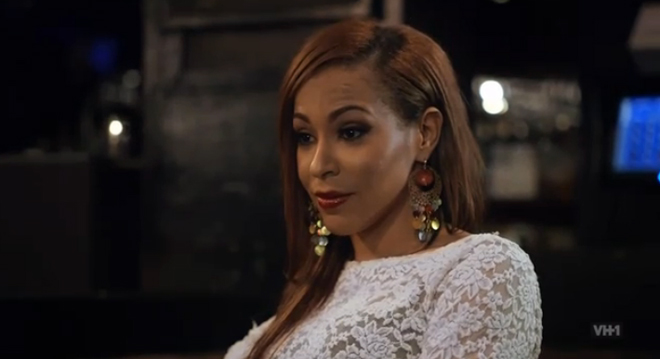 While it's true that Peter Gunz, Tara Wallace and Amina Buddafly are pretty much Mona Scott-Young's attempt at replicating the Stevie J, Joseline and Mimi formula, there is a unique twist to the NY version: Peter Gunz wifed the side chick.
In a "Damn, this mofo is slimy as hell" move, Amina calculatingly reveals at the opening of the second episode of season 4 that she is more than just an artist that Peter Gunz is managing and smashing on the side. She is the one and only OFFICIAL Mrs. Pankey. And she has the tattoo to prove it.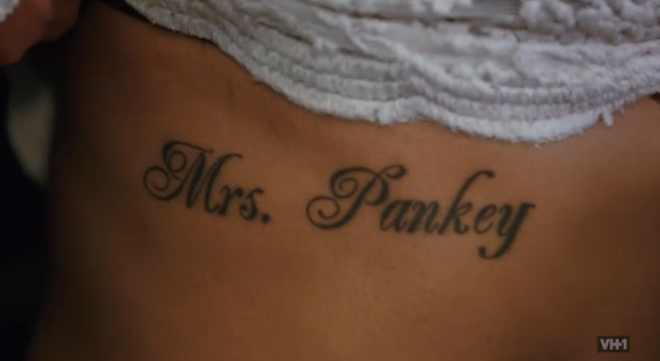 You know, it's kind of sad to see Amina do all this bird behavior for fame and a paycheck. She's actually legitimately talented but she knows that in today's climate, her talent alone isn't gonna afford her a living. So here she is, snatching a man from his baby mama of 13 years in the name of ratchet entertainment.
Rich Dollaz, for once, is the one with his thinking cap on and he scolds Peter Gunz in disbelief for the messy, messy, relationship wreckage he's put himself in. It's like he opted to throw himself between a concrete wall and the speeding car on purpose.
While Peter has no plausible excuse for why he married another woman behind his live-in baby mama's back, he's clearly incredibly fearful about confessing to Tara that he's actually not only creeping, but he wifed his mistress.
Amina, who can sniff out Peter's fear on the issue like a bloodhound, is on a mission to spread the good word: Mrs. Pankey is in the building.
Peter, you got some 'splainin' to do.
Nasty Nya Has Words with Rich Dollaz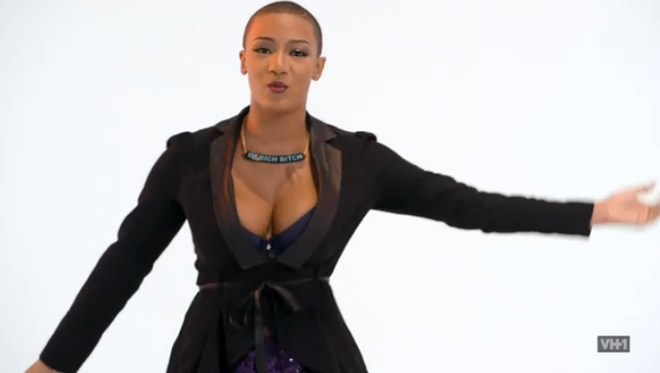 In a bid to inject some real hip hop into the show, Mona went and found this stripper-turned-rapper named Nya to add to the cast of LHHNY.
She pretty much looks like a plus-size Eve with a Meshell Ndegeocello buzzcut.
Apparently, being a stripper in a past life, she's crossed paths with Erica Mena before. So when Rich Dollaz strolls up unannounced to the set of her music video, Nya is fully aware of who and what she's dealing with.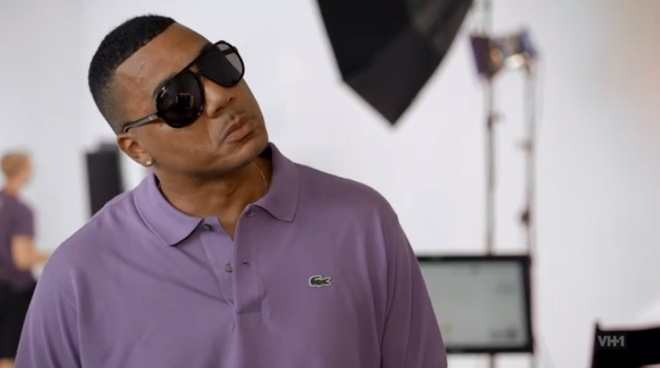 Rich really thought he was doin' something showing up with his lilac Lacoste shirt and his aviator shades. When Nya expressed disgust with Rich's history of bedding the artists he manages, Rich's back was up against the wall and he tried to bark back at Nya's devastating bite talking about people he put on the charts.
Is this fool talking about that Olivia "Bounce" song from over a decade ago? Cause Richie's talent pool dried up a long time ago.
In the end, Nya dismisses Rich and tells him to kick rocks. I think I like the new girl already.
Later, while visiting with Erica Mena, Nya recounts the whole confrontation to Erica Mena. While Mena doesn't criticize Nya for giving Rich a tongue lashing, she does confess that she'd likely work with him again in the future.
Of course she would. What other reason would the producers have to keep Mena on the show if she didn't maintain some kind of ties with Rich.
K. Michelle and the City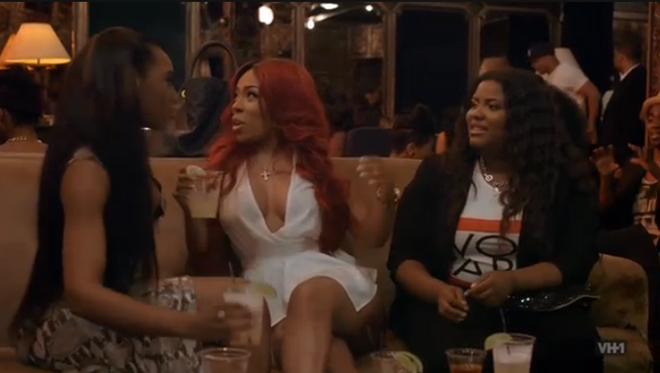 So long, Mimi. Good bye, Ariane. Hello, Yandy Smith!
After two successful stints on Love & Hip Hop Atlanta, K. Michelle desperately wanted out of the bird cage so she flew the coop and made her way up to NYC.
To welcome the talented R&B star to the city, Yandy invited all the gals and even some so-called street n**gas.
One of the dudes, from Harlem, tried to push up on it with K. Michelle but she wasn't very impressed by his stunts.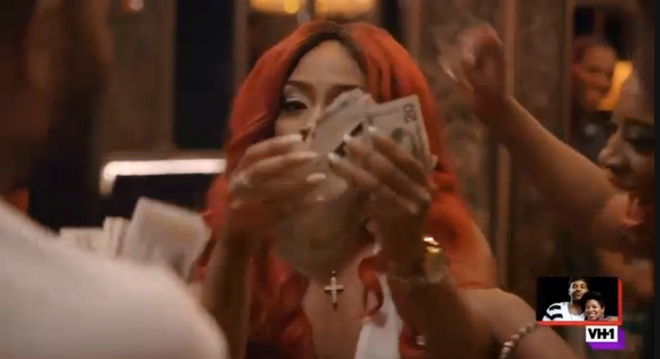 Things got even worse once her wannabe boyfriend whipped out some cold, hard cash money to wave in K. Michelle's face. K. Michelle balled hard right back at him and sent the guy on his merry way with his tail between his legs.
Don't try it with K. Ok?
Saigon Needs a DNA Test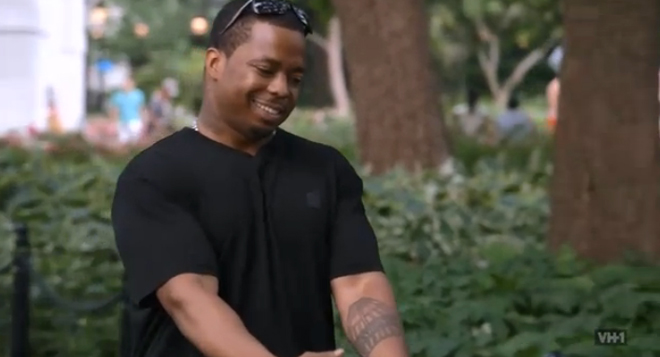 Another new edition to the crew: Underground rapper, Saigon.
He ain't got hits on the Billboard Hot 100, but apparently Saigon is everything and more. Right, isn't that what New York has been saying about Papoose forever?
Anyway, Saigon is a hot mess and more because while he was dating a girl who was pregnant, he decided with his friend, Erica J, that he wanted another baby.
The only problem: Their so-called friendship turned sour once the egg got fertilized.
Now, Erica J's father resents Saigon for knocking his daughter up in the first place and Saigon is spending time trying to make sense of his life.
That's when he seeks out advice from Peter Gunz. Oh, what a tangled web we weave.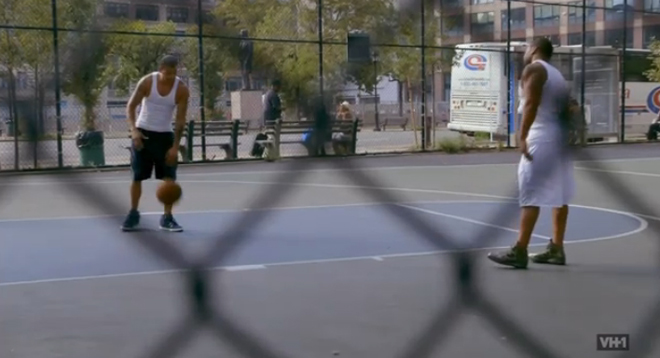 While playing a quick game of one-on-one basketball, Peter advises Saigon to get a DNA test of his son because, you know. Bitches be trippin'.
This sounds like a marvelous idea to Saigon's ears so he proposes the idea of getting a DNA test to Erica J and as you can imagine, she doesn't find the prospect anywhere near as exciting as he does.
If Saigon only knew how jacked up Peter's own love life is, he'd never bother with any of the high-yellow devil's pearls of wisdom in the first place.
Please Don't Tell My Babymama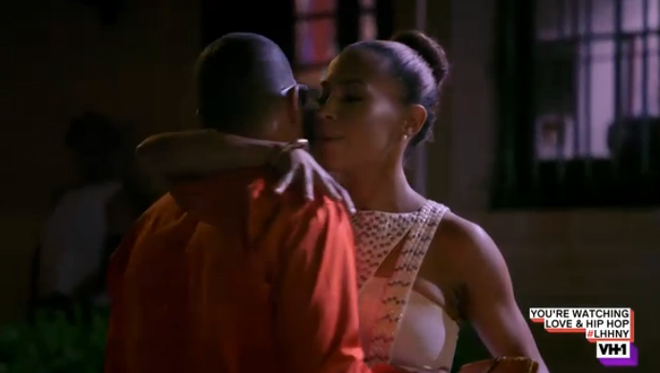 While Peter's semi-famous son, Korey Gunz, is chopping it up in the studio with his dad over his sorry state of affairs (he's got gun charges that he's facing), Peter gets a call from Rich letting him know that his babymama Tara and his wife, Amina, are about to have a potentially messy face-to-face encounter at K. Michelle's welcome to NY party.
Sensing clear and imminent danger, Peter swoops into action and flies down to the club to prevent Amina and Tara from crossing paths.
Peter arrives just in the nick of time as Amina, dressed in an angelic white ensemble, is just arriving at the venue.
At first, Amina is delighted to see her boo thang as she assumes that he's there to escort her to the event. Nope, not quite.
Peter confesses that she actually can't go inside because Tara is in there. Amina puts two and two together and has a hissy fit over Peter's repeated delay tactics. She's his wife and she's ready to let Tara know it, dammnit.
After profusely promising that he'll come clean about the whole situation with Tara "tomorrow," Amina relents and gives Pete what he wants.
But you know the saying, tomorrow is only a day away. So while Peter may think he dodged a bullet, he really just delayed what will certainly be a deadly blow to Tara's heart.
Be the first to receive breaking news alerts and more stories like this by subscribing to our mailing list.