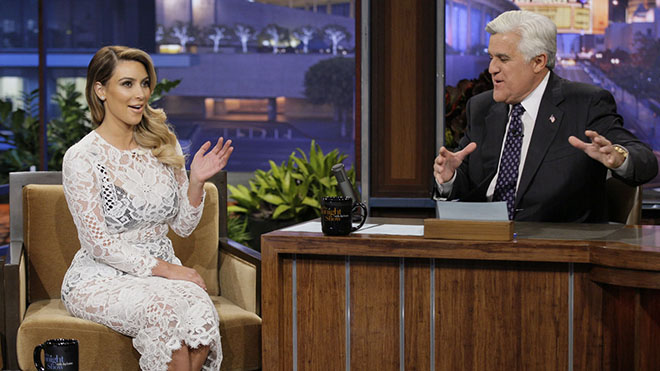 Kim Kardashian stopped by The Tonight Show with Jay Leno last week and discussed dropping the baby weight, sending a middle finger to her presumed haters, how she's going to let Kanye West take the reigns on wedding planning, and more.
Excerpts courtesy of Necole Bitchie:
On the negativity in the media surrounding her weight gain during her pregnancy:
It changed me a lot. It really did affect me for me to act like it didn't. It really hurt my soul. It changed how I am in the public a little bit. I don't like to…it was like I'd go out and there would be photos of me anytime I was hungry or I was wanting to eat something, and these stories that I was 200 pounds. I was gaining weight because I was pregnant and it was really hard to read all these stories and hear all these nasty things.  People think I'm out of hiding now.  No, I just kind of wanted to adjust my life a little bit because why would I subject myself to so much negativity, especially now that I have a daughter? I don't need that energy. I'd rather be in a happy place when I'm home. I choose to go out with family and friends when I want to but I definitely try to live a private life because of that. They were so nasty. Why even go out as much to put yourself in that position?

On hiding post birth:
I wasn't in hiding. North was born really tiny. She was four and a half pounds. When you're breastfeeding and… I just wanted time with her and to be with her. This was the one time in life where I could just take off and spend time with me and him and the baby. We both took a maternity leave.

It's so ridiculous. I had preeclampsia so I would swell up. It's this disease you get when you're pregnant where your liver starts to fail or your kidneys. It's really dangerous actually so I had to deliver five weeks early. That was the cause for a lot of the swelling. At the time I didn't know what was going on. It's honestly the greatest challenge of my life to have gained 50 pounds. Honestly, I got on the scale today and it said I am 50 pounds down so that made me so excited.

On her sexy selfie:
I was trying on clothes, I was trying on bathing suits and I really just sent that to my boyfriend … to my fiancé. And I was just like, 'Babe, can I post this up?' This was my big middle finger to the world on everyone who called me fat.

On planning the wedding:
He definitely knows what he wants and I want him to have whatever he wants.

'm definitely gonna be involved but I feel like it's fine.[…] I think we're hoping for next summer. I don't think we've really had the right time to sit down and talk about it. I'm enjoying just being engaged and we're just gonna get through his tour and then really talk about when and where.

I think somewhere destinational. Somewhere Parisian, I don't know. I got pregnant when we were in Italy. Maybe Italy. We haven't even talked about it, but I want something really special. Maybe I'll pick the place and he can plan it. We'll compromise.
WATCH THE FIRST PART OF THE INTERVIEW UP TOP, AND CHECK OUT THE SECOND BELOW:
Be the first to receive breaking news alerts and more stories like this by subscribing to our mailing list.