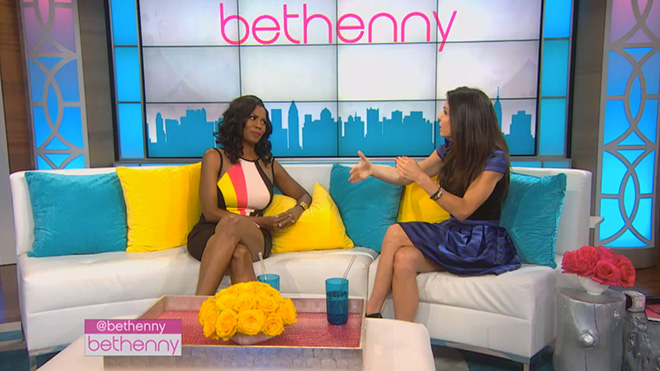 Bethenny Frankel booked her arch nemesis/reality villain Omarosa Manigault-Stalworth to appear on her new daytime talk show, a decision that she's sure to regret after not only losing a $10,000 bet, but also being shaded to her face on her own show, IN FRONT OF EVERYONE .
Omarosa and Bethenny have been publicly feuding for years. It all started in 2010 when Bethenny was on 'The View' and became offended when the hosts compared her to Omarosa, and she told them she's different because she has a "real career," unlike Omarosa who she basically alluded to being just known for being an angry reality person.
Omarosa responded by saying that Bethenny's then-husband (now ex) was gay and called her a bitch, and from there, things got pretty ugly between the two.
Fast forward to three years later, and things haven't changed much. In her appearance on 'Bethenny' this week, Omarosa brought up the comment Bethenny made about her on 'The View' and things just went downhill for Bethenny from there.
"I thought we were friends and it really hurt my feelings," Omarosa, who parlayed being a contestant on the first-ever season of The Apprentice into reality-TV notoriety and is now an assistant pastor in Los Angeles, said.

"First of all, we knew each other from The Apprentice, we had never had dinner, we weren't friends," Bethenny, who appeared on Martha Stewart's short-lived version of the show, recalled.

"I thought we were friends," Omarosa insisted. When you were on Martha Stewart's Apprentice, you contacted me, maybe reaching out, maybe you were just trying to use me to get information—and you can call that what you want…To go on The View and badmouth me to my friend [Sherri Shepherd], that's bad form, Bethenny."

"If you're going to talk about something that happened, let's get the facts straight," the former Real Housewife said, trying to remember her exact words.

"You never said, 'I have a real career'? Omarosa said skeptically. "I read the quote, you said, 'I have a real career.'"
"Can we just get the quotes?! I will give you $10,000 if I said 'I have a real career,'" Bethenny promised.

via E! News
During the commercial break, a producer pulled up the transcript from the interview online and showed it to her, and, sure enough, Bethenny saw for herself that she did say the words 'I have a real career,' which means that she's out of $10,000 now and she also made herself look stupid on TV — her own show, no less.
Bethenny then asked Omarosa to explain exactly what her brand was (another regrettable decision on her part) and that's when Omarosa served her three paragraphs worth of verbal shade:
I'm unapologetic about being a strong, African American woman who does not apologize. It's different for you and I. I'm an African American woman. You get to walk around and be mediocre and you still get rewarded with things. We have to be exceptional to get anything in this business.

I think it's important to understand that you don't stay a decade on television, on reality TV, without being smart and creating a brand that people want to see. If the audience didn't want to see Omarosa, they would never book me again. You booked me to be on your show today. There's a brand there. There's a commodity.[…]

You're not walking in your own truth. The moment you accept your real truth, everything is going to open up for you. Everything, your happiness, your joy, your relationships, but it cannot happen until you accept your own truth. Truth is, 10 years later I'm still here. I hope that you're still here a year from now.
The conversation continued…
Bethenny: I meant what I said. You do have a career. I invited you here because you know — I don't think that you have a brand. I think that you're infamous. I'm on the show because I want to give a point of view. I don't think you have a brand–

Omarosa: Honey, you made cupcakes. I worked in the White House. Get a grip.

Bethenny: What's your brand?

Omarosa: I'm a strong businesswoman who celebrates in being smart — and there is a brand in being smart.

Bethenny: Your brand is smart? So Omarosa's brand is being smart. Is that in your business plan?

Omarosa: Oh, absolutely. Hear this out, you're entitled to your opinion, but you're not entitled to your own facts. I have an accomplished career.

Bethenny: What is it? What is your business?

Omarosa: I teach young people and I hope that the young people don't get discouraged from watching two women who have an opportunity to put things behind them. We have a chance to turn this thing around.

Bethenny: No we don't.

via Necole Bitchie
Watch the two women go at it in the video up top and the one below!
Be the first to receive breaking news alerts and more stories like this by subscribing to our mailing list.