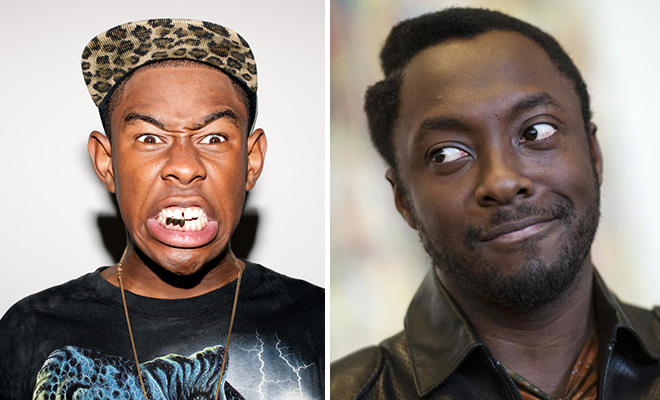 Celebrity rants are a lot like STD's … they spread quickly and get real messy!
Earlier today, Odd Future frontman Tyler the Creator took to Twitter and had some not-so-nice things to say about will.i.am.
In a series of tweets, using all caps, Tyler called the Black Eyed Peas singer out for being a sell-out and wasting his talent to make music he so eloquently described as "Butt Shit"
Apparently all of this came about after the famed music producer told Tyler in a conversation they shared last night during Kanye West's "Teezus" tour that like him, 10 years from now, he too would compromise his art for money.
But Tyler claims to have made a million dollar bet with will.i.am that in the next ten years he will still be making money, doing what he loves and not selling out.
He also announced that he was excited to be throwing his second annual "Camp Flog Gnaw Carnival" and, of course, will.i.am is not invited.
Check out the tweets below:
I MADE A BET WITH WILL I AM FOR A MILLION BUCKS THAT I WILL BE MAKING MONEY 10 YEARS FROM NOW DOING WHAT I LOVE AND NOT WHAT MAKES THE MOST

— Tyler, The Creator (@fucktyler) October 29, 2013
NIGGA SAID "THEN YOU MAKE A DECISION ON WHAT TO DO TO SURVIVE" NO NIGGA THATS NOT HOW IT IS FOR EVERYONE. IM NOT GONNA MAKE MUSIC I HATE

— Tyler, The Creator (@fucktyler) October 29, 2013
HES SO TALENTED BUT HES MAKING BUTT SHIT TO MAKE BREAD, USE THE CREATIVITY FOR SOMETHING TIGHT MAN.

— Tyler, The Creator (@fucktyler) October 29, 2013
I SHOULD HAVE BROUGHT UP THE FACT HE TRIED TO SUE PHARRELL ON SOME FUCK ASS SHIT BUT I WAS SO MAD HE INDIRECTLY SAID I WAS GONNA 'SELL OUT'

— Tyler, The Creator (@fucktyler) October 29, 2013
TRUTHFULLY 89% OF FAMOUS PEOPLE ACTUALLY FUCKING SUCK AND DRESS LIKE IDIOTS OH MAN YOU SHOULD SEE THE BACKSTAGES MAN ITS CRAZY

— Tyler, The Creator (@fucktyler) October 29, 2013
IN 10 YEARS HE'LL BE 50 AND ILL BE 32 MAKING MOVIES ( not even in them) WATCH. WOLF HALEY DIRECTOR SECTION WILL BE POPPIN SUCK MY WHOLE SHIT

— Tyler, The Creator (@fucktyler) October 29, 2013
I CANT BELIEVE THIS NIGGA WAS PLOTTING ON MY FUCKING DOWNFALL CAUSE HE MAKES SHIT HE HATES AND DOESNT LIKE HIMSELF. WILL I AM IS A MARK

— Tyler, The Creator (@fucktyler) October 29, 2013
THIS NIGGA REALLY WALKED UP TO ME TELLING ME ABOUT MYSELF 10 YEARS FROM NOW NIGGA FUCK YOU NOW IMA GO OUT OF MY WAY TO PROVE YOU WRONG

— Tyler, The Creator (@fucktyler) October 29, 2013
IMA STAY POSITIVE AND FOCUSED LIKE I HAVE BEEN SO I CAN CONTINUE TO HAVE A TENNIS COURT IN MY BACKYARD EAT A DICK

— Tyler, The Creator (@fucktyler) October 29, 2013
IRONY IS THAT BEHIND THE FRONT, THE FIRST BLACK EYED PEAS ALBUM, WAS THE FIRST RAP ALBUM I EVER LIKED WHEN I WAS 7. GREAT BEATS HAHA

— Tyler, The Creator (@fucktyler) October 29, 2013
IM EXCITED I GET TO THROW MY SECOND CARNIVAL, WILL I AM IS NOT INVITED AT ALL. http://t.co/gplwUlHjlY

— Tyler, The Creator (@fucktyler) October 29, 2013